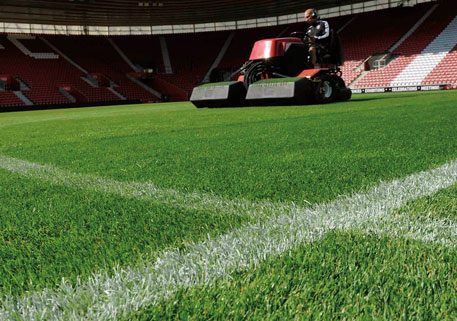 Eurosport Off The Bench In Enhanced A20 Squad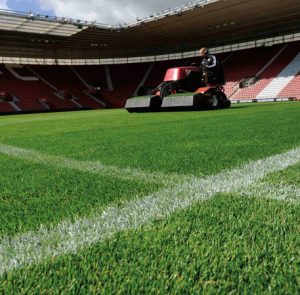 Germinal has relaunched its best-selling sports pitch seed mixture, A20 Premier Ryesport, with the inclusion of Eurosport perennial ryegrass. Eurosport joins the A20 line-up in place of Cadix and Promotor, with users of the new seed mixture set to benefit from improved fineness of leaf, live ground cover, stronger recovery and better visual merit.
The revised A20 seed mixture contains four perennial ryegrass cultivars, three of which are in the Top-10 of the BSPB's Table S1 for sports uses. Eugenius and Calico will both account for 35% of the A20 mixture, with Eurocordus (number 2 on Table S1) and Eurosport (number 4) both contributing 15% of the total seed content.
"The inclusion of Eurosport in our 2017 specification of A20 marks a stepped improvement on the outgoing seed mixture," explains Richard Brown, Amenity Sales Manager for Germinal.
"Eurosport gives a strong performance across all the important parameters on the BSPB's Table S1, with excellent scores for shoot density [7.8], recovery [7.8], live ground cover [7.9] and visual merit [7.9]. As such it perfectly complements the other varieties within the standard A20 mixture, especially Eurocordus which continues to offer excellent all round ability and strong disease resistance."
In fact, Eurosport is such a strong performer that Germinal has reduced the number of cultivars in the standard A20 seed mixture down from five to four.
"On a practical level, Eurosport is better across the parameters that really matter than both of the cultivars it replaces," Richard Brown continues. "By bringing Eurosport off the bench and into the standard A20 line-up, we've created a truly unbeatable seed mixture which offers tangible benefits to groundsmen responsible for maintaining hard-working pitches."
The standard A20 Premier Ryesport seed mixture can also be tailored to include a wide selection of alternative cultivars, with groundstaff able to create their own, fully bespoke mixture to suit their ground's requirement.
"Because no two pitches or sports clubs are the same, we give our customers the option to customise the standard A20 seed mixture to create their own bespoke 'Your A20' specification," Richard Brown adds. "With five additional perennial ryegrass cultivars to choose from, plus a creeping perennial ryegrass variety and a shade tolerant Poa supina species, growers can pick and choose the right combination of cultivars to create their own perfect seed mixture."
https://turfmatters.co.uk/wp-content/uploads/2017/03/A20_Grass_SFC.jpg
450
457
Admin
https://turfmatters.co.uk/wp-content/uploads/2022/05/TM-logo-1.jpg
Admin
2017-03-07 10:43:15
2017-03-07 10:45:42
Eurosport Off The Bench In Enhanced A20 Squad