Exploring The Lakes: A recent family trip to Sydney to see my daughter, afforded me the opportunity to visit some local sporting venues, I was particularly interested in visiting the Lakes GC , knowing that Simon Blagg, a British Greenkeeper, was working there.
After a few phone calls I managed to contact Simon who is now the Assistant Superintendent at the Lakes Golf club. We arranged a date for me to visit the course and duly met up some days later. Upon arrival at the club I was introduced to the Courses Superintendent and head mechanic, followed by a whistle stop tour of the course and facilities.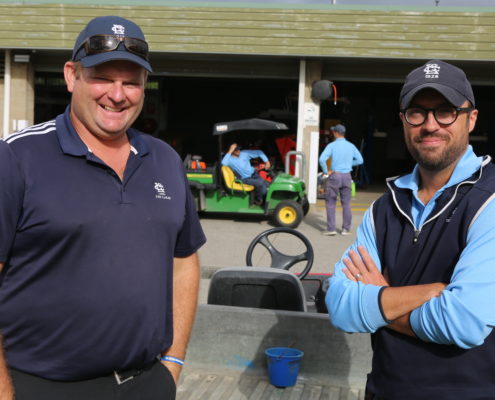 I was fascinated to find out more about the course and how Simon had adapted his skills to work in a quite challenging climate.  I would like to thank him for his time and taking the time to put pen to paper to produce this fascinating in depth article.
Growing Turf Down Under – Simon Blagg
From growing up in my home town of Madeley, Cheshire in the UK, to working at The Lakes Golf club in Sydney, Australia; the past fourteen years of my turf career have been an amazing experience to date.
I completed my turf qualifications at Reaseheath College. While there, I worked at Keele golf course which has now unfortunately closed down, before working two great summers under John Turner at Leek Golf Club, who taught me a significant amount about sustainability in the turf industry. At the same time I working as groundsman of Maer Cricket Club.
In 2008 I set my sights on the Ohio state Turfgrass internship program where I worked at Whistling Straits, in Wisconsin, and then onto the Doral Golf Resort, in Florida. Working on the Blue Monster course, I got to experience my first golf tournament when Doral hosted the annual World Golf Championship event.
After I returned to the UK I worked two seasons at Loch Lomond Golf Club. The club hosted the Scottish Open a week before The Open. In between the first and second season at Loch Lomond I secured a summer casual position for six months at New South Wales Golf club in Sydney. This was when I got my first taste of life in Australia. I met my now wife, within the first week of being in Australia.
New South Wales hosted the 2009 Australian Open. I had gained valuable experience from my from my time at New South that summer. I returned to Loch Lomond in 2010 to assist with the preparation for what would be the club's final Scottish Open. I can't thank Dave Cole, at Loch Lomond, enough for what he taught me during that time, including his attention to detail and how to keep incredibly high standards.
After the home summer of 2010, I was lucky enough to secure a sponsorship at Roseville Golf Club in Sydney, Australia. I worked my way up the rank and eventually became Mark O'Sullivan's assistant in 2013. I remained at the club for another two years and after a total of five years, and an Australian citizenship achieved, I decided to apply for the Assistant Superintendent position at the Lakes Golf club in Sydney.  After a successful interview, I started at the Lakes in early January 2016.
The Lakes is on the southern side of the city, roughly around 15 minutes from Sydney's central business district. The area is a popular golfing destination, with the Lakes backing on to both Eastlakes and Bonnie Doon Golf Club and The Australian within a 5km radius.  The golf club is situated within the Botany Wetlands  a series of interconnected ponds forming an open space wetland corridor stretching to 226 hectares.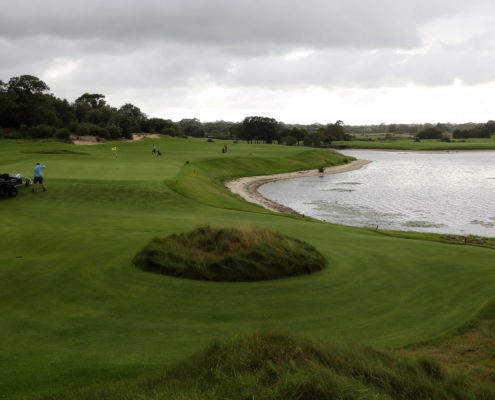 Over the years the course design has been altered, in particular in 1950s when the state government put plans together to build a six lane express-way right through the middle of the course. This road is the current Southern Cross Drive.
The club then employed American Robert Von Hagge who agreed to redesign the course. Von Hagge's redesign was constructed and completed by June 1970. During the 70s and 80s, the Lakes was renowned for its fast true greens. However, by 1994 the greens were begging to show their age and the winter grass population was too much. The club then decided to resurface all of the greens with SR1020 Bent grass.
By 2006 the greens were again over populated with Poa Annua and did not meet specifications.  The board approached Mike Clayton to conduct a course master plan.
The club decided to rebuild both the 1st and 18th greens first. After the members' approval of the two new greens, Clayton was commissioned to rebuild the remaining 16 greens and two lady's greens. The redesign included rebuilding the whole golf course as well as upgrading the Irrigation system. The greens were seeded with A4 bent grass. Tees Santa Ana couch and the fairways that were altered were returfed with common Kikuyu.  Roughs and dunes were over seeded with Fescue. The course was re-opened in July 2009. The current course measures 6286 metres and is a par 72. In 2010 the club hosted The Australian Open, which was the first tournament since the 2002 ANZ Championship. The club was asked again to host the tournament for both the 2011 and 2012 Australian Opens.  The 2011 tournament was a successful event, hosting pros to the likes of Tiger Woods. It was seen as good preparation for the 2011 Presidents cup. In November 2018 the club will host its' seventh Australian Open. The club has around 1200 members and for the first time in 15 years there is now a waiting list for new members. The golf course averages around 45,000 rounds of golf per year.
Anthony Mills has been Superintendent of the Lakes golf club since 2012. Myself and Aaron Taylor have been Anthony's assistants since January 2016. We currently operate with a full team of 19 that includes two casuals and mechanic. An additional four casuals will be added to the team to assist with preparation for the Australian Open. I'm a strong believer in getting overseas talent to come over and work for six months. We try and take the casuals on from September through to the end of February. For those coming from the UK, this often works well with the end of the UK summer and then heading into our summer period. On a working holiday visa, it allows you to work with two employers for two six month blocks. It gives young greenkeepers a fantastic opportunity to come and work in Australia and learn about managing warm season grasses in different climates.
Bunkers – 72
Sandy Waste
Total Area 10 Hectares
A unique feature of the Lakes is its Sandy Waste areas. Where some course has thick rough to edges of fairways the lakes has large areas of exposed sandy waste. These are carved into the landscape to make them look like they have been there for hundreds of years. These areas are raked twice a week with two sand pros. The sandy waste requires a lot of maintenance. Mainly weed control. We ap Turf grass Species
Greens –A4 Bent grass/ (Cool Season) HOC- 3mm
Total Area- Two Hectares
Over the past three summers we have operated a poa eradication program on greens. This is a selective herbicide program which I will talk more about later in the article. During autumn and winter we apply separate applications of Paclobutrazol and Epethon. This is designed to supress the Poa annua grass and stop it from establishing a seed head. We renovate the greens twice a year. In spring we scarify the greens at a depth of 10mm and follow this up with hollow tine aeration with 5/8 tines. In autumn we only use 1/2inch tines. After both practices we use a USGA construction sand to fill back in the holes. During summer we use a combination of 8mm and 5mm pencil tines to relive surface tension and aid oxygen flow. We mainly use Toro Triplex mowers to cut the greens. We try and cut the greens with walk mowers once a week to improve presentation. Moving forward and increasing staff numbers we will look to using walk behind greens more often.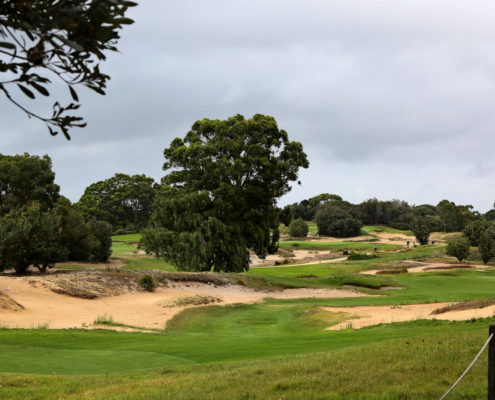 We have recently commenced using a growing degree day program on our greens. After an application of growth regulator, I record the growing degree day figure. This is worked out by adding the average high temperature with the average low temperature and dividing it by 2. With the daily GDD figure obtained you add it up every day and when the number equals 200 you are due to apply the growth regulator again. This program is a great way of avoiding bounce out before the growth regulator runs out.
Tees- Santa Anna Couch (Warm Season) HOC 10mm
Total Area- Two Hectares
Santa Anna couch is a warm season grass that requires a very aggressive renovation in spring. This is because Santa Anna spreads through stolons. These stolon break down over time and add to the thatch layer. We scarify the tees to depth of around 25mm to remove large amounts of organic matter. The tees are then shaved down at 8mm to remove excessive grain. Grain forms when the turf is cut in the same direction all the time. Grain creates an uneven surface and often scalps when cut. By shaving back the couch, we are removing the grain and chopping through surface stolons and encouraging it to produce new shoots. Couch is a very hungry turf species and requires plenty of nitrogen to keep it in good condition. With it being a warm season grass it requires 30-degree air temperatures to get it moving out of winter dormancy. A hot summer is great for couch, but a cold spring and cooler summer can result in a poor quality surface. Regular applications of growth regulator are essential to ensure the grass doesn't get to elongated and thatchy
Fairways– Common Kikuyu (Warm Season) 10mm
Total Area 25 Hectares
Common Kikuyu is another warm season grass. It is very course grass that has a larger leaf blade than that of couch grass. Like couch, Kikuyu requires aggressive renovation practices in spring with deep scarification and hollow tine aeration. Again due to its stoloniferas growing pattern, organic matter can build up quickly if not managed properly. Primo is the most important resource we use of the kikuyu during the summer season. Without growth regulation the heat and humidity the kikuyu is exposed to causes it to literally grow in front of your eyes. If you don't have any regulation in the plant the quality of cut is massively affected as too much grass is being cut by the mower. We apply primo every three weeks during summer. Starting off with low rates of 1 litre a Hecate in spring and leading up to sometimes 2.5L/ Hectare in the heart of summer. We apply a 15% Nitrogen + Iron and Manganese fertiliser with the primo to assist with turf health and improve colour.
Rough– Common Kikuyu 50mm
Deep Rough and Bunker Surrounds- Red Fescue HOC 150mm
Fescue and Australian climate are not a great combination. The blend of Chewings, Red, and Hard fescues in the deep rough are cut at 150mm a couple of times a year. We would normally like to leave these areas to grow up however to many balls were being lost and slowing up play so it was decided to keep it managble at the 150mm height. The fescue around bunker surround is cut with strimmer's every three weeks, apart from control weeds in these areas, they receive a small amount of fertiliser in spring if required. Other than that we keep it well irrigated.
ply pre-emergent herbicide to the edges of the waste land and islands. We have had better results by doing this, but it doesn't stop all of the weeds. Often we have to get additional labour hire in to help pull out weeds.
Challenges of the site
Poa Eradication Program
In 2015 the board made the decision to eradicate winter grass from the greens. At the time, rebuilding the greens was not an option the board wanted to take, so therefore chemical treatment was decided to both eradicate and stop the poa from completely taking over from the original bent grass greens. The past three summers we have been on an aggressive Nominee herbicide program. Nominee is selective herbicide that contains Bispyribac-sodium. The chemical applications start in November and usually finish up in early January. We have trialled the product at different rates every season. Anything from half rates at 500mls/H every three weeks to quarter rates every fortnight. We aim to try and apply around 2L of Nominee in around a three-month period.  The night before a nominee application we increase our irrigation on greens as we can't water them for 24 hours after the nominee has been applied. Cutting of the greens is avoided on application days. The dew is removed with dew brooms and additional hand watering is undertaken depending on the weather forecast. The herbicide is then sprayed and no water is to be applied until the following morning after the greens have been cut.  Once all applications were finished, we started a two week plugging program where we plugged the winter grass scars out of the greens. The overall herbicide program has reduced the poa in the greens by around 30% in the three years. They say you can get around four years use out of the chemical before resistency builds up within the plant. Options going forward look like rebuilding all of the greens after the Australian open.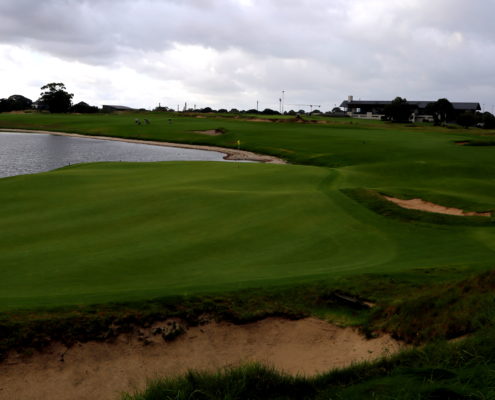 Climate/ disease pressures
Sydney is not the hottest city in Australia, but it certainly can turn the heat up at times. Last year we had the hottest summer in 150 years with the average temp being around 33 for around 40 days in a row. This was coupled with extreme humidity and night time temperatures that were not decreasing. This put the Pythium stress potential through the roof. Both Pythium blight and root rot can cause a severe amount of damage to greens. Prolonged leaf wetness through nigh time irrigation and high humidity are a recipe for disaster.
Pythium Preventative
During summer we spray every three weeks for both Pythium root rot and Pythium blight. An application of Propamocarb for root rot is sprayed at 6.5L/Hectare and is irrigated with six minutes of Irrigation.
Fosetyle aluminium and thiram are applied the following week to control Pythium blight and brown patch. These products are left on the leaf. Sometimes we will include another contact fungicide to prevent dollar spot.
During the winter months in Sydney we are rather fortunate that its doesn't really get that cold. Out in western Sydney they do get frosts and all warm season turf goes dormant. Being so close to the ocean at the Lakes we very rarely get any frosts at all. Our average rainfall in Sydney is around 1200mm per year, however this last year has been below average with very little rainfall.
Nematodes
One of our biggest challenges at the Lakes golf club is managing nematodes. We have a very high population of sting nematodes throughout all of the playing surfaces. A standard threshold for sting nematode is 20 per 200g of soil. We have numbers up at around the 700 per 200g of soil in greens. To put it lightly the roots are being eaten alive. On greens we operate a strong nematicide program that involves applications of abamectin (Agador) and (Thumper) when necessary. The label restricts how many applications you can apply per year. With the nematicide we also apply a product called turf clear. This is penertrant wetting agent that contains SiQuat molecules that when come into contact with the nematode its ruptures the cells of the nematode resulting in immediate death. We have had some better results in recent times when using turf clear. We don't treat nematodes in the fairways and tees purely because of the size of the property. However, we apply wetting agents every four weeks to the tees and fairways and fertilise more in the specific weaker areas.
Sandy soil profile and Irrigation
The entire course is built on a sand dune. This certainly has its advantages with very free draining soil after heavy rain and no drainage required in bunkers and greens. However, it also has its disadvantages as the sand has very little water holding capacity and it leaches nutrients. Coupled with the nematode issues this make retaining moisture in the fairways a big challenge. Every four weeks during summer we apply a retaining wetting agent to aid moisture retention. We also have to ensure that we top op hot spots on fairways using the irrigation system in the morning and afternoon as well as running a specific hot spot program in the night time irrigation program.  The Lakes is a very exposed sight this means that the course is very susceptible to high winds. High winds results in turf surfaces drying out. All of this is taken into consideration and extras water is applied to the specific hot spots to ensure that they don't dry out. Our average total of water applied to the course per year is 350 Mega litres of water per year. We are very fortunate as we are allowed to use as much water as we like as we pump out of one the large Lakes on site. During summer we have a hand watering program that works very well to ensure the greens remain healthy and drought free during extreme heat. We use the TDR moisture sensors to measure moisture percentage to ensure that greens don't dry out.
Projects leading into Australian Open 2018
In November this year the club will host its seventh Australian Open. Over the last 18 months we have been very busy with construction projects. These have included rebuilding tees and resurfacing cart paths and extending sandy waste areas. In April 2017, we commenced our biggest project of all; the upgrade of the practice precinct area.  The old practice facilities were beginning to look a little fatigued. The greens had a large percentage of Poa Annua and did not compliment the greens out on the course with very little undulations. Safety was also a big factor in the redesign. We were seeing a small percentage of golf balls leave the driving range and land on the 10th and 11th holes. The upgrade of the practice facility involved the following:
Rebuilding both practice putting and chipping greens.
Rebuilding and lowering the height of the range tee by 500mm.
Installing a Tee line driving range mat for use in winter.
Installing target greens on the range fairway to replicate shots played out on course.
Installing further mounding on both sides of the range to protect golfers on the 10th and 11th
Installing mounding around the teaching facility.
Rebuilding a new chipping green with suitable practice bunkers.
Rebuilding the 10th Championship men's and lady's tees.
Rebuilding the 1st gold tee.
Installing a new concrete pathway to both the 1st and 10th
The new putting green was seeded back in May 2017 and was opened in late September. All of the major earth works and turfing was completed by November 2017. The new turf driving tee was recently re opened and we are hoping to have the chipping green re opened by the end of March.
With all major projects complete we are now concentrating on fine tuning the golf course heading into the winter months. November will be here in no time at all. Planning and preparation is essential when preparing for a tournament of this size.
I would like to thank Laurence Gale from Turf matters magazine for allowing me to contribute this article. It was great to catch up with Laurence back in December when he was in Sydney visiting his daughter.
I am always on the lookout for keen, enthusiastic greenkeepers from the UK who are interested in travelling to Australia to work the summer season. Anyone interested in coming to work in Australia in 2019 I can be contacted at the below email address.
Simon Blagg
https://turfmatters.co.uk/wp-content/uploads/2018/05/pic-1.jpg
3166
5342
tm-admin
https://turfmatters.co.uk/wp-content/uploads/2022/05/TM-logo-1.jpg
tm-admin
2018-05-03 10:58:45
2018-07-16 13:16:37
Exploring The Lakes