Firefighters Tackle Fire At SIS Factory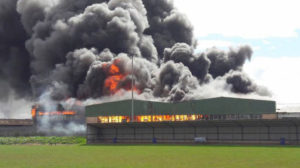 Emergency services were called out at 1.30pm yesterday.
A police spokesman said: "Emergency services are continuing to tackle a fire at Glasson Industrial Estate in Maryport.
"Members of the public are advised to keep their windows closed due to the level of smoke."
A statement released by SIS Pitches said: "No individuals were injured in the blaze and there are ongoing police investigations into the cause of the fire.
"The nearby factory, which produces the synthetic pitches, has been unaffected and will continue production as normal."
Bryn Lee, managing director of SIS Pitches, said: "Our highest priority is the safety and well being of our staff and those within the vicinity of the fire and we are thankful that nobody has been injured.
"We pride ourselves on our excellent safety procedures and will be carrying out a full investigation into the cause of the fire.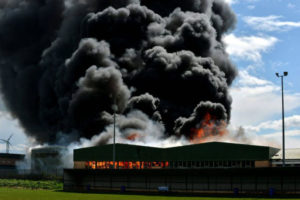 "The incident was contained within one facility and all other SIS Pitches facilities are in full operation."
Police evacuated nearby offices as crews from eight fire engines and an aerial ladder platform tackled the blaze.
One driver said: "It took me an hour and 45 minutes to pick my son up from Netherhall School! Our back roads can't cope with the amounts of traffic being pushed around them."
At 5.10pm, spokesman for Cumbria Fire and Rescue said: "Firefighters are continuing to tackle the blaze. This incident is expected to continue for some time."
A passer-by at the scene said: "It looks as though rolls of artificial turf have gone up in flames and it spread really quickly. The wind has fanned the flames.
"Lots of units nearby are in danger. The heat is unbelievable.
"Fire trucks are having trouble getting to the fire and are looking for a way to get water there."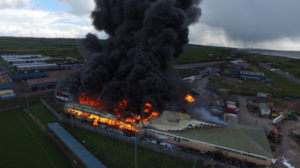 Fire engines were going to the harbour to fill up with water to fight the flames.
Workers from Fearons Builders, which is based next to SIS, were called to the scene by fire chiefs to move fuel stored at its premises.
Jacqui Towers, of Grasslot Street, said she has had her windows and doors shut all afternoon.
She said: "The fire was just a couple of hundred of yards from where I live. The smoke was unbelievable. It is a terrible thing."
Smoke from the blaze could be seen in Workington, Cockermouth and Great Broughton and reports are coming in that it could be seen from Whitehaven, the Greenbank estate and St Bees.
Schoolchildren at the nearby Grasslot Infant School were sent home at 2.20pm.
Headteacher Karen Loudon said: "Although there was no threat to the school, children were getting upset and with roads closing we thought it was wise to close the school."
Cumbria Fire and Rescue Service said: "Eight fire engines and an aerial ladder platform have been called to the scene which is a building fire.
"The building, used for manufacturing synthetic turf, measures 40m x 50m and is heavily involved in fire. Firefighters are tackling the blaze using main jets."
Jim McBride, of Wigton, described seeing flames "100ft to 150ft in the air".
"I'm sat on Mote Hill and the flames are level with me," he said.
"There's a thick black pall of smoke and it looks like several units are alight."
To read the original article, click here
https://turfmatters.co.uk/wp-content/uploads/2017/04/Firefighters-Tackle-Fire-At-SIS-Factory.jpg
450
803
External Source
https://turfmatters.co.uk/wp-content/uploads/2022/05/TM-logo-1.jpg
External Source
2017-04-26 12:35:24
2017-04-26 12:36:46
Firefighters Tackle Fire At SIS Factory