A Game Of Golf Is Equivalent To A Week's Worth Of Exercise
Time for a round? Playing a game of golf is equivalent to a week's worth of exercise as charity says the game's health benefits are overlooked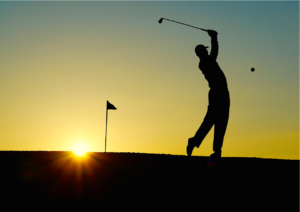 It may prove just the excuse to explain to one's spouse why you are heading off to the golf course again.
The health benefits of golf are being overlooked – according to a leading cancer charity.
While it may seem less energetic than playing more vigorous activities such as football, rugby or tennis, golf can still offer a significant boost to your health.
Macmillan Cancer Support said that during a typical single round of golf, players walk for four to eight miles – and take between 11,245 and 16,667 steps.
This would burn around 1,564 calories if you are carrying your own golf clubs, it said citing research in the British Journal of Sports Medicine.
As a round of golf amounts to 240 minutes of moderate intensive activity this goes beyond the Department of Health's recommendation that adults take at least 150 minutes of moderate intense activity.
And being a relatively low intensity exercise, it means that enthusiasts can keep golfing for longer – way into old age – when more vigorous sports may be difficult.
Macmillan have released the information ahead of a fund-raising event called the Longest Day Challenge.
On the longest day of the year, 21st June, the charities encouraging golfers to play four rounds of golf over the 16 hours of daylight.
Challengers will be playing from sunrise (4.45am) through to sunset (21.21pm), using every minute of the 16 hours and 38 minutes of daylight available to them.
Clubbing together a team of four, contestants will play 72 holes, take some 300 shots and cover a good 20 miles, as they fundraise to support people affected by cancer.
esearch undertaken into 300,000 Swedish golfers found that the death rate for golfers is 40 per cent lower than for other people of the same sex, age and socioeconomic status.
This amounts to a 5 year increase in life expectancy, with the golfers with the lowest handicaps, in other words the most skilled golfers, benefiting most.
Elizabeth Connare, Marketing Programme Manager for Macmillan Cancer Support said: 'Some people might be surprised to hear that a game of golf sees players walking well over their 10,000 daily steps and burning over 1,500 calories.
'As our supporters gear up for Macmillan's Longest Day Golf Challenge we are reminding people that golf is fun, sociable and a great way to get some exercise'.
TV presenter and golfing fan, Tim Lovejoy, says: 'Tackling 72 holes in one day will really test your golfing prowess but with a bunch of mates by your side and the knowledge that it's all for a great cause, it will be a fantastic day.
'I know from personal experience the difference Macmillan can make to a family that is affected by cancer and I'd encourage any golf fan to sign up for the Longest Day Golf Challenge and help Macmillan to ensure no one faces cancer alone.'
More than 3,000 teams teed off for last year's event, and raised more than £1.5million for Macmillan.
This could pay for nine Macmillan nurses for three years providing emotional, practical and financial support for people affected by cancer and their families.
To read the original article from the Daily Mail, click here
https://turfmatters.co.uk/wp-content/uploads/2017/06/Golf.png
905
1280
External Source
https://turfmatters.co.uk/wp-content/uploads/2022/05/TM-logo-1.jpg
External Source
2017-06-02 10:58:55
2017-06-02 10:59:10
A Game Of Golf Is Equivalent To A Week's Worth Of Exercise