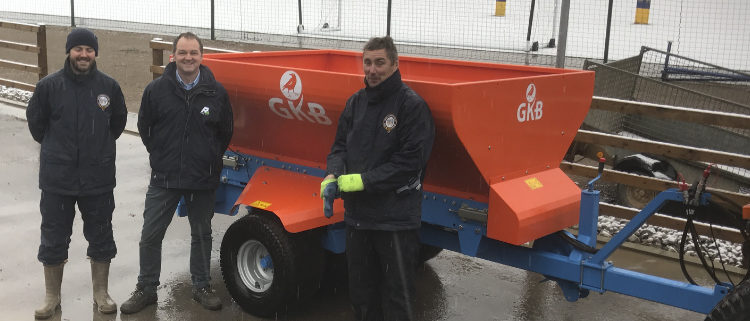 GKB Sandspreader for Queen Ethelburga's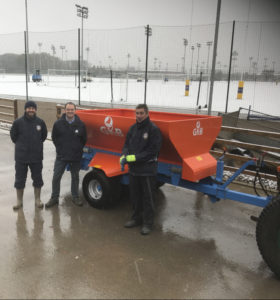 Thorpe Underwood Estate lies between Harrogate and York and is the home of Queen Ethelburga's Collegiate. Named after the Anglo-Saxon queen consort of Northumbria, who brought Christianity to the north of England around 625 AD, the school was opened in 1912 and today is co-educational, drawing pupils from over sixty six countries. The campus has been the subject of a huge investment programme in recent years. Seeking to create the best sports facilities for the school, which would also stand to benefit from commercial use, around £20 million has been spent on natural and synthetic sports pitches, courts and the machinery to service them.
Grounds Manager Ben Grigor is building a team to manage the thirty four acres of rugby, football and hockey pitches. He also set out charged with the policy of buying the best equipment for the job, a path which led him to the newly arrived GKB Sandspreader SP230. "We were looking for the best quality sandspreader we could find to maintain the surfaces on both the natural and synthetic rubber crumb and sand pitches," says Ben, "the standard has to live up to professional use – Leeds Rhinos Rugby League team use the grounds for example and Yorkshire County Cricket Club has a partnership with the school." Queen Ethelburga's rugby union first team secured the 2015 and 2016 British Colleges National Cup.
Local dealers Russels Groundcare brought the GKB Sandspreader to the school for a demonstration. The sand spreader is designed to distribute a wide variety of materials, including sand or mulch, which is transported to a mechanically adjustable metering valve on a conveyor belt. The double disc spreader ensures perfect distribution of sand on the pitch. "On the day conditions were fine but the sand was damp and it still worked very well," says Ben, "we're using it on the football, rugby and the cricket outpitches as well as on the synthetic surfaces. There's nothing overly complicated and we like the way the discs are protected but above all we are impressed with the quality, both in the way it's built and the way it operates."
For more information visit www.gkbmachines.com
https://turfmatters.co.uk/wp-content/uploads/2017/01/Queen-Ethelburga.jpg
803
750
Admin
https://turfmatters.co.uk/wp-content/uploads/2022/05/TM-logo-1.jpg
Admin
2017-01-06 12:42:55
2017-01-11 04:14:00
GKB Sandspreader for Queen Ethelburga's