Hero groundsman praised after primary school flood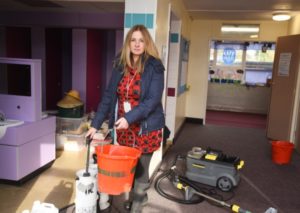 An Ipswich school is to be closed for at least three days after a leaking water fountain flooded the building, soaking hundreds of books as well as children's PE kit.
The security alarm was triggered at Britannia Primary School and Nursery just after midnight today as water from upstairs seeped through the ceiling onto the ground floor.
Headteacher Tracy McKenzie said a pipe had become disconnected from the back of a drinking fountain and she believed it had been running for the entire weekend.
She said: "It [The water] was about two or three inches deep upstairs and downstairs and was coming through the ceiling."
The school's security company contacted premises supervisor, Jake Whent, who attempted to clean up the water before calling Miss McKenzie and deputy headteacher Keith Hart around 3am.
Shortly before 4am staff alerted Suffolk Fire and Rescue Service, which sent one crew to the school.
Firefighters assessed the building and found that there was no threat of fire so left the scene at 4.20am.
Mr Hart praised Mr Whent, who is a former pupil of Britannia, as a "hero".
He said: "He's only about 18 and he was wading through a lot of centimetres of water.
"He was alone here in the cold and darkness dealing with a potential crisis.
"He did amazingly well. He was using his machinery to soak up all the water.
"He was very calm when I arrived. He worked really hard on the trauma of it all and he did a really good job.
"It was really frightening because water was pouring down and we have got electrics.
"If there's a hero of the story, it's him."
However, Miss McKenzie said hundreds of books, as well as children's PE kit bags and possibly laptops and iPads had been damaged in the flood.
Around 900 texts were sent out through Parentmail first thing this morning informing mums and dads of the closure.
Miss McKenzie said only one of the school's 672 pupils arrived today expecting a day of lessons.
"They all got the message, we had no come back at all," she added.
The headteacher said she hoped to re-open the school on Thursday, but it depended on the extent of the damage.
To read the original article, click here
https://turfmatters.co.uk/wp-content/uploads/2017/02/Headteacher.jpg
447
630
Admin
https://turfmatters.co.uk/wp-content/uploads/2022/05/TM-logo-1.jpg
Admin
2017-02-02 09:43:25
2017-02-02 13:44:41
Hero groundsman praised after primary school flood