Inside the Webb: Scott MacCallum catches up with Geoff Webb, the IOG's Chief Executive and the man who steered Saltex to its new Birmingham home.
With two successful editions of the new NEC Birmingham-based Saltex under his belt you would think that Geoff Webb would be relaxed heading into the third version of the new Saltex. Not a bit of it.
"No, the short answer is no." Is Geoff's response to the assumption that there must be less stress now than there was in the lead up two years ago.
"Knowing that the success or failure of the show rests heavily on your shoulders and that the responsibility lies with me means that I'd love the answer to be yes. But it is no."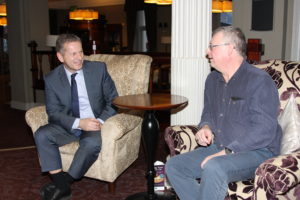 It is that sort of honesty and commitment to ensuring that each Show is an upgrade on the one before which means that Saltex is in very good hands.
The decision to move from its long-standing home at Royal Windsor Racecourse at the beginning of September each year to the NEC in Birmingham at the beginning of November, was not one taken lightly by the IOG Board but they also took the decision backed by evidence of a downturn in attendance at Windsor and an underlying feeling that perhaps the Show had run its course in that little corner of Berkshire.
"I do think that the move (to NEC Birmingham) has proven to be a wise decision and I also think that it has elevated the grounds care sector and given us a Show that people seem to like.
"It is in the middle of the country with good transport links, while the new date seems to have fitted in much better with visitors' schedules. It must also be recognised that we are never going to keep everyone happy but I do think that the endorsement has been the size of the exhibition itself which has grown year on year and visitors are coming back."
Outside of expansion in exhibitor and visitor numbers, identifying the success of a Show can be very much a subjective thing but, prior to moving success criteria were identified. Judging by the success of the first two editions most of those boxes must surely have been ticked?
"Very much so. In fact, we are ahead of expectation of where we are to be honest. But the key thing is never to be complacent. We work on the basis that we are driven by improvement so at the end of every Show we go through and analysis everything. We look at visitor returns, we look at exhibitor returns, we pick up on issues and try to find a way to improve on them. That's the responsibility we have got."
And it seems to be an effective strategy with the 2017 Saltex going to break through the 300 exhibitor barrier which represents a year on year improvement while we are anticipating something like a 15% growth in visitor numbers as well."
So what other elements go towards a successful Show?
"It's a whole host of things. I think it's the feel of the Show. The judge and jury on whether we've got it right or wrong is the general public and their reaction, thanks to social media, can be pretty much immediate.
"The first thing for us, prior to moving to Birmingham, was to manage successfully the transformation of the Show, which, let's not forget, had been outdoors for 33 years in a row. There were a number of doubters, while a lot of other people stayed on the fence and more can along to the Show out of curiosity in year one, less so in year two."
With those doubters having to reappraise their views the new look Saltex is offering much on many fronts.
"We've added value with attractions and features not least the wealth of products and information you will see and pick up at the event. We've also got the Industry Awards which sold out last year and look like being a complete sell out before the event this year. That's 800 people and an event of which we are immense proud."
Having spent a great deal of time reviewing feedback for all the Saltex stakeholders what tweaks have been carried out to improve the Show experience?
"Our team manages the transition of people going to the event and we have ring fenced the car park charges so that's not going to rise, which is happening at other Shows. We've also got that discounted for IOG members. We've also discounted ground travel costs to get to the NEC and if you go to the Virgin website. We are also working with the NEC about improving the catering and refreshment facilities," explained Geoff.
"Those are the logistical aspects to the Show but there are other areas within who learn by experience and being at the event. For example if the first year every theatre was outdoor but one of the issues we had was noise – either presenting of listening. So for the second year we sound proofed, and closed off the rooms but then we got feedback that it took away some of the atmosphere. So this year we are opening the theatres up again but we've got wireless headphones which we will give to all the delegates so that they will be able to hear the speaker. People will turn up put on the headphones and listen to the presentation while the exhibition is going off around them."
That's a prime example of looking at something which was perceived to be a downside and finding a solution.
"We are also having our own Show TV channel for the first time as well and will be carrying out pnm the spot interviews. It will also be the second year of the College Cup which proved to be such a hit last year and we have more colleges involved this year. Added to that, and again for the first time, we have an Advice Clinic for those interested in career development which will be managed by Frank Newberry."
One of the main selling points for the new location for Saltex was the opportunities it created to open the doors to many more people to get to the Show.
"A really good example of this is Paul Burgess who, everyone knows is at Real Madrid and last year he came to me and said 'This is great, Geoff. I've flown in from Madrid on a direct flight, got off the plane and walked to my hotel within 10 minutes and five minutes after that I was in the Show.'
"We had representatives from 43 countries last year. Before that it was predominately a UK-based Show. I do believe that Saltex is probably the largest sports turf ground management Show anywhere in the world."
Hearing what Saltex 2017 has in store for us I don't know about you but I think Geoff is being a little too harsh on himself if he feels as stressed now as he did two years ago before the first NEC Birmingham-based Saltex.
I'm not telling you to sit back and relax but just give yourself a bit of credit for two very successful Shows and the knowledge that Show Three looks well set to continue a very positive trend for Saltex.
https://turfmatters.co.uk/wp-content/uploads/2017/11/IMG_8647.jpg
2592
3888
Scott MacCallum
https://turfmatters.co.uk/wp-content/uploads/2022/05/TM-logo-1.jpg
Scott MacCallum
2017-11-07 16:29:59
2017-11-07 16:31:05
Inside the Webb