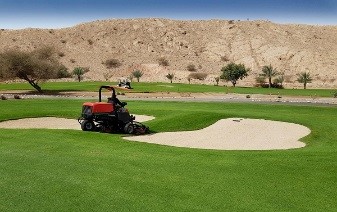 Jacobsen, a Textron Golf brand, is making waves in Oman, with equipment being exclusively installed at three out of four golf clubs in Muscat, the capital. With less than 1000 registered golfers in the country, competition is fierce to attract golfers to any one course.
Ghala Golf Club
Ghala Golf Club was founded in 1971, and moved to its current site in the 1990's. It has historically been a sand course, but it was transformed into a grass course in 2010 and is now used as the main training facility for the Oman national golf team, with many of its members learning the game at Ghala.
Russell Wilson has been the superintendent at the club for one and a half years after moving to the Middle East from Portugal in 2016. He says that recent investments have been made into the landscaping of the course; a new driving range has been built and new bunkers created, which has been carried out by the Dellanzo Group.
"At Ghala Golf Club, we have made a lot of investments to improve the quality of the golf course and to attract people to play here," Russel said. "I have inherited a fleet of Jacobsen equipment after using another brand of machinery at my previous club in Portugal. I must say that I am very impressed with the quality and the reliability of the machinery. The grass grows for 12 months of the year in Oman, so the machinery gets a lot of use which means that it needs to be durable and it needs to perform consistently. Speaking to the other local superintendents, it seems that this is a large part of the decisions being made by clubs to purchase Jacobsen machinery.
"As well as machinery, we also offer free golf to juniors to try to grow the game of golf in Oman. This has been successful for us, and getting the younger generation engaged in playing golf is key to the future of the game. Our golf course has come a long way in the past three years, and the acquisition of Jacobsen equipment has a big part to play in the improvements made to the golf course."
On the course:
2 x Jacobsen AR-3 rotary mowers
1 x LF550 fairway mower
1 x LF3800 fairway mower
1 x Eclipse1 greens mower
1 x Eclipse2 greens mower
2 x GP400 ride-on mower
1 x Greensaire 24 aerator
3 x Truckster utility vehicle (one with Jacobsen SprayTek).
35 x E-Z-GO RXV golf cars
Superintendent Profile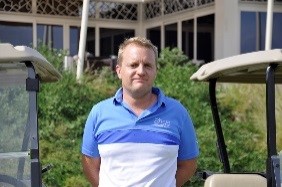 Name: Russel Wilson
Nationality: British
Number of years in industry: 20
Clubs worked at:
Pryors Hayes Golf Club (U.K.)
Scioto Country Club (USA)
Quinta do Lago (Portugal)
Amendoeira Golf Resort (Portugal)
Ghala Golf Club (Oman)
 Best piece of advice: Try to get experience of both warm season and cool season grasses, and it will open a world of opportunities for you.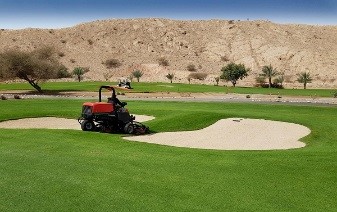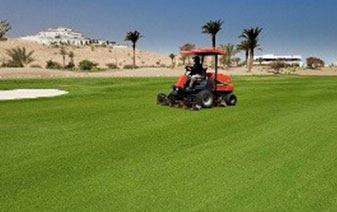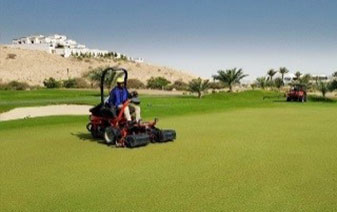 Ras al Hamra Golf Club (PDO)
Ras al Hamra Golf Club, also known as PDO, was opened as a sand course in 1969 exclusively for the oil and gas workers of Petroleum Development Oman (PDO). The course is one of the oldest in the Middle East and underwent re-development in 2011, transforming it from a sand course into a grass course designed by Graham Marsh.
Brett Merrell has been the general manager at the club for six  months, and was previously the superintendent having worked on the course as Clients Representative for the re-development in 2011.
Ras al Hamra Golf Club hosts one of the oldest events in the Middle East, the Muscat Open, for 43 of the 45 years it has been running.
"We are very proud of hosting the Muscat Open at Ras al Hamra Golf Club," Brett said. "Part of the success of hosting the competition is the fantastic team we have working on the course, and the support that we receive from Jacobsen.
The back-up and reliability of machinery is key for us out here, and that's where we have been really pleased with the machinery we have invested in throughout the years.
"Ras al Hamra is a unique course; it has 15 greens with 1.2 hectares of turf and our tees alone total an area of 5000m2. We have double greens, so the course is very versatile, and we also offer night golf which is a major attraction for the golfers of Oman. We are always looking at ways to diversify and put Oman on the map of top golfing destinations; that's something I would love to achieve during my time here."
On the course:
3 x Jacobsen Greens King ride-on mowers
1 x LF550 fairway mower
2 x Groom Master bunker rakes
1 x AR-3 rotary mower
1 X Truckster XD utility vehicle with SprayTek sprayer
1 X Truckster XD utility vehicle
38 x E-Z-GO RXV golf cars
6 x Cushman Hauler vehicles
1 x Cushman Shuttle 2
1 x Cushman Shuttle 6
Superintendent Profile
Name: Brett Merrell
Nationality: Australian
Number of years in industry: 22
Clubs worked at:
Ipswich golf club (Australia)
Brookwater Golf Club (Australia)
Muirfield Village Golf Club (USA)
Harbour Town Golf Link (USA)
Ras al Hamra Golf Club (Oman)
Best piece of advice:
Stay true to your beliefs and you will go a long way in this industry.
https://turfmatters.co.uk/wp-content/uploads/2018/07/jacobsen-oman1.jpg
212
337
Admin
https://turfmatters.co.uk/wp-content/uploads/2018/01/turf-logo-2018.jpg
Admin
2018-07-16 10:30:41
2019-07-18 08:24:22
Jacobsen Success in Oman