A Legacy Bearing Fruit – Scott MacCallum catches up with Greg Bolton as he works on transforming West Ham's new stadium back into its original athletics' arena guise.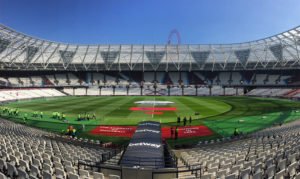 The word heard most frequently in relation to London's iconic Olympic stadium was "Legacy". it was perhaps the key single element in clinching the 2012 Olympics for London. Lord Coe's impassioned speech highlighted the desire to ensure that the youngsters of the UK would be inspired to put on their plimsols and run, coupled with sustainable plans to leave London with world class sporting arenas and left a lasting impression.
Achieving "Legacy" is something which has tested many of the modern Olympic host cities, some of them to the point of failure. Athens, Beijing and even, the newest Olympic city, Rio, have struggled to find a use for their main athletics stadiums and they have become nothing more than symbols of huge financial burden with no on-going purpose.
London was always going to be different, and when the first starter's gun "Bang", or field event throw, is made at this year's IAAF World Athletics Championships, in August, it will be the defining moment in a successful "Legacy" for the London Olympics.
Yes, there have been events held at the Stadium since 2012, not least the annual Anniversary Games and Rugby World Cup matches in 2015, but this will be the first major event to have taken place since the stadium – now known as the London Stadium – became permanent home to West Ham United. It will therefore act as overwhelming evidence demonstrating that the stadium can switch seamlessly between its regular use, as home to the bubble blowing Hammers fans and their team, to that of a world class athletics venue.
It will also mark a successful conclusion to the dilemma which exercised minds from well before the Olympic bid had been won – should London's Olympic Stadium be built as a bespoke athletic stadium, which would then be converted to a football stadium, or built as a football stadium but initially configured as an athletics venue.
Eventually, it was Lord Coe's desire and promise, to retain an athletic track as the Legacy, which carried sway.
The man charged with ensuring a smooth transition from footballs and goal posts to shot putts and javelins is Greg Bolton, Head Groundsman at the Stadium.
So does the desire to fulfil that legacy occupy the minds of Greg and his colleagues?
"Very much so. We have a duty to make this stadium multi-purpose and multi-functional throughout the year and we are actively making the most of the stadium, extend that legacy and make it a facility which everyone can come and enjoy," said Greg, as he took time from his hectic schedule to talk with Turf Matters.
As with so many of the magnificent stadiums this country now boasts the need to maximise usage does bring added turf maintenance complications. Greg, part of a five-strong team at the stadium -the newest member recruited from the local area as part of that legacy drive – has split his renovation programme into two to accommodate concerts from Depeche Mode, Guns N' Roses as well as a Robbie Williams concert which doesn't take place until the end of June.
"The window to enable us to do what we need to do is a lot shorter than it would normally be but it is something which we view as a challenge and are tackled head on. We have already stripped off the surface and after Robbie Williams we will take the power rake over it to remove the remaining debris. We will then put on 100 tonnes of top dressing and reseed using germination sheets. As soon as the seed has come through we will be straight on with the machines to get it leaf coated to get it to kick on as quickly as possible," revealed Greg.
It is fair to say that modern day technological advances and techniques have made possible what would once have given the most sound sleeping of Head Groundsmen nightmares and it does mean that extraordinary things can be achieved.
"As groundsmen in professional sport we now have all the tools at our disposal to do the job. Grow lights and fans to move the air around mean that we can achieve a great deal in a tight window. It is a massive challenge but if we use the technology that we have at our disposal we can make it happen," said Greg, who is delighted that the stadium's operating company – London Stadium 185 – are keen to ensure the best possible playing conditions. The 185 is a tribute to the number of medals achieve by Team GB's athletes during the London Olympics and Paralympics.
"They are extremely pro-pitch and very supportive of what we are trying to achieve. It was a major part of the legacy that the stadium be used more widely and we all understand that and embrace that. There are various stakeholders involved with the stadium and it is our job to please all parties."
So does the turf cope with a complete change in the trauma to which it is subjected?
"We are in a unique situation in that as a grounds team we have been together for just over a year and experienc
ed the Anniversary Games last year for the very first time and witnessed the javelin, discus and the shot putt going into the field of play.
"It creates damage but it was damage which we felt we got back pretty quickly to be fair. We'd been pro-active and had a
lready pre-germinated seed to put down and recovery came through a lot quicker and speeded up the process. We did bring in additional hand tools as well to help although we've now invested in some bigger, more robust pieces of equipment to relieve compaction," said Greg, who works closely with the West Ham Head Groundsman, Dougie Robertson, off whom he regularly bounces ideas. Bruce Elliott, at Crystal Palace is another man Greg, turns to as a sounding board.
The one athletic discipline Greg and the team haven't yet experienced, however, is the one which is generally regarded to have the biggest damage to turf.
"The only thing we have yet to come across is the hammer, which is probably the most destructive, but we still feel that we are equipped to deal with it."
In many ways the field events at the IAAF World Athletics Championships will be played out on the highest possible specification turf ever, as the DESSO pitch installed at the beginning of last season for West Ham will still be in place.
"Since 2012 the sport of athletics as evolved significantly and it has moved on from surfaces which were just glorified dart boards to the level we expect for all our major professional sports events today. Last year the DESSO had just been laid and was still naturally a lot softer but after a full season of play it will have bedded in and I don't expect the impressions made in the surface will be as great as we found them last year."
The major differences outside of the field of play, and the IAAF livery, as opposed to that of the Olympics in 2012, come with the floodlights and the seating.
"In 2012 the floodlights were pitched at a different angle to what they are now while the lower seating is now retractable."
As per Lord Coe's vision, the track is permanent, but covered with a membrane and astroturf during the football season to protect it from those football boots. The lower seating is then retracted, widening the arena and revealing the legendary track which provided the stage for those extraordinary achievements by Mo Farah, Jessica Ennis, David Rodisha and Usain Bolt.
That seating was perhaps the most innovative of the adaptions which were required to sustain that legacy, and while eye wateringly expensive they do ensure the truly multi-use benefits of the stadium.
Despite being a Home Counties boy Greg didn't attend the London Olympics and it is something which he does regret.
"I'd have loved to have visited the stadium during the Olympics and seen it in 2012 to see just h9w much it has come on since then," said Greg, who added that the stream of Guided Tours around the Stadium show just how much the stadium means to the general public, not to mention those Hammers fans.
Being in charge at such an iconic venue is something which means a lot to Greg.
"It is an incredible arena and I'm incredibly proud to be working here and heading up the grounds team," he said and he is really looking forward to August and those World Championships.
"After an Olympics you can't get bigger than a World Championships and it is a massive summer for us, as we also have the Anniversary Games and the Para Games as well."
Although he will have a great many commitments Greg has planned in time to be out on the field of play seeing how his turf reacts first hand and being available to nurse it back to full health.
"I'm very involved and will want to get out there. I just need to keep out of the way of those javelins and hammers!"
It will be a pivotal summer for the London Stadium and by playing host to the World Athletic Championships, the other athletic meetings, as well as those rock and pop stars, it will already have started to create that legacy Lord Coe was so insistent upon.
https://turfmatters.co.uk/wp-content/uploads/2017/06/Picture-1-1000.jpg
750
1000
Scott MacCallum
https://turfmatters.co.uk/wp-content/uploads/2022/05/TM-logo-1.jpg
Scott MacCallum
2017-06-09 14:59:17
2017-06-14 15:31:10
A Legacy Bearing Fruit