Merry Christmas from Turf Matters!
I'm tempted to ask where these last 12 months have gone but I then step back and take a look at the strides Turf Matters has made over the last year, both digitally and with our bi-monthly hard copy. It is fair to say we have packed quite a bit in and we've needed every single one of the days the year gave us.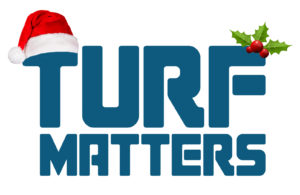 For a start there wasn't a monthly newsletter this time last year. We started these at the beginning of 2017 and we have been delighted at how well they have been received. So thank you for being one of our faithful readers, and thank you too, to everyone who has featured within our digital pages!
I also hope that for you the past year has been one you will be able to look back on fondly. It is fair to say there have been many hurdles to overcome for us individually, and for the country as a whole, but as a nation we are a resilient bunch, and that's especially true in our particular sector. We seem to possess an ability to get things done no matter what is put in our way whether that be weather, budget cuts or whatever else may be on the end of the next telephone call.
I think we do all need a rest so have a peaceful festive holiday, if work commitments allow and if you are working over the next couple of weeks, I hope the weather is kind.
We are looking forward to building on the progress we made in 2017 and I hope that for you, as much as it does for us – Turf Matters.
On behalf of Loz, Tim, Sinead Marie and myself have a Merry Christmas and a Happy New Year.
Scott MacCallum
Editor
https://turfmatters.co.uk/wp-content/uploads/2017/12/square.jpg
1535
1604
Scott MacCallum
https://turfmatters.co.uk/wp-content/uploads/2022/05/TM-logo-1.jpg
Scott MacCallum
2017-12-20 14:38:29
2017-12-20 14:38:29
Merry Christmas from Turf Matters!