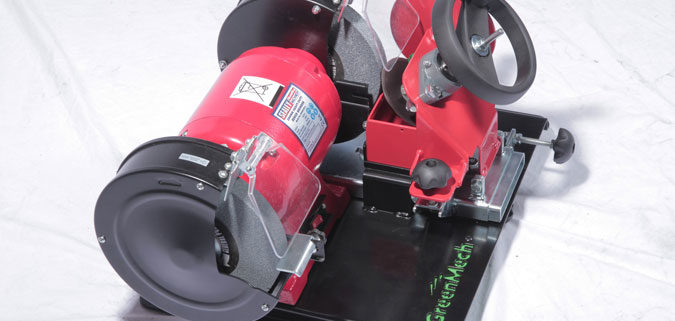 New Disc-Blade Sharpener From GreenMech Reduces Downtime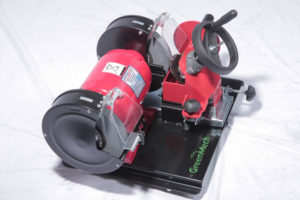 British woodchipper manufacturers GreenMech have introduced their own disc-blade sharpening unit for users to quickly sharpen their GreenMech blades and minimise machinery downtime. Being non product specific, the unit will be of particular interest to hire companies and contractors with multi-machines in their portfolios.
Commenting on the introduction of the sharpening unit Sales Director Martin Lucas said, "This is a great add-on to have in the GreenMech range. Giving users the autonomy to sharpen their own blades as and when it's required speeds up the sharpening process for the customer whilst also improving the efficiency of the chipper, helping it to perform at its best." For those who wish to return their blades to the manufacturer, GreenMech will continue to offer their factory disc-blade sharpening service.
Introduced in 1995, GreenMech's unique disc-blade system already offers significant cost-savings over conventional straight chipper blades. In operation, only 30% of the disc-blades circumference comes into contact with the woody material. This means that when these edges become worn or damaged by contaminates, the blades can be turned to the next sharp section, before the need to sharpen. This equates to 600% more blade life and up to 150 hours of chipping before requiring re-sharpening.
These pioneering round blades are now the preferred choice with many contractors and come fitted as standard on all GreenMech hydraulic chippers.
https://turfmatters.co.uk/wp-content/uploads/2017/04/Disc-Blade-Sharpener.jpg
450
675
Admin
https://turfmatters.co.uk/wp-content/uploads/2022/05/TM-logo-1.jpg
Admin
2017-04-13 14:57:23
2017-04-13 14:57:30
New Disc-Blade Sharpener From GreenMech Reduces Downtime