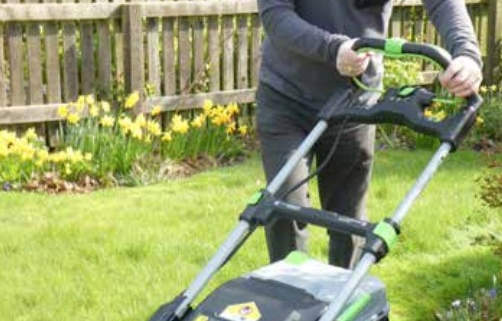 New lawns shown NO MERCY: Scott MacCallum gets to grips with EGO's battery powered mower.
As a journalist, I am far more adept at writing about things than actually doing them. A theatre critic cannot be expected to deliver an emotion drenched soliloquy, nor could you rely on a sports writer to produce a smooth Cruyff turn.
And so we come to me and lawn mowers.
I must admit I'm what Capability Brown would be to feature writing, or Shakespeare to designing a Chelsea Garden. Not the best.
However, we have three lawns on our recently-acquired home and, once there is a little heat in the air, that grass does grow.
So, I was delighted when EGO asked me to road test their latest battery powered mower – the 42cm cordless self propelled mower – which joined the EGO stable earlier this year.
The excitement when the delivery van dropped off the large box was palpable, and, I'll admit it now, tinged with a little apprehension. How easy would it be to transform the contents of the box into a working lawnmower?
The answer? Simple! Even a man of my limited practical means had it up and running in 15 minutes – a more proficient human being would have achieved the same feat in five, but I still saw it as both a feather in my cap and that of the EGO.
The mower is beautifully powerful and given that not only was it my first outing with the mower, it was my first attempt at circumnavigating our new lawns. Now I can tell you that while the intricate scallops and dainty satellite flower beds looked absolutely superb on the Estate Agent particulars, when it comes to lawns, I'd far rather have straight up and down squares and rectangles. So much easier.
However, we are where we are and while my first two cuts saw a degree of trial and error on the part of the driver, by the third cut I considered myself to be pretty capable. Those early attempts were characterised by my efforts to control the throttle. The self-propelled element is absolutely wonderful, but a brain has to become acquainted with the fact that the mower won't stop until you released the handles on the top of the steering console.
I haven't told my wife yet, but the odd area of the border where the shrubs and flowers are a little more dishevelled and scruffy – I'd be inclined to use the word "gouged", are not the legacy of the previous owners, or next door's dog, but my failure to adapt quickly enough to the self-propelled nature of the EGO.
It can run away with you a little and if one of the wheels slips off the side of the lawn it can leave an impact, in most parts negative, on the vegetation.
But once I had mastered both the mower and the lawn I truly was poetry in motion. The speed is controlled by a very simple dial in the middle of the console and this can be ramped up on a straight run – our lawns do possess a few – and reduced when it comes to the more twisty bits.
At 42 cm wide it is a nice balance of wide enough to reduce your mowing mileage and narrow enough to negotiate tighter spaces.
The grass box, part hard plastic, part fabric, is easily accessible and roomy – is that a word you can use for a grass box? A full box roughly fills a standard black bin bag and it is extremely simple to remove and reattach.
All that power I mentioned takes a little bit or servicing and I was pleased that I had been sent an additional 56 volt 5ah battery to complement the 2.5ah battery which came with the mower.
Our grass take around 40 minutes to cut and that would account for the entire life of the smaller battery or around three fifths of the larger – the battery indicator is split into well illuminated fifths so you can see how much you have left – so having a spare battery, which you can have charged and ready to step in, is extremely useful.
I have now used the mower for around half a dozen cuts and it has not caused me a single problem. I'd go so far as to say that it has made cutting the grass a real pleasure and I've not gone looking for an excuse for not mowing the lawn – a weather forecast showing even a slight chance of rain would previously have been enough for me to shelve the idea.
I'm certainly sold on battery power. My previous mower was a fine electric powered model and unwrapping from clothes poles and deciding which was the better option – a left or right turn to avoid running over the cable were all part of the experience.
So, I might not be the finest lawn mower man in the country but, at least, I've been able to come to some sort of definitive conclusion as a lawn mower tester!
https://turfmatters.co.uk/wp-content/uploads/2020/06/1.jpg
681
502
Scott MacCallum
https://turfmatters.co.uk/wp-content/uploads/2018/01/turf-logo-2018.jpg
Scott MacCallum
2020-06-30 09:59:40
2020-07-01 08:42:39
New lawns shown NO MERCY