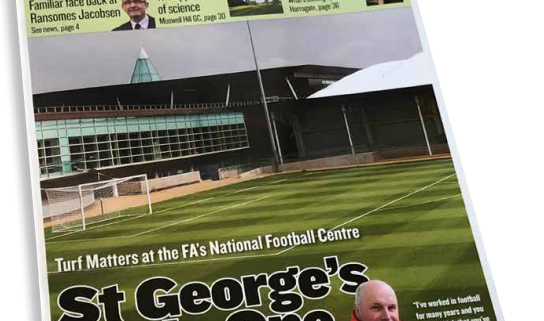 On your side for 50 issues, and counting…
On your side for 50 issues, and counting…: When we launched Turf Matters back at the beginning of 2014, we had high, but realistic, hopes. We hoped that our readership would appreciate what we had to offer and that, perhaps, we might grow over the years to be a well-respected title.
With this, our 50th issue, we can look back with pride at having achieved that goal. We are definitely a respected title. We have won awards for our writing and our design and we are thrilled that more and more companies within the industry are deciding to share some of their marketing and advertising budgets with us. That is not something we ever take for granted, particularly in these tough times.
We are also pleased that so many have opened their doors to enable us to produce interesting features and over the last eight years these open doors have allowed us to showcase extraordinary work at virtually every major sporting venue in the country – not to mention the odd overseas assignment, which included a preview to the Ryder Cup matches at Golf National, in Paris.
We have also seen our digital presence grow and we now have over 22,000 on-line followers.
I would like to thank everyone who has helped to make Turf Matters what it is today and the promise that I make to you is that we will continue to work hard to produce the magazine you want to read and the digital platforms you want to visit.
Scott MacCallum, Editor/Publisher
https://turfmatters.co.uk/wp-content/uploads/2022/05/1.jpg
577
544
Admin
https://turfmatters.co.uk/wp-content/uploads/2022/05/TM-logo-1.jpg
Admin
2022-05-20 11:33:12
2022-05-20 11:33:12
On your side for 50 issues, and counting…