Pleasant Point Pitch Vandalism Leaves Coaches Frustrated
Pleasant Point Pitch Vandalism Leaves Coaches Frustrated. Vandals have torn up several sports fields and cricket pitches in the South Canterbury town of Pleasant Point, New Zealand – leaving teams upset and furious.
Police are investigating Monday's incident, which one coach described as the worst damage he had ever seen.
Pleasant Point Cricket Club captain Cameron Lundie said a lot of people would be upset by what had happened.
"It's just very gutting, especially the amount of work that's gone into this new pitch, it's had over $22,000 spent on it less than a year ago, a lot of work," Lundie said.
The number one pitches for both the town's football and cricket clubs, as well as the number two pitch and training pitches of the rugby club were all left with deep ruts dug into them.
Pleasant Point Constable Kris Howes said in addition to the fields being damaged part of one of the football goals was driven into, ripping netting off its fastenings.
Howes said a local resident reported hearing a vehicle between 2.45am and 3am "revving and carrying on".
"They could see the lights coming on and off… they probably turned them on to see if they had collided with the posts."
Howes said the football pitch had previously suffered damage on a "minor scale".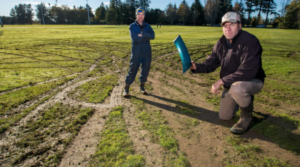 "Even on the golf course next door they have never done this sort of damage. They might come in and do a couple of skids and then go, they have probably been here for a good half an hour."
Howes said it could "possibly" be someone local, given the person had known to avoid the barrier of wooden logs placed around the pitches, and the car was seen heading in the direction of Pleasant Point.
The vehicle was "going to have some damage and it's going to be filthy".
Howes said it was "idiotic" behaviour. "It's just brainless. The guys at the cricket field have spent weeks and months getting it sorted and up to standard."
A piece of the vehicle was left behind at the scene. A Timaru District Council spokesman said while the vandalism was "very disappointing", contractors had started working on fixing the sports fields.
He said the majority of the damage should not stop teams from playing sport there this week.
Pleasant Point Cricket Club groundsman Chris Murphy said the worst thing about it the damage is because it was winter the club can't do anything about it. "We can't touch the cricket pitch now until spring."
Pleasant Point cricket and football coach Mike Otley decried the "absolutely senseless damage".
"It does happen occasionally but it's been a while since it's happened," Otley said.
"It's probably the worst damage I have seen."
To read the original article from Stuff, click here
https://turfmatters.co.uk/wp-content/uploads/2017/05/Screen-Shot-2017-05-15-at-11.47.20.png
906
1020
External Source
https://turfmatters.co.uk/wp-content/uploads/2022/05/TM-logo-1.jpg
External Source
2017-05-15 10:55:46
2017-05-15 10:59:08
Pleasant Point Pitch Vandalism Leaves Coaches Frustrated