Southend United Groundsman Ken Hare Reaches Settlement With Club
Southend United Groundsman Ken Hare Reaches Settlement With Club. Prospect (the union that represents football officials, cricket umpires, grounds staff and other sports professionals) has reached a mutually acceptable agreement for Southend United's groundsman, Ken Hare, whose employment was terminated in January.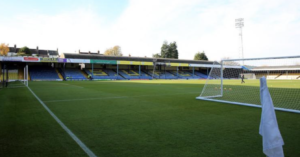 Hare was dismissed on 21 January after Southend's home match against Bolton was postponed because the pitch was frozen.
Hare contacted his professional body, the Institute of Groundsmanship who provided support and advice, and his trade union Prospect.
Prospect national secretary, Alan Leighton, represented Hare in the negotiations with Southend chairman, Ron Martin.
Leighton said: "The negotiations were tough, but conducted in a good and fair spirit with each side acknowledging the other's position in order to reach a mutually satisfactory agreement.
"The nature of the negotiations was typified by the kind offer of two season tickets for Ken as part of the arrangement. Ken gratefully accepted the offer and hopes to see Southend promoted in 2017/18."
The terms of the agreement are confidential, but Hare said: "I am delighted with the outcome and would like to express my thanks to Prospect, the IOG and the Chairman, Ron Martin, for helping reach a mutually satisfactory agreement.
"Without the support of my union, I would have had difficulty resolving this without incurring the cost and stress of it potentially being determined at an employment tribunal. I would encourage all my grounds staff colleagues to join Prospect and the IOG."
Leighton added: "This was a hugely important issue for Ken and for grounds staff more generally. Employees in football clubs need the support of an independent friend in the workplace because problems can arise at any time.
"Prospect was able to provide crucial professional advice and representation."
Leighton paid tribute to Ron Martin for being pro-active and prepared to compromise and reach a mutually satisfactory agreement.
Tim Gray for the IOG said: "Ken's case was a classic example of why the partnership between IOG and Prospect is so important. It shows why grounds staff should be members of both the IOG – for professional advice and development – and of Prospect, for employment advice and representation."
To read the original article from Prospect, click here
https://turfmatters.co.uk/wp-content/uploads/2017/05/Screen-Shot-2017-05-08-at-12.12.20.png
702
1338
External Source
https://turfmatters.co.uk/wp-content/uploads/2022/05/TM-logo-1.jpg
External Source
2017-05-08 11:16:26
2017-05-09 12:09:49
Southend United Groundsman Ken Hare Reaches Settlement With Club