Council Chooses Portable Toro T4240. East Cambridgeshire District Council maintains approximately 70 hectares of open space, and having recently become responsible for even more sites across the area, has invested in the portable Toro T4240 high-output cylinder mower to manage a multitude of sites.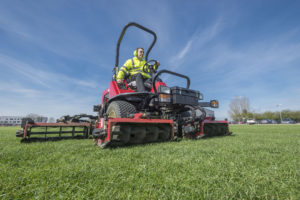 The council's team leader, Tim McCreadie, opted for the T4240 in particular because it was one of the 'lightest' mowers he came across, making it easy to transport between sites safely: "We decided to invest in the T4240 thanks to its transportability. As the machine is lightweight, and its outer units can fold neatly out of the way, it's easy to tow from site to site, which is important to us as we cover a wide area geographically."
He adds: "With a local village college, secondary school and sixth form putting their confidence in us to deliver their grounds maintenance needs, we've invested in the T4240 at the right time. The mower is perfect for these sites due to its wide width of cut and we've found its cutting cylinders provide a superior quality of cut to rotary mowers, giving a lovely finish to school sports surfaces. An added bonus is that it looks really smart and professional to our customers too."
The machines safety features also appealed to Tim, he says: "I think it's great that the mower protects the operator from harm by cutting out the engine when they leave the machine. The roll bar is also of good quality and easy to move up and down."
Tim explains why he chose Toro this time round: "We explored different options but Toro came out on top for good value and high performance, as well as offering one of the lightest mowers on the market for what we wanted."
Award-winning aftermarket support from Toro's sole UK distributor, Reesink Turfcare, also factored into Tim's decision to buy the machine. He says: "[Reesink representative] Danny Lake has been particularly helpful throughout the process. It's reassuring to know that the company will go the extra mile for its customers and that its HQ is only an hour's drive away from us."
According to Tim, the machine has had great reviews so far: "The operator of the T4240 is really happy with it. He's incredibly experienced and says it's the best machine we could have got for our needs.
"We've had our eyes on the T4240 since SALTEX 2015 and it certainly hasn't disappointed," says Tim. The council invested in the machine with a view of potentially buying more in the future. With its success so far, and an ever-growing customer-base, it may not be long before another T4240 joins the fleet!
Learn more about the products included in this story by visiting http://www.reesinkturfcare.co.uk
https://turfmatters.co.uk/wp-content/uploads/2017/05/East-Cambs-1.jpg
1367
2048
Turf Matters
https://turfmatters.co.uk/wp-content/uploads/2022/05/TM-logo-1.jpg
Turf Matters
2017-05-04 10:34:49
2017-05-09 11:22:01
Council Chooses Portable Toro T4240 For Multi-Site Use