The toughest greenkeeping challenges
The toughest greenkeeping challenges: Greenkeepers are often the unsung heroes of the golf industry. They start work early in the morning and are usually out of the way long before golfers tee up. Yet their responsibility to maintain the golf course means they're in charge of the most important asset at any club.
Golf courses are prepared to a higher standard than ever before, despite economic pressures, the rise of year-round golf and the changing climate.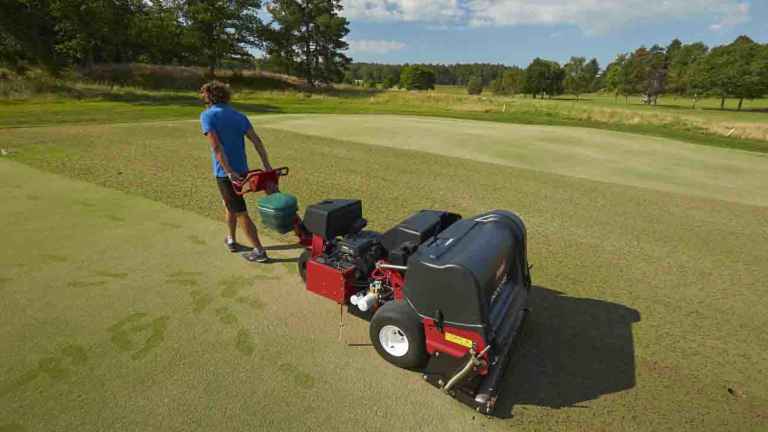 We teamed up with the British and International Golf Greenkeepers Association (BIGGA) and asked a selection of course managers from all over the UK, including an Open rota superintendent about what the toughest thing any greenkeeper has to do.
Some of their answers may surprise you…
Craig Boath, links superintendent, Carnoustie Golf Links, host of The Open in 2018
"Every golf course is different and they all have their own challenges. Here at Carnoustie, we are no different. Looking after the turf is one of the easiest things, but dealing with weather and the expectations of visitors and members can be pretty hard going. Everyone who visits, thinks they are an agronomist and has an opinion on how they think the course should be presented!
"While most of the members have good intentions, I would say a lot don't understand why greenkeepers do certain things at certain times of the year. If they had their way, we would be doing all our work in December, so we're not in the way of the golf during the rest of the year!
"As a greenkeeper you need to keep focused on what you are trying achieve and try to not listen too much to the golfer telling you how to run the course. We greenkeepers are never satisfied, but one thing is consistent: we are proud of what we can achieve."
James Bledge, course manager, Royal Cinque Ports Golf Club, Kent, host of The Open in 1909 and 1920
"I'd say if we're talking from the perspective of a greenkeeper, the toughest thing you face is pushing yourself to stand out from a competitive crowd in order to progress your career. With budgets becoming tighter in many clubs, the opportunity for investment in staff is reduced. The only solution is to take time out from your personal life to educate yourself. You even have to fund your own education, because when that job interview comes along, you really have to stand out.
"From a course managers perspective, there are loads of things we could talk about. One that's really hit home for me recently is finding good kids that are willing to go through the apprenticeship scheme in order to train as a greenkeeper. Most run a mile when they see that the money is poor and that's a shame, because they're missing out on a really rewarding and fulfilling career.
"Another challenge is dealing with the expectations of members, especially in the light of the chemical bans that we're seeing. This will be a huge topic of conversation for the next few years as greenkeepers adapt to work with the tools that are available to them.
"Additionally, membership fees at clubs are not rising in line with costs for materials and machinery. I know of golf clubs where the members expect the world but have zero understanding on how much it costs to run a course. I'd love to take my budget sheet to a smaller club and let the members know how much it really costs to maintain a championship course. If you want to pay less for your golf, you have to expect that the standard of the course will fall in line with that."
Richie Stephens, course manager, Ringway Golf Club, Cheshire
"Undoubtedly, the toughest thing I've had to understand is the politics within golf clubs. With committee rotation and 500 bosses with 500 different points of view, it is hard to plan long term and develop consistent course plans, even with a course policy document in place.
"I'm lucky that I've got on well with all my course chairmen and it's important for a course manager to have an understanding of what their members want from the course. To do that, you should find a small group of golfers, of varying abilities, who you can ask questions of. This means you can anticipate who might object to any changes.
"One thing I do is confirm all decisions and actions by email and then keep the email in a safe place, so I have a written record of every decision that is made.
"Having a course policy document and an ongoing course development plan – of at least three years – continually ratified, allows for some consistency for future planning. A course policy document can help stop the annual whims and changes of particular individuals, which often interrupts course development plans and can lead to inconsistencies in topdressing, greens renovations and aeration programmes, stuttering the improvement of surfaces."
Jack Hetherington, course manager, Boldon Golf Club, Tyne and Wear
"The simple answer to this question is: manage expectations. I'm 32 years old and have worked in this industry for 14 years, including three as a course manager. I've recently moved to a new course and I feel that managing the expectations of myself, my team, the members, the committee, my family, friends and even peers is not only a very tough part of the job but also, I believe the key to successfully maintaining a good work, life and stress balance.
"I'm looking for 100% efficiency from the resources I have available; the members are looking for a high standard of golf all year around; the committee want the best golfing experience possible within budget; and my family and friends want work to stay at work and within contracted hours.
"I've tried in vain to prioritise the expectations that are put upon me, but now I just juggle them as best as I am able. Instead, I look at expectations as a stock investment in myself.
"For example, we recently hosted the autumn meeting of BIGGA's North East Section. With adverse weather leading up to the event, I was left with 44 working hours to prepare the course, but 63 hours-worth of work to meet my own expectations of presentation. We drafted in greenkeepers from a local course, worked some overtime and fell a little short of the 63 hours, but still presented the course well.
"I believe my stock went up among my peers, club members and the committee, who were impressed by the course and my commitment, but it will have reduced among my friends and family who I neglected due to the long hours and among my team, who I asked to work longer hours.
"To ensure I stay married, maintain friendships and my team don't start looking for new jobs, the team and I have to take some time away from work. This must be done in a manner that has minimal effect on the course, so any raised stock isn't immediately damaged.
"The way I manage expectations dictates the type of course manager I am. Therefore, the 'toughest thing I do' is to identify how my actions affect different expectations and also execute actions to ensure I stay true to the type of course manager and person I want to be."
Rob Clare, course manager, Brough Golf Club, East Yorkshire
"When asked the question 'What is the toughest thing a greenkeeper has to do?' a myriad of answers come to mind; we all have to deal with ever decreasing budgets, climate change, banning of chemicals and the general down turn in the demand for golf.
"We live in a society where people expect everything immediately and for minimal cost to themselves, where we can sometimes feel our instant needs outweigh the greater long term good. Society has a much shorter attention span and we are far more likely to give up on something we find challenging quickly. Technology has a lot to answer for, information is so abundantly available that any one thing can only grab seconds of our attention, if at all.
"So how does all this apply to greenkeeping? Our customers' expectations have never been higher. Golf no longer has a season, with the improvement in waterproof clothing, drainage and course construction, the expectation is for 365 days of golf in pristine conditions, regardless of time of year, weather conditions, available resources or chemicals. Cheap winter golf breaks to the continent certainly don't help our cause back home in the UK and only stand to further unrealistic expectations.
"How do we as greenkeepers deal with this problem? The obvious answer is by explaining the reality of course maintenance to members. But how do we do that? My answer would be by using every kind of resource you have at your disposal. This includes producing signs, notices, regular newsletters, daily answerphone messages, regular social media updates, uploading short videos and conducting open evenings.
"Lastly, we work in a service industry and being approachable and willing to make time for people, although sometimes time consuming, can be very constructive.
"Ultimately, despite all our best efforts, there will always be some that ignore our communications – perhaps they step over ropes, disregard GUR signs or don't repair pitch marks – but we must show perseverance and continue to get our message across in every way we can."
Click here to read the original article
For the latest industry news visit turfmatters.co.uk/news
Get all of the big headlines, pictures, opinions and videos on stories that matter to you.
Follow us on Twitter and Instagram for fun, fresh and engaging content.
You can also find us on Facebook for more of your must-see news, features, videos and pictures from Turf Matters.
https://turfmatters.co.uk/wp-content/uploads/2019/11/greenkeeper1.jpg
432
768
External Source
https://turfmatters.co.uk/wp-content/uploads/2022/05/TM-logo-1.jpg
External Source
2019-11-06 10:17:38
2019-11-06 10:17:38
The toughest greenkeeping challenges