Transforming Greenock Morton FC
Scott MacCallum catches up with Mark Farnell, Head Groundsman at Greenock Morton, a man used to making the most of what he has got.
There is groundsmanship going on all around us at every time of day, or year, and at so many locations that it would render your Sat Nav hoarse should you set out to visit every one.
Issues are being identified, solutions uncovered with the nett result that more often than not the best result, given the circumstances, and budget, are achieved. The word budget is key here as, outside of a select few venues, money is tight and a groundsman uses his wits to bring about what he or she desires.
One such is Mark Farrell, Head Groundsman at Scottish Championship Club Greenock Morton FC, who, through an excellent working relationship with Richard Haywood, of Campey Turfcare, had his pitch Koroed in exchange for hosting an industry open day.
Mark had work carried out on his pitch which would otherwise have stretched his budget to breaking point while Campey had the opportunity to demonstrate the effectiveness of their Koro machine. In addition 70 groundsmen and women saw first hand how a pitch can be transformed in a remarkably short space of time.
"I know Richard very well and we agreed that it would be great to put on an event in Scotland and I told him that Morton's pitch would be available to use and that it would also help us as we're not a big club," explained Mark.
Greenock Morton came within a successful play-off campaign of reaching the Scottish Premiership last season. Defeat to Dundee United, in the semi-finals, ending what had been a remarkable season of over-achievement for a club which had only been promoted from the 1st Division the previous year. In fact they had identified their ambitions for the year as Championship survival.
However, by Mark's own admission, home ground Cappielow, just a few hundred metres from the banks of the Clyde, boasts the type of pitch which is not generally seen at the likes of Parkhead, Pittodrie or Ibrox.
"What we have is about as close as you could get to a council pitch in a professional football club – we have a great deal of play and the construction is not what it would be at other clubs," explained Mark, a Mancunian, who has been Head Man at Cappielow since 2005.
"It is soil based, and that's not changed since we started playing at the ground in 1874, and we have no drainage or irrigation. All the sand we've applied over the years has worked its way into the soil structure."
But Mark doesn't get the opportunity to nurse his pitch through a season, as there are three teams which call Cappielow home – Morton's First Team, Morton's Reserve Team and the Celtic Development Squad, who travel down from Glasgow to play in Greenock. "If we count only the main matches, last season we had 53 games on the pitch and that doesn't take into consideration the community and corporate games which are also played. It's close to 100 games a season."
With the priority Morton's first team games it is a real battle against the tide as Mark can often face a game on Monday, Wednesday and Saturday.
"The main problem is getting onto the pitch to do what we need to do, and do it when the conditions are right. I often find that if we've had a game on the Monday it will rain all day Tuesday and then a game on Wednesday and you only have time to prepare for that and not to any time to do anything other than that."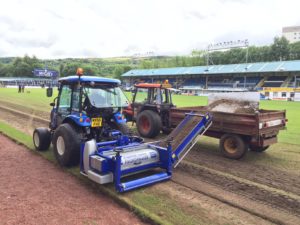 Ah, the rain. Coming from Manchester Mark thought he knew all about rain. He was about to learn more. The west of Scotland does experience more than its fair share of rain with locals joking that webbed feet are an obvious give-away for anyone coming from the area.
"We used to go on about Manchester being wet but it's wet up here, I can tell you. Last year was one of the best we've had recently in terms of rainfall but the year before we had over 1000mm in just four months. In the December we had 388mm alone."
The Campey day afforded Mark the opportunity to get some work done on the pitch which would not otherwise happen. "I have a lot of poa – a lot of good poa – but the plan was to try and get some more rye grass into the surface so what we did was take off about 70% of the top surface, because the soil here is good, and leave about 30% of the strong plant. We'd never done it before and while it's not a bad surface here, it's never going to be one of the top pitches in Scotland as it's overused, with no drainage and no irrigation.
"What we were looking for is a satisfactory surface for the year which will play ok," said Mark, who added that Morton's Manager, Jim Duffy, is happy to leave him to get on with his work and never questions or complains.
"He knows the game, been around a long time and he knows what I'm like with the pitch and leaves me to it."
With a background in golf Mark, worked at two of the most prestigious clubs in the country, The Oxfordshire, under David Gower, and Loch Lomond, under Ken Seims, as well as at Myerscough College. So he has a strong knowledge of the grass plant and soil structure and he brings that to bear at Cappielow.
"What I've learned is that you have to be tough on the plant. You've got to be brutal on the plant to make it strong and really scarify heavily. If you just chuck on your feed the plant will just sit on the surface happy as Larry and play poorly.
"You have to leather the plant to make it strong and to work on a soil based pitch because otherwise you won't get any root stabilisation. It is just down to proper hard core groundsmanship."
And that's mechanical, not chemical.
"We don't spray for anything here. We just use cultural methods and because no two sites are the same what we do here won't be the same as would happen anywhere else."
It took Mark around four years to become really familiar with his pitch and understand how it worked.
"When you've got a surface that you use from one year to the next you do get to know where the water gathers or the dry areas are, and generally how it operates. I do get organic build up from one year to the next and I've got keep on top of that, but I speak with a lot of guys at the bigger clubs and they work completely differently. They are able to feed, cut, feed, cut, feed, strip out and start again so they don't really need to know their pitch to the same extent."
If Mark is jealous of those at bigger more glamorous clubs he certainly doesn't show it and he has embraced his Scottish and Greenock way of life mixing with fans – he is one himself – opposition fans as well as fellow groundsmen and greenkeepers.
However, he did get a taste of life at one of the game's giants recently when his long time friend, Paul Burgess, invited him over to Madrid to look at his facility at the Bernabeu and take in the El Classico between Real Madrid and Barcelona.
"The pressure I'm under is completely different to the pressure Paul is under. They want perfection and Paul has to deliver."
Mark has been able to introduce one of the game's newer innovations to Cappielow however, but not quite on the same scale as those in Madrid.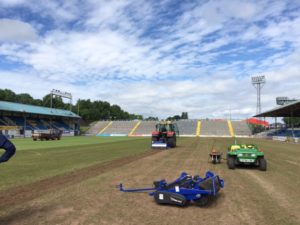 "I've got a small lighting rig for next year – 12 lamps – and it does the trick. With so many games the goal mouth areas take a pounding so the lighting rig enables me to focus on that and bring them back as much as we can."
Mark sees the rigs as one of the key tools that have arrived in recently years, along with the DESSO pitch, but it is the synthetic pitch revolution in Scottish football which concerns Mark and their influence on his adopted country's progress as a football nation.
"Not far off half of the 42 clubs in Scotland are now playing on artificial pitches and that has arisen for financial and not footballing reasons. If it was purely to do with first team football and providing a surface for fans to come and watch their team it would be played on grass. If Scotland continues to fail to qualify for tournaments the number of artificial pitches at our clubs may well be a reason for that. They are not going to help improve talent at a nation level," explained Mark.
Mark is looking forward to the new season, one in which Morton are looking to build on the success of last season and they will be doing so on a pitch which is as good as can be achieved given the resources at his disposal – and the relationship built between Mark and Richard at Campey's.
A perfect example of proper hard core groundsmanship.
https://turfmatters.co.uk/wp-content/uploads/2017/08/Morton-FC-5.jpg
1224
1632
Scott MacCallum
https://turfmatters.co.uk/wp-content/uploads/2022/05/TM-logo-1.jpg
Scott MacCallum
2017-08-16 13:05:54
2017-08-16 14:49:38
Transforming Greenock Morton FC