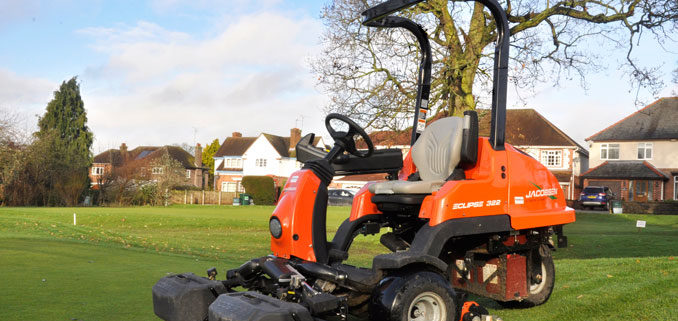 Upton-by-Chester Golf Club Saves Time, Money and Neighbours with Jacobsen
Upton-by-Chester Golf Club, situated on the north side of Chester in the U.K. has taken delivery of an all-electric Eclipse 322 ride-on greens mower, and an AR522 rough mower. Long-standing local dealer F.R. Sharrock conducted demonstrations of the machine and made the delivery.
Three sides of the golf course are surrounded by a residential area, and after several complaints about noise early in the morning, Head Greenkeeper Simon Ashford and Course Director Fred Hopley decided to invest in the battery-powered Eclipse 322. Commenting on the situation, Fred said:
"Many of the greens on the course are located very close to residential housing. For a number of years, Simon and his team have had to adapt their mowing routine in consideration of our neighbours. This has meant using more fuel to go back and forth between greens; on average we were using 5l of diesel per day (a cost of around £5 per day). Now, it costs us 17p of electricity per day to run the Eclipse 322, and it cuts all 20 of our greens on just one charge."
The Eclipse 322 is available in either hybrid or electric and features Jacobsen Classic XP™ reels and allows users to electrically programme frequency of clip, mow speed, transport speed, and other settings through a password-protected menu. Battery units can lower annual operating costs by 86% through fuel savings up to 2860 litres of fuel, 118 fewer litres of waste oil and reduce scheduled maintenance.
"As well as being an extremely quiet and economical machine, the Eclipse 322 produces an incredible finish on our greens," Hopley said. "It produces a hand-mown finish, which has been very well received during special events at the club; the quality is unquestionable. The lack of diesel and hydraulics has also been a weight lifted from Simon's shoulders, as there is no chance of leaks now. The whole team took to the machine straight away, and given all of the benefits, the purchase was a no brainer for the club."
Commenting on the new AR522 rough mower, Head Greenkeeper Ashford said:
"The AR522 is a fantastic machine. We have a lot of trees on the course, and it is the only mower that we have come across that mulches leaves with ease. We previously had to use a vacuum and dispose of the leaves regularly, so the AR522 has saved us a lot of time in that respect. The cut is also brilliant, and the unit is narrower than our previous mower, which makes it easy to manoeuvre in and out of trees; it is the ideal mower for our course."
The AR522 five-gang rotary mower features five, fully floating 56 cm contour rotary decks. Also provided as standard is SureTrac™ four-wheel drive traction, weight transfer control and TrimTek™ decks, providing superior contour following and hill climbing capabilities.
https://turfmatters.co.uk/wp-content/uploads/2017/04/jacobsen-ar522.jpg
450
678
Admin
https://turfmatters.co.uk/wp-content/uploads/2022/05/TM-logo-1.jpg
Admin
2017-04-04 11:51:44
2017-04-04 11:51:54
Upton-by-Chester Golf Club Saves Time, Money and Neighbours with Jacobsen