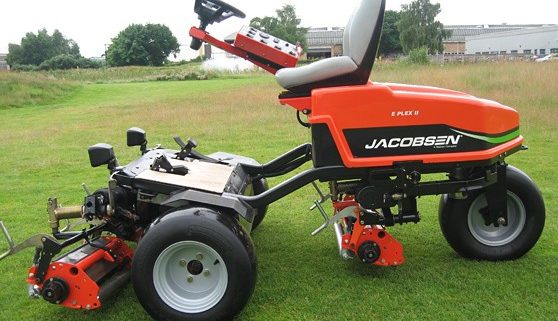 Will It Be Sparks That Make The Clippings Fly?
Will It Be Sparks That Make The Clippings Fly?: James de Havilland gives his thoughts on the advance of the electric or hybrid mower revolution.
Although detractors continue to focus upon the perceived weakness of mowers employing electric, andvto a degree hybrid electric power, change is in the air. Battery technology has advanced, electric motors have become more efficient and control software is both more robust and 'intelligent' now than it was.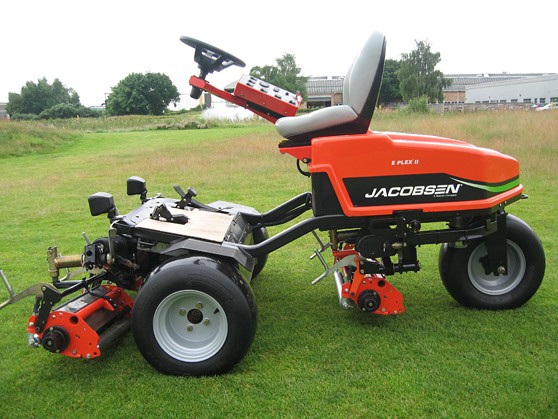 But is this enough for you to embrace electric or hybrid electric power?
Battery powered greens mowers may have been available before the 1990s launch of Jacobsen E-Walk 100 electric greens mower and the Ransomes E-Plex but it can be argued it was these mowers helped trigger wider interest among professional users. Then there was the 2005 launch of the John Deere 2500E E-Cut hybrid ride-on greens mower. This particular mower promoted a number of advantages to include the ability to deliver precise and repeatable speeds for the cutting units.
Further, the 2500E E-Cut was claimed to offer improved fuel economy when compared to its all-hydraulic 2500B Precision-Cut diesel hydraulic alternative. That said, for some it
was consistent quality of cut that helped the 2500E win over those who perhaps were wary of switching for proven hydraulics to electric motors to drive the cutting units. By 2010, Deere suggested its hybrid and all- hydraulic ride on models were selling in pretty even numbers in the UK.
Now fast forward to 2019. Full electric and hybrid mowers are no longer big news but, just as in the automotive world, there are those of us who would prefer to just stick with what we know, a petrol or diesel engine driving cylinders and wheels via a mechanical or hydraulic system.
But change is in the air. In the same way that the much talked about move away from proven diesel and petrol to hybrid and full electric cars is a pre- cursor to warming us up to accepting full electric power at some point. And guess what? The same could be true of mowers in the not too distant future too. Full electric and hybrid technology in the automotive sector is evolving fast. Mower manufactures can tap into this.
Why will be largely boiled down to effociency and reducing emissions. An electric motor only consumes power when needed and delivers high torque right from start up. The speed at which the motor spins can be finely tuned and controlled to match a given application, potentially boosting overall efficiency.
With a professional cylinder mower, the ability for the precise control of the cutting unit can be used to deliver a repeatably consistent clip rate. An electric or hybrid mower can be set-up so it will consistently deliver exactly the same performance across all fine turf and with different operators.
But what about whole life costs? In terms of 'fuel' use, a lithium battery powered greens mower can cover, for arguments sake, around 9 greens per charge. It could be more for a course with small greens and obviously less for large greens, but these mowers have far more stamina than some suggest. As to fuel cost per green, it remains in pence not pounds.
That is all well and good, but how long do the expensive lithium ion batteries favoured on full battery powered models last before they degrade? If your experience of this battery type is with the item used to power a mobile 'phone, the chances are you will be rather wary. But these are the wrong items to consider. A better marker is the batteries employed in modern brushless power tools. Experience suggests the small batteries in these tools hold a decent charge over a number of charge cycles and with it a few years of hard use.
What does this have to do with a lithium ion battery powered mower? Nothing directly but it does suggest this battery type can deliver decent performance over an extended period. Compare this to a deep cycle lead acid battery, as used on the first electric mowers and in continued service with electric buggies and utility vehicles, and you expect a pretty steep level of degradation. Modern lithium ion batteries are not the same and have a considerably longer working life, intelligent battery chargers and power management software all having helped improve performance and longevity.
Although a number of electric powered mowers target the golf sector, Allett have been in the broader fine turf and sports sector for a long time too, the company's original ELMOW electric ne-turf mower launched nearly a decade ago bene ting from advances made in lead-acid battery, motor and controller technology.
The considerably more advanced Allett C34 EVOLUTION cylinder mower now on offer is more advanced. Delivering a 34in cut, this fully electric mower can be fitted with up to four 4Ah lithium ion batteries that, it is claimed, can be charged from ' at to full' in around an hour.
With the original ELMOW, a key aim was to develop a mower that matched
a high quality finish with near silent operation. An added plus was low Hand Arm Vibration. The C34 EVOLUTION builds upon this by adding ease of operation and set up to the mix.
It is also interesting to note how electric power could well lead to greater mower simplicity. The Cub- Cadet INFINICUT mowing system is designed to allow a range of different cassette systems to be slotted into the basic 'power unit', the electric drive motor simply clipping on and off the selected unit for speedy swaps.
It is a really interesting design.
A decade ago, the use of electric cylinder greens motors really started to gain ground. It is fair to say some of the first electric and hybrid mowers delivered all that they promised in some instances, but as user and maintenance experience has grown, electric drive is both more familiar and becoming the new normal. If you have yet to try an electric or hybrid mower, you could be missing out.
https://turfmatters.co.uk/wp-content/uploads/2019/03/spotlight-3.jpg
419
558
Admin
https://turfmatters.co.uk/wp-content/uploads/2022/05/TM-logo-1.jpg
Admin
2019-03-01 09:43:27
2019-03-01 09:43:31
Will It Be Sparks That Make The Clippings Fly?