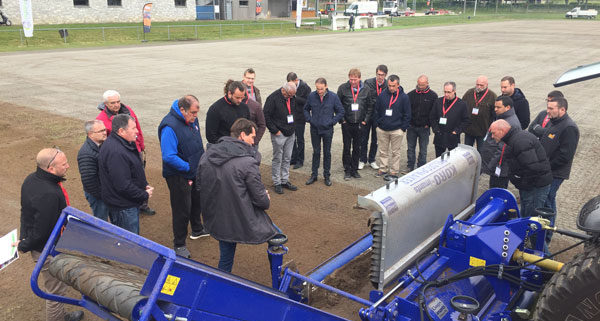 Campey Turf Care Systems Pitch Renovation Tour Begins
The Campey Turf Care Systems 2017 Euro Pitch Renovation Tour has commenced in France, with another nine countries to visit before the final date on 6th June in Rotterdam, Holland.
The tour begins in France at the Parc de Haye, Nancy, before moving on to Italy, Slovenia, Croatia, Hungary, the Czech Republic, Poland, Germany, Belgium and finally Holland. Venues across the tour will encompass football stadia and golf courses, including the picturesque Terre Dei Consoli Golf Course in Italy.
As always, the Campey team will be joining its distributors with the aim of showcasing the most recent and cutting edge techniques in the sports turf industry, and showing the difference a professional renovation can make to elite pitches and golf courses.
Through following the demonstrations on the day groundsmen and greenkeepers will see how researched and proven techniques can be applied to their own renovation and maintenance programmes using the award-winning GT Air Inject Air2G2 or revolutionary Koro® FIELDTOPMAKER® with Universe® and Terraplane® rotors.
A host of other machines including the Imants ShockWave and Rotoknife, the Koro® Recycling Dresser®, Raycam Speedresser and Dakota range of spreaders will be in action alongside a Vredo seeder, to give a comprehensive view of what's on offer.
Campey continue to place great importance on the education of industry professionals and managing director, Richard Campey, believes the 2017 tour will continue to provide the knowledge necessary in an ever-demanding industry.
He said: "The thirst for knowledge is still prevalent in Europe. We saw it first hand during our tour in 2015, and even in that time the technology we use to maintain pitches has developed and it's important we inform our customers about these developments as the pressure grows on them.
"The expectation placed on groundsmen and greenkeepers is increasing and events like the renovation tour gives a platform for those who want to raise their standards, and shows them how they can achieve that by trying something new or improving on what they're already doing.
"As well as getting to see the machines in action there is also an opportunity to learn from other industry professionals that attend the days. There's nothing quite like learning from the experiences of others within the industry, so I'm pleased we can also provide that along with the demonstrations."
https://turfmatters.co.uk/wp-content/uploads/2017/05/Renovation-Tour-2017.jpg
450
600
CharmianRobson
https://turfmatters.co.uk/wp-content/uploads/2022/05/TM-logo-1.jpg
CharmianRobson
2017-05-04 06:35:07
2017-05-04 06:48:25
Campey Turf Care Systems Pitch Renovation Tour Begins