Cricket Groundcare Award Winners
Cricket Groundcare Award Winners: A fabulous presentation day, at Lord's, was enjoyed by all the winners of the Cricket World and Turf Matters Cricket Groundcare Awards 2019.
The group gathered in the Tavern Stand for the Presentation, which was attended by Chris Wood ECB Pitch Advisor, – Karl McDermott MCC Head Groundsman at Lord's (a previous Cricket GroundCare Award winner, whilst at Clontarf CC in Ireland), Alastair Symondson (Cricket World) and Scott MacCallum (Turf Matters).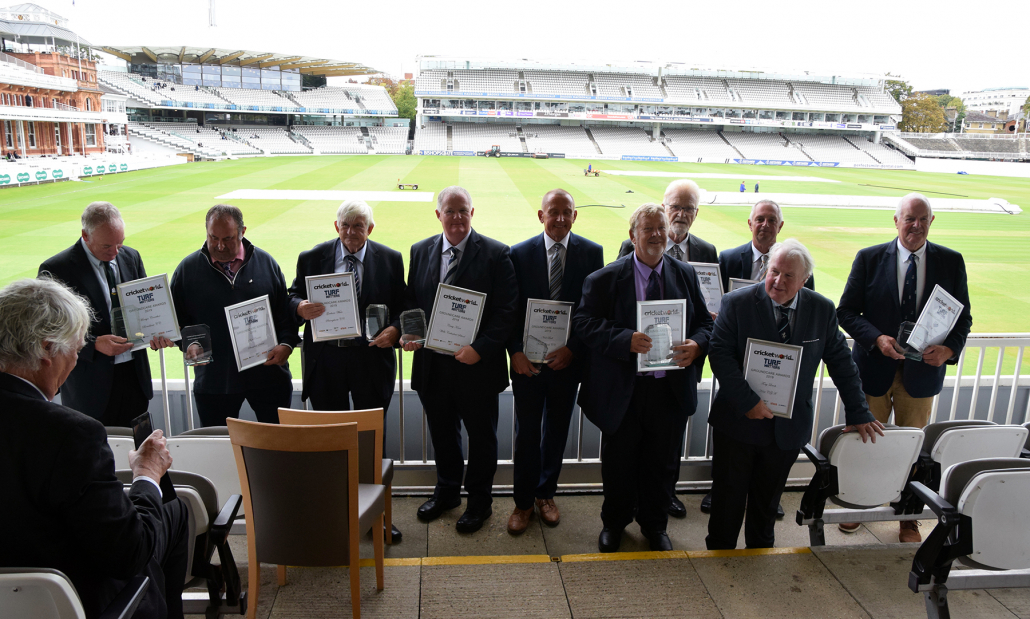 There were also representatives from the sponsors of the Awards – Richard Fry and Marcus Hewitt (Rigby Taylor), Robert Jack (Dennis and SISIS), Simon Hedley (Boughton Loam) and John Clifford (ISEKI)
The Awards had been introduced by Cricket World to recognise the dedication and hard work that groundcare individuals put into maintaining and producing cricket squares and outfields, for reactional clubs, schools and universities, in the UK and Ireland without whom there would be no cricket.
Alastair Symondson, Head of Media, Cricket World said: "We are delighted to be running these Awards again, with the support and assistance from our sponsors and partners. We also understand the dedication and hard work that goes into preparing cricket playing facilities and it is nice that we can recognize their hard work and endeavours in some small way."
Roger Knight, former First Class cricketer and past CEO/Secretary of the MCC  sent a message of congratulations : "These are the stalwarts of recreational cricket clubs and schools and we should thank them all – how gratifying it is to see a past winner now taking charge at the Home of Cricket as well."
Kent  CGA – a special award was presented to the Kent Cricket Ground Association represented by  Peter Robinson, Tony Leach and Peter Aylott.
Chris Wood ECB Pitch Advisor added: "This Award is in recognition of their outstanding work as an organisation in assisting clubs, in Kent, with maintaining their cricket playing facilities"
Other Quotes
"I was delighted to see so many committed and talented groundcare volunteers and professionals, at Lord's, and to see them recognised for the wonderful work they do to ensure that cricket is played on excellent pitches, at all levels of the recreational game"
Scott MacCallum, Editor of Turf Matters magazine.
"We are proud and excited to support these awards! Congratulations to all the hard-working nominees and winners"
Rigby Taylor on supporting the Cricket Groundcare Awards 2019.
"Congratulations to all the worthy winners but not forgetting all the other hardworking groundsman out there. Recognition well deserved! Proud supporters!"
Iseki on supporting the Cricket Groundcare Awards 2019.
" It was a great day for all the winners to enjoy and we are very happy to support this grassroots initiative"
Boughton Loam – Cricket Groundcare Awards 2019 – Sponsors
"Dennis and SISIS are delighted to be part of these Awards. Raising the profile of the grassroots volunteer and professional groundsmen, and the fantastic work that they do to ensure the game of cricket is played, will also help to attract the next generation of groundsmen. Congratulations to all the Award winners."
Dennis and SISIS – Cricket Groundcare Awards 2019 – Sponsors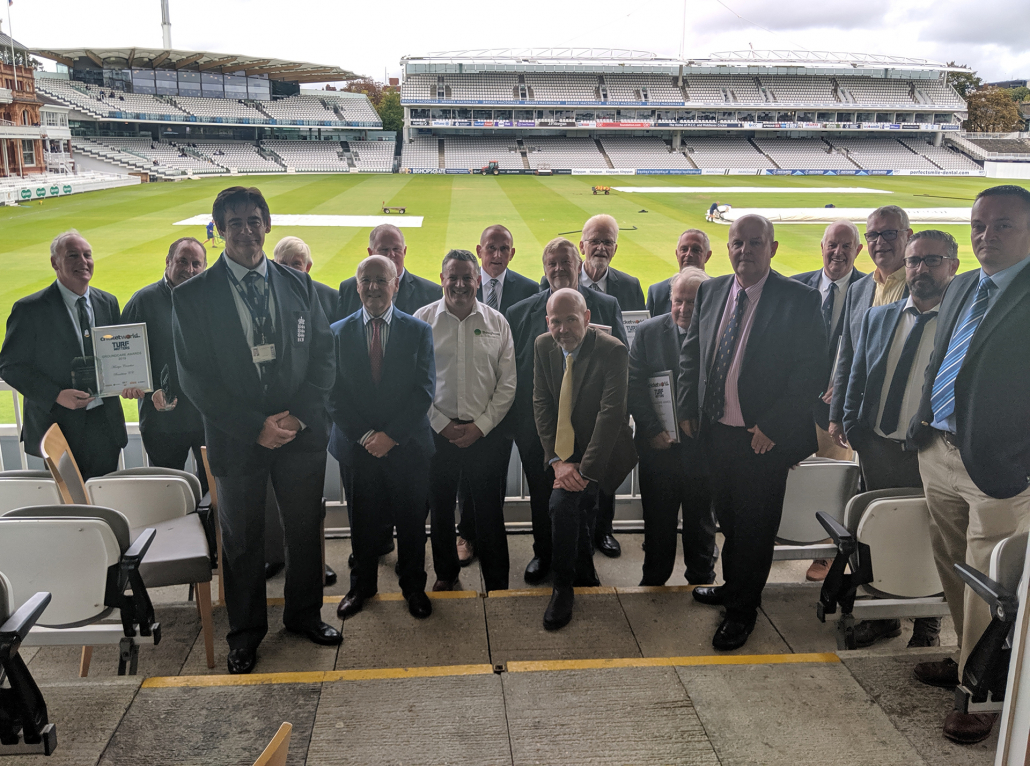 Club and School Winners (with small nomination bio)
Pete Clark – Alcester & Ragley Park CC Pete has been volunteering his time to the club for more than 50 years as Head Groundsman and without his commitment and passion for the ground and the club, the club would not exist to this day. Pete was unable to attend through illness but was presented with his Award at his club, in Warwickshire.
Andy Harris – Buckingham Town CC Andy has been the groundsman at Buckingham Town for 10 years. In that time the pitches and the ground in general have been prepared to the highest standard. He takes great pride in his work and the quality of the ground is often commented upon by players and spectators alike. Andy was taking a well-earned break in the sun in Greece after toiling all summer at his club Buckingham Town CC
Laurie Turner – New Ifield CC – Laurie is in his late 60's and has been involved with New Ifield CC for nearly 52 years initially as a player (slow bowler) then following retirement from actively playing in 1990 he became involved with the maintenance of the playing surface, pavilion and outbuildings as the sole incumbent. Mr Turner had been a volunteer with grounds maintenance from 1982 when New Ifield CC originally moved to the ground in Priestwood Road, Gravesend.
Graham White –  Sissinghurst CC – Graham White is a 71 year old 'volunteer' groundsman with Sissinghurst CC.  Mr White started with the club as a 15 year old bowler/batsman and helping out with cricket pitch preparation and maintenance. At 21 years of age Mr White took on the role of full-time groundsman and also became a committee member.  Mr White played for the club for 34 years and at the age of 55 he retired from playing and became even more involved with club life; along with a past club chairman (deceased in 2013) Mr White (and other club members) built, at that time, the new cricket pavilion.  Mr White continued as groundsman but also took on other roles such as barman. At the tender age of 71 Mr White continues as Head Groundsman and is also the 'Club Welfare Officer' and 'Bar Purchasing Officer', he has been an active member of Sissinghurst Cricket Club for 50 years.
Cliff  Clark Harlow CC –  Joined the club in the late 1970's as a player then took over groundsmanship over twenty five or thirty years ago. During that time as well as improving the wicket, he is enlarging it, ground maintenance he also managed and help build our second cricket ground ten years ago in the adjacent Spicers Field being the other side of our club pavilion. During last winter he also helped build an equipment building and it always finding other bits to do to improve not just the playing area but also the club facilities as well.
Nick Bull North Leeds CC – Nick has tirelessly looked after the ground at North Leeds for several years now, and handles the ever-increasing workload, alongside his day job, impressively. As the volume of junior cricket increases at our club annually, he manages to make sure that wickets are prepared, marked, cut, rolled and the surrounding areas are kept tidy by his team of, mostly retired, volunteers. His efforts have led to our club being awarded the honour of hosting the final of our league's Waddilove Cup competition for the first time in our 125 year history this season. He's also instrumental in the creation of a new small ground we're developing in our old nets area for Under 5, 7 & 9 cricket in memory of an Under 17 cricketer who sadly passed away last year. The Tom Coupe Oval will be our legacy for such a promising youngster who lost his life far too soon.
Martyn Crowther Bradshaw CC – Since taking on the role 4 years ago Martyn has made vast improvements to the ground, especially on the pitch. Martyn has also carried out other invisible improvements, such as replacing drains (saving the club the £1000 quoted for repairs), and aimed to help the environment by planting willow trees along one side to help drainage and improve the aesthetics. He is willing to listen to other team's groundsmen and act upon their advice. He also puts in many hours that nobody sees, going straight to the ground after work (full time) for several hours, often skipping tea. He gets very little help from the rest of the club.
Martin Woods Wargrave CC – with 30 years of service and overseeing the relaying of the old square 6 years ago the club are now hosting minor counties matches for t20, 50 overs and 4 day games. The guy is a legend for practice wickets on the square to making sure the 70 plus games we host in a season from girls, colts, league, rep matches and sundays
Bob Carder  Stamford School – Bob and his team do an outstanding job on a very limited budget. The dedication and attention to detail Bob sets are extremely high professional standards. The cricket square and outfields are pristine and are mesmerising to look at. It's groundsmanship taken back to basics and the basics done well.
Craig Keast  Wells Cathedral School Craig has done a truly outstanding job as Head Groundsman at Wells Cathedral School. He is in his 32 year of service and continues to produce superb cricket wickets. Our main cricket pitch, Cedars has 22 cricket strips with the middle 10, which were laid in 1995, built on a stone raft, when the council decided to drive a road through the school playing fields. We now host representative cricket on a regular basis. With views of Wells Cathedral, the pitch is widely regarded as one of the finest in the County. Craig also assisted with the design of the cricket pavilion as well, but that's another story.
For the latest industry news visit turfmatters.co.uk/news
Get all of the big headlines, pictures, opinions and videos on stories that matter to you.
Follow us on Twitter and Instagram for fun, fresh and engaging content.
You can also find us on Facebook for more of your must-see news, features, videos and pictures from Turf Matters.
https://turfmatters.co.uk/wp-content/uploads/2019/09/groundcare-awards-2.jpg
1081
1800
External Source
https://turfmatters.co.uk/wp-content/uploads/2022/05/TM-logo-1.jpg
External Source
2019-10-02 14:25:26
2019-10-03 08:39:22
Cricket Groundcare Award Winners