Cricketer's impressive juggling act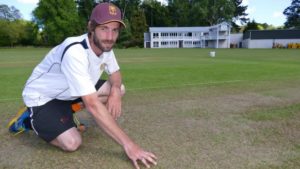 The Southland Cricket Association groundsman has had a tough assignment in the past couple of weeks battling the wet weather while trying to prepare a pitch for Southland's Hawke Cup showdown against Mid Canterbury in Invercargill this weekend.
That alone is a challenge.
But added to that is Osborne himself is preparing to line up in the game for Southland.
He's a key figure in the Southland setup with both bat and ball and is juggling that with his duties as the groundsman.
He has spent a fair bit of time at Queens Park of late, whether it be pulling covers on or off, rolling the pitch, or squeezing in his own training commitments.
"It's been pretty busy just trying to get some rolling in when the showers clear and getting the covers on and off."
Come game day on Saturday Osborne will take a step back from his groundsman duties with coach Steve Jackson wanting him to focus on the game rather than juggling marking and rolling the pitch between innings.
Osborne's work mates at Southland Cricket will step in and help.
"Jacko wants me to focus on just playing. I'll get it ready and they can take care of it on game day so I can just focus on the cricket. It should work out quite well."
Southland has what might be a unique advantage which most cricket teams don't have by including the groundsman in the team.
"I guess there will be a bit of inside info there," Osborne joked.
Osborne only took on the SCA groundsman job in September and he was loving the challenge.
"It's been bloody good, I'm learning as I go. We've got a Volts [one-day] game in a couple of weeks so it is pretty full on at the moment."
On the playing front, he is in his third season in the Southland Hawke Cup team after he made his debut towards the end of the 2014/15 season.
He said it was exciting being part of the dramatic first up outright win this season against Otago Country last weekend.
"It was unreal, it was magic sort of feeling being part of that."
Southland have brought Marist captain Jeremy Boyle into the 12 for this weekend's two-day game against Mid Canterbury.
The spinner has been a consistent performer in club cricket in recent seasons.
Jarred McKenzie is the only player missing from the win over Otago Country and is likely to be replaced by James Ng at the top of the order.
To read the original article, click here
https://turfmatters.co.uk/wp-content/uploads/2017/02/Jason-Osborne.jpg
349
618
Admin
https://turfmatters.co.uk/wp-content/uploads/2022/05/TM-logo-1.jpg
Admin
2017-02-03 09:46:46
2017-02-03 15:43:16
Cricketer's impressive juggling act