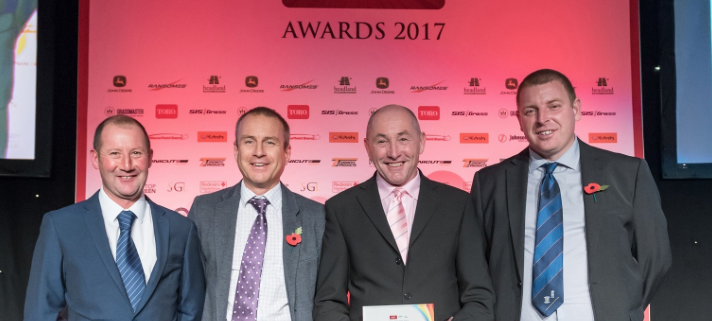 Demain's the name: When the name of the Professional Groundman of the Year was announced at the IOG Awards Dinner in November, there was one man in the huge function suite in the National Motor Cycle Museum, in Birmingham, not paying too much attention.
Vic Demain, Head Groundsman at Durham County Cricket Club, in Chester-le-Street, was basking in the warm glow of success, having seen his team named Professional Cricket Grounds Team of the Year earlier in the evening and he had to be nudged to get on his feet to go collect the award.
"I looked to the stage and there was my name on the screen and my first thought was that this can't be right, it has to be a mistake. But it slowly sunk in and I went up and collected the award," recalled Vic.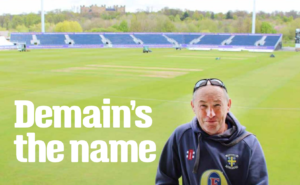 To be fair to him his surprise had a degree of justification. A cricket groundsman had never won Professional Groundsman of the Year while, a mere six years before, Vic was a groundsman working in recreational cricket.
"My name is now engraved on the Cup alongside a host of legends in the world of groundmanship. Everyone on it is so deserving and I feel I shouldn't be included among them, that I'm a bit of an imposter.
"That said it's been absolutely brilliant. I still haven't come down and I have to pinch myself that it's happened," said Vic, speaking to Turf Matters in his first interview since his success.
The story of how Vic came to join luminaries of the industry is remarkable and one which should provide inspiration to anyone who has been knocked back, got up, got knocked back again, yet still rose to the top of the tree.
He left school at 16 in Faringdon, located between Oxford and Swindon, and took up an apprenticeship at a local building company. Apprenticeship completed Vic launched his own business which he ran for 20 years until the housing market crashed in the mid-90s and his company folded.
"I'd always been a lover of cricket and was the sort of guy every club wants. I'd cut the grass, I'd do the fixtures, my wife would make the teas, I'd take coaching courses. Anything, so long as it was involved with cricket. On the field I wasn't very good, but I was really keen and made the most of what limited ability I had. I just loved the game," he explained.
Looking for employment, ideally in cricket, he applied for and eventually, at the second attempt, got the job of Cricket Manager on a private estate, where he learned rudimentary groundsmanship.
"I knew nothing about it whatsoever, and remember this was before the days of internet, so I got out and spoke to the old boys who were looking after their own grounds, and learned a lot from them.
"After about four or five years we got the ground up to Minor Counties' standard and Buckinghamshire played there. It really was the best job in the world."
Until the next set back.
"We had a change of management and the new manager decided that cricket was costing the Estate too much money and took the ground down the contractor route. I was made redundant."
Next step was to Milton Keynes and Campbell Park working for a contractor but a yearning was growing for his own ground and when he saw an advert for a job at Uxbridge Cricket Club. He jumped at it and fortunately for Vic they jumped at him and it was there that he spent the next seven seasons as Head Groundsman, a ground where Middlesex played a number of games
Now this next bit is all-important for those of you feeling that life has passed you by and stretching out ahead is not so much a potential pathway to success, but a rut.
"It was the wet summer of 2012 and Nottinghamshire came down to play Middlesex. It never stopped raining, but we worked diligently and while we didn't get a result in the end, we did manage to get quite a bit of play."
Keep reading…
"At the end of the season Nottinghamshire were looking for a Deputy Head Groundsman and I thought, I've got no chance as I'd not worked at that level, but decided to throw my hat in the ring anyway. However, I've been told that when the Director of Cricket saw the applications and noticed the Uxbridge connection he said, 'That's the guy I want because when we went to Uxbridge they worked so hard to get the game on'," said Vic. 
It's a lesson for everyone.
"I try to impress upon people that if you work hard, put in the graft, don't hide in the shed when conditions are bad, and always been seen to be doing your best, someone may notice you. That's exactly what happened to me.
"Honestly, I was about 50 at the time and was beginning to think that it was time to start winding down a little, but my career has really taken off in the last five years. Look whats happened to me, these last five years have just been crazy. You couldn't plan for it."
The final piece in the career jigsaw came in 2015 when he applied for the vacancy at Durham.
"I guess I'm one of those people who always wants to test themselves and I wanted to work at the highest possible level and for me, at Durham, the biggest attraction of all was that I knew in 2016 there was going to be a Test Match. There are not many Test Grounds and not many people who have done a Test Match so for me that was huge."
But Durham wasn't a job for the feint hearted. The pitch was well known to be damp and bowler friendly. Also the club was experiencing financial difficulties, brought about by the contractual obligation when Durham became the latest addition to the County Championship in 1992 that the Riverside be developed as a Test and International venue. This is a part of the country not regarded as a cricketing hotspot.
"I started in March 2015 which was too late to do anything with the pitches. When I arrived I was concerned about the poor grass coverage on the pitches. We are lucky that we have a big square but five or six of those pitches were not going to be usable until July.
"The other issue I faced was that, for me, Nottingham had been the furthest I'd been north. I'd been used to working around the London areas which has a completely different climate. My pitch at Uxbridge was probably the most batsman-friendly you'd ever see so, in order to get the bowlers interested, I'd leave 10-12 mm of grass on each pitch.
"I tried to do that at Durham in my first season but the ball was going around corners and the batsmen were not happy at all. The one thing about that season was that the cricket was hugely entertaining for the person buying a ticket. No game ended in two days, but we had a lot of three day games and every game we played ended in a result."
It wasn't until the end of that first season that Vic finally got a handle of the pitch, and not before he sought the sage-like advice of the very man who would know.
"I couldn't fathom out how pitches always seemed to be a on the damp side despite me trying to dry them out. All I could come up with was that water was coming up from underneath the surface. So what I did was track down Tom Flintoft, Head Groundsman here 30 years ago. He's a lovely guy and I've spoken to him a lot since. I asked him if there was chance that my theory was correct and straight away he said to me that there was more water under the square than there was in the River Wear!"
Knowing the issue and resolving the issue are two completely different things however.
"In the short term there is really nothing you can do outside of digging up the pitch and putting in a membrane to prevent the water reaching the wicket but with our financial constraints that wasn't going to happen." Vic's appreciation of what he was dealing with coincided with an instruction from the ECB to all Head Groundsmen that pitches should be more spinner friendly and the change to the toss rule which gave visiting Captains the option of bowling first.
"With the history at Durham no-one was ever going to say they were going to bat first so our pitches simply had to change. What I did was shave all the grass off and got them to be flat, white and reasonably hard so, after a game or two, we actually did see the away team wanting to bat first. The bowlers weren't too happy and maybe it wasn't as exciting cricket for the paying public. Perhaps there is still some middle ground to be had," said Vic, who did become a hero to Keaton Jennings, who based on the amount of runs he has scored on Vic's pitches, has since opened the batting for England.
Oh, that Test match and the reason Vic took that leap of faith north.
It was against Sri Lanka in May 2016 and to be honest that leap of faith Vic took in moving north looked decidedly misplaced when the week before a Sri Lankan team, shorn of its legendary batters and bowlers who had retired, were twice skittled out cheaply at Headingley in a match which barely lasted three days.
"People were saying that on our traditionally bowler friendly pitch that it could all be over in two days, but luckily England won the toss and batted, putting on over 400. Then having added to the run of low scores and being forced to follow-on the Sri Lanka's showed some real mettle and batted well to overtake England's first innings total and the match went into a fourth day.
"It was a reasonably good Test and all the reports were positive, but it was cold, mid-May, the weather wasn't great and crowds weren't huge."
It tended to sum up the plight of Durham.
At the end of 2016 the financial problems came home to roost. Despite finishing fourth in the First Division Durham were relegated for financial reason and, to really kick them when they were down, they started each competition of the 2017 season on minus points.
The Board was removed and a new one put in place led by Chairman Sir Ian Botham, who has used his profile and contacts within the game to pull Durham through these immensely difficult times.
"A lot of people were very concerned about their jobs. My staff were worried, we were all worried and it was one thing after another – bad news after bad news after bad news – so, 12 months later, to be able to take these two wonderful awards back to the club was just fantastic.
"We knew that we were up for Headland Amenity Professional Cricket Grounds Team of the Year. We'd been short-listed along with Hampshire, as we had been the previous year when we lost out to Essex, so I was hopeful that we might have a chance. I was hugely delighted when we won not just for my team but for Team Durham back at the club – all the staff.
"It was brilliant for my small team – my Deputy Mark Patterson who has been at the club for over 15 years; Ben Hall, who has been here for eight years and for Amy McKewan, who is in her second season here and doing her apprenticeship. My coming in just three years ago was difficult for us all. I was joining a team which was already established and for Mark and Ben they had only ever worked for one boss and become used to doing things one way. I was never going to be the same and change is difficult to deal with, particularly with the wider issues going on.
"But three years on we've got there and our Award is a rubber stamping and recognition for what we have achieved. I think part of the reason we got the award was our ability to produce what we have done under financial constraints."
An hour listening to Vic and you can fully understand why he also picked up the Ransomes/DLF Johnsons Alex R. Miller Groundsman of the Year award. His enthusiasm and drive are infectious and he possesses a can-do attitude which has survived through a number of career disappointments.
Five years on from the last of those disappointments, and a time when he was considering looking for a job to ease himself into retirement, he sits alongside the very best groundsmen that this country has produced.
Whether he believes it or not, he fully deserves that honour.
https://turfmatters.co.uk/wp-content/uploads/2018/02/Screen-Shot-2018-02-28-at-11.18.56.png
568
712
Scott MacCallum
https://turfmatters.co.uk/wp-content/uploads/2018/01/turf-logo-2018.jpg
Scott MacCallum
2018-02-28 11:21:57
2018-03-14 15:23:31
Demain's the name