World Class, without resting on their laurels
Laurence Gale travels to Derby to see developments at Dennis and Sisis: It has been a couple of years since my last Dennis and SISIS factory visit and it's always good to catch up to find out about any new developments and see what new products may be coming on to the market.
Like most proactive companies, R&D and product development are important in driving the company forward. It was at the recent IOG SALTEX show where we saw Dennis' new PRO 34R rotary mower and a battery powered pedestrian rotary mower – and judging by those who saw them, it is safe to say that these products are highly anticipated. The rotary mower is a totally new concept for Dennis who, until now, have been renowned for producing their iconic range of cylinder mowers.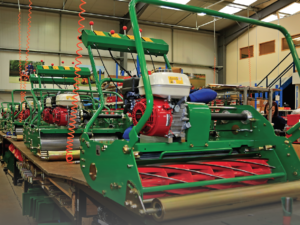 Our visit started with a very warm welcome by company owner, Ian Howard, whose vision has been instrumental in the success of the Dennis and SISIS brands. It was apparent that Ian "along with his vastly experienced senior management team" have ensured that the company is in more than capable hands.
In 2011, SISIS was acquired by Howardson to sit alongside Dennis as a division providing the groundcare industry with a truly comprehensive range of British manufactured products. This monumental acquisition signalled the start of a perfect partnership in which the two brands are now synonymous with world class turf care equipment.
Without resting on their laurels, the Howardson company continues to work hard on improving the value and versatility of both Dennis and SISIS products. In the last seven years their machines have continued to gain UK and global recognition and this is supported by the robust and dedicated sales/marketing and demonstration team.
The further acquisition of Crocodile Precision along with continued significant investment by All British Precision in the engineering process of the components, has further enhanced the company's ability to produce a larger range of quality British made products more efficiently.
In recent years we have seen the Dennis/SISIS branded machinery being used at many of the top-flight sporting venues for football, cricket, rugby and bowls both home and abroad.
One of the main reasons for this has been due to the fact Dennis/SISIS has listened to its customers and have taken the opportunity to redesign and develop new products. Take, for example, the new PRO 34R rotary mower, which the team have been working on for over two years to bring to the market. This was a direct result from listening to the requirements of many of the world's top groundsmen.
This new 34-inch-wide machine offers a powerful vacuum and cutting unit that helps present and clean up sports pitches. This machine has been on trial at several Premiership football clubs thus enabling the company to thoroughly test the machine and Iron out any potential problems.
As with most Dennis products they are built to last, with a proviso it needs to be able to guarantee at least five years of untroubled service working on the harshest of terrains. This new machine sits nicely with the G860 range of mowers, designed with many similarities in terms of hand controls, engine and chassis and comes with a good back up service and a reputation of Dennis reliability.
It was apparent that Dennis are also very up-beat about the other rotary mower waiting in the wings, which was first seen at 2017's SALTEX show. Their new battery powered pedestrian mower gained a lot of interest. It certainly looked a robust, well designed innovative machine from the Dennis stable and they have been working with Bosch for a while to bring this mower to fruition.
The concept of Dennis moving into battery powered machinery is no doubt in their minds, especially in the way the industry is starting to embrace these new technologies. There will certainly be plenty of opportunities to 'battery-fi' many of their products in the coming years.
The company were happy to share their sales figures in terms of positive growth year on year since 2010, which is testament to all the hard work being done by all parts of the business.
The current sales figures are split 60% UK and 40% overseas with the company having 30 dealerships servicing and distributing products in the UK, coupled with a further 45 dealerships worldwide. Sales abroad are growing all the time and Dennis will, for the third successive year, be supplying many of the venues in this year's World Cup in Russia.
The sales team is backed up by a field support/demo team and the combination of experienced field staff, backed up by technicians and the support of all the factory staff, together with a renewed marketing strategy led by Roger are the reasons why Howardson Ltd is growing a reputation of building quality British made products for the professional turfgrass industry.
It was then time for our tour of the factory, beginning with a visit of the metal fabrication and tooling areas which feature in the All British Precision department. The investment in robotic milling and tooling systems has reduced waste and speeded up production of key parts.
We then visited the new powder coating paint shop, a very clean and appropriate facility that enables the company to be in control of the quality and number of parts being painted.
Finally, we saw the assembly area, where staff concentrate on assembling and putting together a range of Dennis and SISIS products, multi-tasking and sharing job roles so they can be more flexible to meet customers' orders.
Dennis/SISIS are very proud of their business and are keen to continue to serve the turf grass industry with investment. In recent years we have seen the popularity of their free seminar and education days grow. The annual cricket day which now attracts well over 200 groundsmen.
All in all, Dennis and SISIS have been very busy in the last seven years and are beginning to see the fruits of their labour.
I would like to thank Dennis/SISIS for the opportunity to visit and see first-hand the work they do behind the scenes to ensure Dennis and SISIS remain one of the leading British manufacturers in the turfcare industry.
https://turfmatters.co.uk/wp-content/uploads/2018/02/Screen-Shot-2018-02-28-at-11.27.09.png
924
1232
Laurence Gale
https://turfmatters.co.uk/wp-content/uploads/2018/01/turf-logo-2018.jpg
Laurence Gale
2018-02-28 11:32:04
2018-03-14 15:23:10
World Class, without resting on their laurels