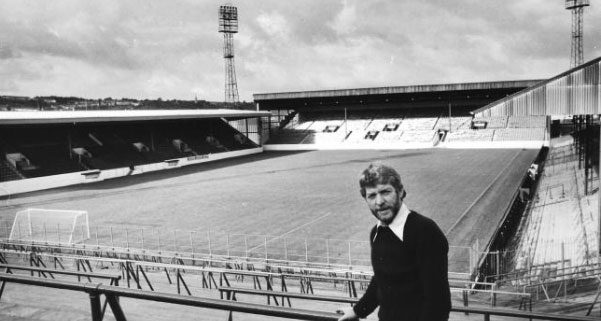 Former Burnley Groundsman Recalls Stars, Bomb Scares and Sprinklers
Spend some time with former Burnley groundsman Roy Oldfield and the stories come at you like the sprinklers that keep the Turf Moor pitch slick.
Once the tap has been turned on it's an endless stream of wonderful recollections from Oldfield's time at the club in the 1970s and 80s. From the characters that frequented his room at the ground, to working for Bob Lord, via getting a game postponed to ease an injury crisis and searching the stands for a bomb hours before the crucial Leyton Orient game in 1987.
Renowned Burnley author Dave Thomas' latest book on the Clarets is Oldfield's story and he can't have been short of material for Mud, Sweat and Shears, which is published in June.
Oldfield's memory is fantastic and his stories fascinating, an insight into how the game has changed in the decades since he walked out of the groundsman's room at Turf Moor for the final time.
There are awards for groundsmen now and it's a competitive industry, but Oldfield's ascension to the job at First Division Burnley couldn't have been more relaxed.
"I worked at Scott Park. At the time Jimmy Adamson lived overlooking the park and he used to come round every morning walking his Scottie dog and he'd talk to the lads in the park and we'd pull his leg about the game on Saturday and what have you," Oldfield begins.
"Out of the blue one morning he said, 'Could you come down to my house after work?'. I went down and he said, 'I've no job for you here but how would you fancy coming down to Turf Moor as groundsman?'.
"I was surprised. I'd never done any groundsman work. But the groundsman was retiring in 12 months time and he said he could show me all I needed to know."
Oldfield starts with stories of giving Chelsea director Seb Coe a tour of the ground and earning an extra £15 from Granada for doing a TV interview on the state of the pitch, before he moves on to some of the era's biggest names visiting Turf Moor.
"I met players, managers, I found them all interesting. I remember meeting Kevin Keegan, Ron Atkinson and many more," he recalled. "We used to call Ron Atkinson 'Bojangles' because of all his gold."Having said that, but he was a really nice guy. United signed a player from Europe and Ron picked the man up at Burnley station and when they arrived he came in my room and we had a cup of tea and he asked if any shops were open. I went to the chippy and got fish and chips for the three of us, so I ended up having tea with Ron Atkinson and his new signing.
"Kevin Keegan was great. He came in my room and all he wanted was a cup of tea and a chat. He had his flare trousers and that perm."
No recollection of the 70s and 80s in English football would be complete without a Brian Clough story though.
"It was a lunchtime and in those days the office at the ground closed for lunch," said Oldfield. "This particularly time I'm on my own in the room and I heard somebody coming down the corridor, the door bounced open and it was Brian Clough. He said, 'Excuse me, what time does this bloody office of yours open?'.
"I was surprised to see him. It was during the week, He'd come to sign Ronnie Welch and Harry Wilson, he was Brighton manager at the time.
"He sat down and started talking. I remember he had the famous green top on. He talked about what a nice ground it was, but he was more bothered about getting the signatures of these players.
"Eventually he got into the office and got the necessary paperwork and he came back up to my room, thanked me for my help, then he left in a slate coloured Mercedes. That was Clough. He was down to earth."
You would think Oldfield would have had his bucket full working for Lord, but he has only positive memories of the notorious Clarets chairman.
"I'd heard a lot of stories about Mr Lord being a difficult man to deal with. I always found he was fair with me," he said.
"I used to go to his house in the summer. He lived in a big bungalow in Read. The first time I went there were two Alsatians in kennels, they were like wolves chained up. Bob's daughter came out and one word from here they behaved.
"He loved to be addressed as Mr Chairman rather than Mr Lord, nobody called him Bob.
"When I finished the gardening work I knocked on and said I was off. He gave me a wage packet. I said, 'I'm getting paid at Turf Moor'. But he said this was a separate job. He said, 'Put this in your pocket and say nowt'."
Oldfield can still vividly remember the 1978 Anglo-Scottish Cup tie with Celtic at Turf Moor and keeping the ground locked to keep the Scottish fans out before kick-off, and the ensuing trouble during the game which left him spending the next day picking endless shards of glass from the pitch. The pitch went from being covered in glass to under water when Brian Miller approached him ahead of a game against Aston Villa bemoaning an injury crisis. A plan was hatched.
"We arranged to met at about 4am Saturday. I went down and turned all the sprinklers on. They were on for about three hours. It was like a pond," Oldfield said.
"We rung for the referee, David Scott, who lived locally. He'd do a pitch inspection for us. He came down and he walked up and down the pitch and he was laughing, he said, 'What have you done here?'.
"I said, 'I've not done owt Dave, we must have had a cloud burst last night'. He said, 'I've just come down from Burnley Lane, 10 minutes away, and I haven't seen a pool of water anywhere'.
"I was telling him it must have just been over the ground. He knew I was lying. I couldn't admit it.
"Eventually he went to the office and phoned the Football League and told them we had to call the game off. Before he went David said, 'Next time you want an inspection, don't ring me please'."
"You couldn't get away with that nowadays, now we look back and we laugh."
Oldfield's time at the club was coming to an end as the 80s progressed, but there was anxiety in the 86/87 season and Burnley faced a final-day showdown with Leyton Orient to maintain their Football League status.
It's a day that has gone down in history at Turf Moor thanks to the 2-1 win, but it was a day that started dramatically for Oldfield when a bomb scare came in and he had to check the stands before the fans began flocking in.
"I had to walk every row of terracing in the ground, looking under seats. It was frightening in case we found anything," he said. "We never found anything fortunately, but I didn't want to do that again! I checked every row praying there was nothing there. I didn't really know what I was looking for!"
To read the original article, click here
https://turfmatters.co.uk/wp-content/uploads/2017/03/Burnely-groundsman.jpg
450
601
Admin
https://turfmatters.co.uk/wp-content/uploads/2022/05/TM-logo-1.jpg
Admin
2017-03-27 12:33:54
2017-03-27 12:34:41
Former Burnley Groundsman Recalls Stars, Bomb Scares and Sprinklers