Former Groundsman Ready For Biggest Challenge of Career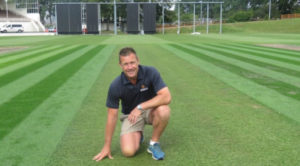 Former Aorangi Oval groundsman Mike Davies has one major goal.
That aim is to make University Oval, his new workplace, the best cricket ground in the county.
"I work with a great team here in Dunedin, Dunedin Venues Management Limited, the Dunedin City Council and Otago Cricket all want the same thing, for the University Oval to be New Zealand's best cricket ground and I'm pleased to be working with them to try and achieve that."
Davies, originally from Christchurch, moved to Timaru to take a golf development role, before being asked to assist with the grounds keeping duties at Levels Golf Club.
"It all just went from there and the rest is history."
Going from Levels Golf Course in Timaru, then to the town's small ground like Aorangi Oval,before venturing to Invercargill's Queens Park last season, has Davies perched at a place where he will face just about the biggest test of all – University Oval in Dunedin.
New Zealand and South Africa face off in the first of three tests on Wednesday, the fifth ranked nation hosting the third best.
In the past, University Oval has been known as a docile pitch, so what Davies prepares for his international debut is sure to be well monitored.
"I'm not nervous. I'm excited at the challenge in front of me. I want to make this ground the best I can."
Davies is like a kid in a brand new playground ahead of the opening test on Wednesday.
"I can't wait for them to start playing. It has been tough at times but the last couple of weeks the weather has come right right and really helped me out."
The 41-year-old is loving life as a groundsman at a bigger venue.
"It's awesome, I work with a great bunch of people, and they're all passionate about the same thing."
.After six years as part time groundsman at Aorangi Oval, he moved to the greener pastures of Invercargill, a place he loved.
"Invercargill was great to me.
"It was my first time as a fulltime groundsman and I just loved it. The weather was a challenge but it was a nice ground and the [Otago] Volts had a good record down there."
His results were good in Invercargill and the wickets were top quality.
"I'll always remember Timaru and Invercargill fondly. They've helped me get to where I am and were great places to improve my knowledge."
Weather conditions in Dunedin had made his first season difficult, with the grass weak, however plenty of sun during the last few weeks has given Davies something to work with.
As for the result, he'd love a New Zealand win but his focus is making sure the pitch is competitive for the entire contest and offers something to both the batsmen and bowlers.
"I just want a good game of cricket that sees plenty of people turn up and it goes the five days.
"Making it even for both is a challenge but as the pitch is made from Kakanui clay, the same as what Aorangi Oval and Queens Park used, I think I'll be fine."
Currently he's loving Dunedin, and is hopeful he can entice New Zealand Cricket to bring more matches to the recently revamped ground with a top cricket wicket.
"I'm preparing a pitch for a team like South Africa, about to get married and recently welcomed a bay boy into the world, so Dunedin is great."
He said with his industry being relatively small, plenty of groundsmen pass things on.
"I've just had Karl Johnson from Seddon Park down here helping me, while Jayden [Tohill] from the New Zealand Cricket high performance centre in Lincoln is also helping out.
"We bounce things off each other and that's a great thing."
Davies loved Timaru and said working for South Canterbury Cricket was great.
"I left because I wanted to do first-class games and Aorangi wasn't getting any, but the South Canterbury Cricket Association were an awesome bunch to work for."
As for a job at Hagley Oval back in his home town, Davies wasn't interested.
"University Oval is where I want to be, and I have plenty to achieve here and a great company to work with."
To read the original article, click here
https://turfmatters.co.uk/wp-content/uploads/2017/03/mike-davies.jpg
450
811
Admin
https://turfmatters.co.uk/wp-content/uploads/2022/05/TM-logo-1.jpg
Admin
2017-03-08 13:20:17
2021-12-16 15:13:26
Former Groundsman Ready For Biggest Challenge of Career