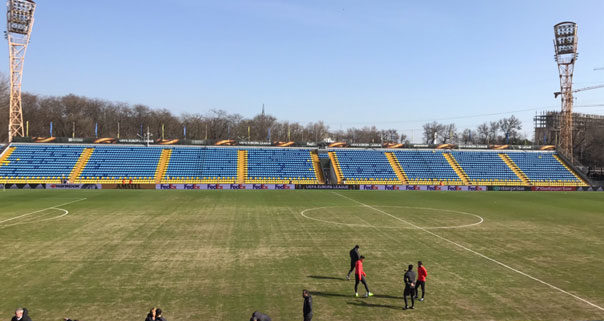 Mourinho Slams Russian Pitch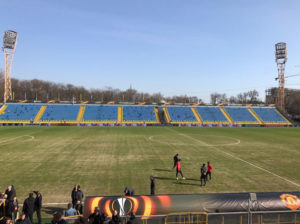 Jose Mourinho wants Manchester United's Europa League tie against FC Rostov to be postponed after condemning the state of the pitch at the Olimp-2 Stadium.
The United manager has questioned how the first leg of their last-16 tie can go ahead after likening the playing surface to the shambolic pitch at the Bird's Nest in Beijing last summer that forced the cancellation of their pre-season tour game against Manchester City.
Mourinho raised his fears about exposing his players to a heightened risk of injury to a Uefa official, only to be told that his squad are insured "so if something happens, no problem." To postpone the match, United – who are due to train on the pitch today – would have to make a formal request to Uefa by Thursday afternoon.
"It's still hard for me to believe we are going to play tomorrow," Mourinho said, before his players were due to train. "I know we have to, but it is hard for me to believe we are going to play tomorrow in that field – if you can call it a field."
Henrikk Mkhitaryan is available again after a hamstring injury, but Mourinho said he did not know whether he was prepared to risk the Armenia forward and claimed the pitch had thrown his selection plans into turmoil.
"I don't know what team to play, really," he said. "I don't know if Henrikh Mkhitaryan is going to play. I don't know. I have now a lot to think because I was expecting something more playable. It is very similar pitch in the summer in China when we and Manchester City decided not to play, but it looks like we have to play.
"I didn't have any contact with anyone until now [about the pitch]. I just had a quick contact with one gentleman from Uefa when I was looking at the pitch and when I told him about my concerns, the gentleman told me the players are insured, so if something happens, no problem.
"I was analysing these very good opponents that we didn't speak about yet. In their previous matches against Bayern Munich, Ajax, Atletico Madrid, in all these matches it looked for me a very playable pitch and I was very surprised with what I found here today."
This is not the first time this season Mourinho has had concerns about the state of the playing surface. Aside from the China debacle, when United's International Champions Cup game against City was cancelled after the pitch was deemed a safety risk, United's Europa League group game away to Zorya Luhansk in December was also briefly under threat because of a frozen playing surface in Odessa. Hot air had to be pumped on to the pitch in order to make it playable and Mourinho was also unhappy about the state of the pitch in St Etienne for the away leg of United's last-32 tie.
Daley Blind, the United defender, echoed Mourinho's concerns but said they could not use the pitch as an excuse if the game goes ahead.
"The pitch is not the best, not good, maybe quality of game will be a bit different, but it doesn't have to be an excuse for us, we have to try to win, that's what we're here for," Blind said. "The pitch is not good, maybe not for safety as well, but it is no an excuse, we want to win here, try to play a good game, that's the most important thing."
Uefa confirmed on Tuesday night that Rostov had agreed not to train on the pitch on Wednesday in order to protect the surface from "unnecessary damage".
Ivan Daniliants, the Rostov coach, had already issued a warning that United may be in for a shock with the pitch. "The pitch is the same for everyone but it will still be a problem," said Daniliants. "In the final of the League Cup [at Wembley], Man United played on an ideal lawn – it was like a carpet. When they arrive here, they will be surprised."
To read to original article, click here
https://turfmatters.co.uk/wp-content/uploads/2017/03/Mourinho-Slams-Russian-Pitch.jpg
450
604
Admin
https://turfmatters.co.uk/wp-content/uploads/2022/05/TM-logo-1.jpg
Admin
2017-03-08 13:24:26
2017-03-08 13:25:10
Mourinho Slams Russian Pitch