Full steam ahead:

Iseki UK was launched in 2017 into a rocky economic environment but with exactly the right man steering the ship. Two years on David Withers has proven his worth as a "Captain" and the company, now based in Ipswich, is making steady progress. 
"We are up on last year which is pretty good," said David, in answer to the most obvious of opening questions – "How are you doing?"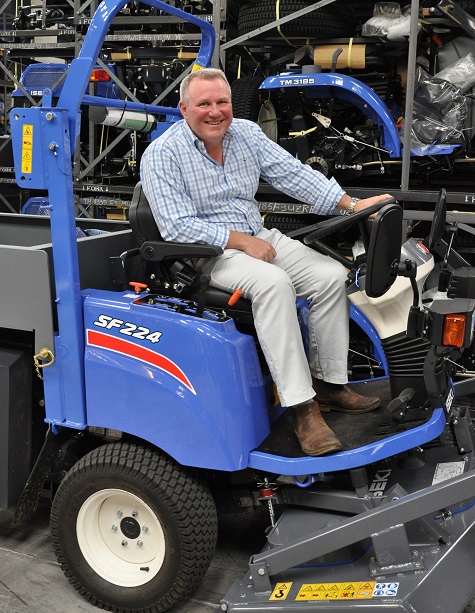 "We are going to sell more this year and make less money and the reason for that has been the collapse in the value of the pound.
That's even more of a problem for a company which brings in all of its goods from Germany and France – 80% Germany and 20% France," revealed David, who returned to the UK following his time in the States as President and CEO of Jacobsen.
"The economy is not in great shape and causing a lot of uncertainty but the biggest single impact for us is that exchange rate."
To highlight the point he added that the pound had devalued by 13% in the previous two months and that Iseki had recently been forced to increase its own prices by 3% to 5%.
"We are going to see inflationary pressures coming in and I don't think that the economy is going to be strong enough for wages to keep up with inflation."
Like so many other companies Iseki were prepared for the original Brexit timetable of March 31 and had brought in sufficient parts stock to ensure no issues over that period.
"Then it didn't happen so, having had a good quarter one, when we were doing a lot to prepare, there was a hangover in quarter two and from April things never really got going.
Now we have prepared again and we are once more full of inventory," said David, speaking a few weeks before the more recent October 31 Brexit date.
The company has secured additional warehouse space, through a relationship with one of the transport companies on the Ipswich Europark with which they share a postcode to cope over the period.
Any issue of delays at ports is not of huge concern to David, given the nature of the Iseki business.
"If our deliveries take an extra week to get through, it will be irritating but it's not life-threatening," was his pragmatic view.
As to the wider issue of ensuring the Iseki brand is available the length and breadth of the country the company is making real progress in bolstering its dealer network.
"What has really worked for us is that we have clarified in our minds what our distribution strategy should be. We find that for many of our dealers we are either the simplest and easiest product a dealer sells – because they also deal with combine harvesters or 500 horsepower tractors and forestry harvesters – and we are the lowest value product they sell.
"Conversely, for other dealers, we are at the upper end of their portfolio. They might be selling products like Mountfield, Honda and Stiga, but don't have a diesel product other than ours. In these cases we are the most complicated product they sell."
Many dealers, often classic garden dealers, have been asked if they would like to have a diesel offering in their portfolio.
"We are up to about 16 new dealers but we still have some gaps and we have space for another 30 or so."
Having spent most of his more recent life at the top end of business life – prior to his time at Jacobsen he was Managing Director of Ransomes Jacobsen, based just down the road from his new home on that Ipswich Europark – he is enjoying building a new business from the beginning.
"I enjoy the closeness with the market, the customers and our staff whereas before there were layers between me and the other people.
That's fun. But there are plusses and minuses. I find booking my own travel intensely irritating, as I'd never had to do that before," he said with a smile.
Another area of potential expansion for the company may come on the back of that new dealer network.
"I look forward to the business growing and having more resource and ability to do things. For example one of the things you might see us doing over the next 12 months is bolt on additional products to our range.
"We have had a lot of people asking us if we could distribute for them. I didn't want to do that to begin with as It was important to get Iseki moving, but now that we have all the infrastructure in place and our polices and procedures are in order we will look at it.
"It would be products of similar standard and reliability and that which are complementary to our own products."
All forward thinking moves and proving once again that, when the seas become rough and the waves are high, having a capable Captain is so important.
https://turfmatters.co.uk/wp-content/uploads/2019/10/iseki-david-withers-wearhouse-sml-1.jpg
467
475
Admin
https://turfmatters.co.uk/wp-content/uploads/2022/05/TM-logo-1.jpg
Admin
2019-10-25 12:35:12
2019-10-25 12:49:13
Full steam ahead