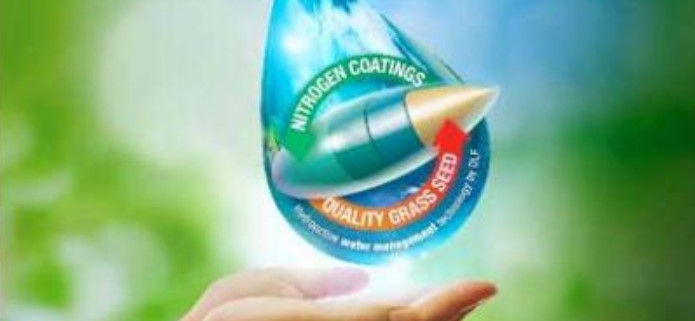 It's all about Grass Seed: Stronger germination and faster establishment are key.
DLF Seed's ProNitro Coating Technology has been helping greenkeepers and groundsmen achieve stronger germination, faster establishment and lower input costs.
Four years on from its launch, the next generation of ProNitro is now available, featuring DLF's new Hydroactive Water Management Technology. ProNitro's targeted combination of controlled release nitrogen and sustainable water distribution optimises the delivery of essential nutrients and moisture to the developing seedling.
With sustainability an everincreasing priority for turf managers around the world, the ProNitro coating ensures available water is used more efficiently.
"The new ProNitro formulation has been conceived and developed as a direct action for input optimization on grasses, improving water distribution in the field. Making the best of every drop of water gives both the grass seed and the fertiliser the optimum conditions for establishment, strong root development and healthy, vigorous
growth," explained Giovanny Lopez, Lead Seed Coat Technologist for DLF.
In trials, the coated seed contributed to a 34% increase in establishing plants and a 30% improvement in root growth. In addition, the targeted nitrogen application system reduces the leaching of unutilised fertiliser into the environment by more than 50% when compared to traditional chemical applications.
ProNitro combines sources of both fast-acting and slow release nitrogen with water management technology, encapsulated in a smooth outer coating for improved seed flow and accurate delivery. This ensures the new seed receives the full benefit of the available water and nutrition, encouraging the roots and shoots to grow rapidly – particularly important when overseeding into a competitive sward.
It is suitable for use on all types of playing surfaces and is available on a selection of popular mixtures from across the Johnsons Sports Seed range. On golf greens and football pitches, even those with low-fertility, sandy soils, ProNitro provides faster establishment, bringing surfaces back into play quicker. The improved uniformity and sward density also make it ideal for turf producers by reducing the invasion of Poa annua and broad-leaved weeds. Replacing the need for seedbed fertiliser, ProNitro saves both time and money.
https://turfmatters.co.uk/wp-content/uploads/2020/03/1-1.jpg
625
695
Admin
https://turfmatters.co.uk/wp-content/uploads/2018/01/turf-logo-2018.jpg
Admin
2020-03-18 11:43:01
2020-03-18 11:43:01
It's all about Grass Seed