Laurence Gale Makes A Return Visit To The STRI
Research at its Best: Laurence Gale popped up to Yorkshire to make a return visit to the STRI
It has been a few years since I last visited the STRI trials grounds, so it was pleasing and very rewarding to have the opportunity to attend one of the recent STRI Research open days last week and catch up with many of the world's leading Agronomists and Sport Turf Professionals who work and help deliver a wide range of high profile sport surfaces.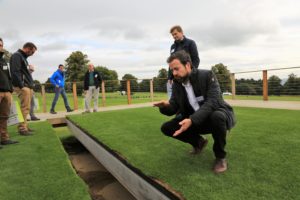 The STRI Group incorporates the following global businesses; STRI UK, STRI Australia, STRI China, SportsTurf Consultants (Melbourne), Aspire Sports Turf (Qatar), Landsafe International and SWD Systems.
Their specialist consultants provide quality, bespoke and cost ffective solutions for the design, construction and management of sports surfaces all around the world.
The STRI have successfully masterminded the installation of pitches used for the FIFA World Cup, UEFA European Championships and Olympic Games along with working with a varied list of clients that include The R&A, Wimbledon Championships, Sport England and the RFU.
In addition, The STRI manages multiple research projects and product trials each year, designed specifically to suit each individual sports surface.
The aim of the day was to invite a wide audience of Sports Turf Professionals to see some of the latest trials being undertaken at their trial grounds in Bingley.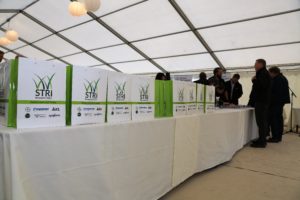 The STRI works with a number of companies each year on Research & Development (R&D) projects for the sports turf industry and this year invited a selection of these companies to support this event
Taking part this year were Bayer, Farmura an Aquatrols Company, ICL, Sherriff Amenity, Stadia Pitch and Syngenta. With over 150 attendees, the event was spilt into seven work stations, enabling small groups to hear about the specific trials that where being undertaken.
Station A, gave us a glimpse into the future of pallatised stadium pitches, there have been a number of these systems around for many years, however, they were often prone to damage when being moved and quite a logistic problem time wise, taking several days to move in and out of the stadiums.
The STRI have been working very closely with STADIAPITCH for a number of years, looking at ways of developing a better pallatised system with the aim to turn non-match days into potential revenue generating events. This has only been made possible by designing and extensively researching key technologies to ensure a pitch can be moved and stored in under ten hours and when brought back into the stadium it is ready for play very quickly.
Station B was showing us a set of Bayer Cropscience trials with Dr Colin Mumford explaining the differences between a programmed preventative approach to disease control and a conventional approach, which often tends to rely on curative or early curative action.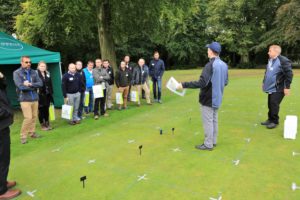 Station C Demonstrated the versatility and innovation of Drone technologies now being embraced by the STRI with Sophie Vukelic their ecological consultant talking about the services they can offer clients in terms of course design, management and maintenance.
Station D Was led by ICL s Henry Bechelet Turf and Landscape – Technical Sales Manager UK & Ireland as always Henry delivered a passion presentation of the results of the nutrition trial undergoing at Bingley.
Station E saw Syngenta's Technical Manager, Marcela Munoz, give an interesting insight to their seed trials being undertaken at Bingley.
Every seed counts when it comes to restoring playing surface quality on golf courses or getting stadium pitches established and stable for the new season. Typically there are now greater expectations for turf managers to achieve excellent turf surfaces, with shorter intervals in which to achieve it.
Station F showed Sherriff Amenities trial on a targeted approach to Disease control.
The objective of the Sherriff Amenity trial is to investigate the efficacy of using carefully selected non- fungicidal products; alone and in combination with Instrata Elite against the development of anthracnose disease.
The two non-fungicidal products where E2 Pro PhosRite and E-Gypsum Flo both shown to have beneficial effects on both plants and soil, the trail is to evaluate which combination of these products gives you the best resistance to anthracnose disease.
Station G Farmura and Aquatrols Company trials on the biodegration of organic matter and thatch using a novel enzyme system.
The objective of this two year trial is to determine the effect of the enzyme on thatch accumulation and reduction of soil water repellency alone or when co applied with an Aquatrols soil surfactant under environmental conditions typical of northern Europe.
https://turfmatters.co.uk/wp-content/uploads/2017/10/stadium-turf-1-1.jpg
3840
5760
Laurence Gale
https://turfmatters.co.uk/wp-content/uploads/2022/05/TM-logo-1.jpg
Laurence Gale
2017-10-20 10:04:09
2017-10-20 10:09:03
Laurence Gale Makes A Return Visit To The STRI