Local Heroes For An Event That Produced A Local Hero…
Local Heroes For An Event That Produced A Local Hero…: Scott MacCallum catches up with Royal Portrush Course Manager, Graeme Beatt, following the magnificent return of the Open Championship to the island of Ireland.
Graeme Beatt arrived home from work and poured himself a gin and tonic before settling into a chair to reflect on the events of the previous, days, weeks and months. It's not often that you have been charged with preparing a golf course for the biggest event on the planet, and, in the case of Royal Portrush Golf Club, it was the first time in 68 years that an Open Championship had come to call.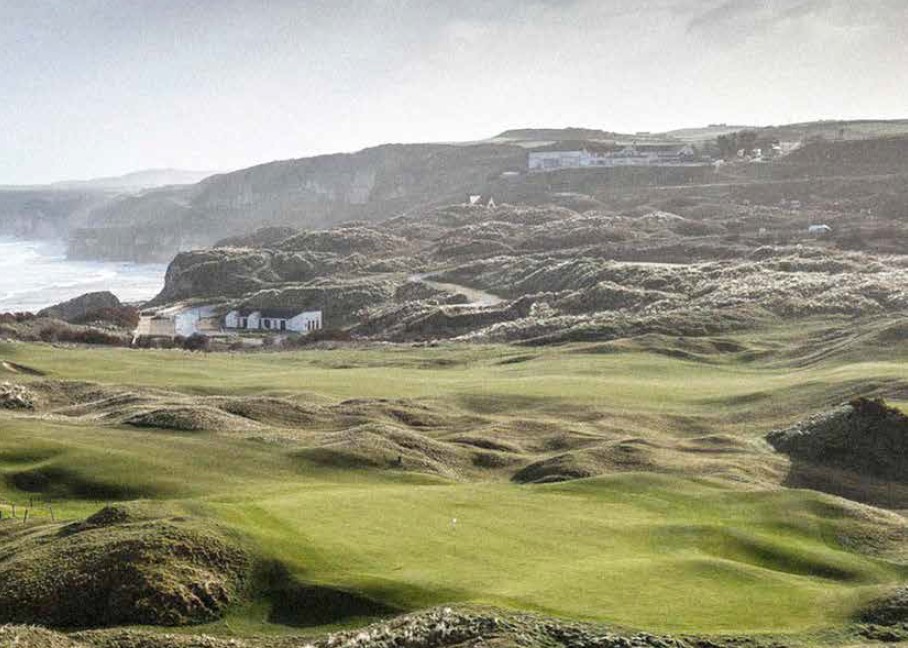 Graeme smiled as he thought about the great work of his own greenkeeping team, always going that little bit beyond; how the volunteers, who had given up their time, unpaid, to contribute towards a stupendous Open venue; and how the entire club, town and island of Ireland had embraced the occasion.
The fact that the event had produced a local hero winner – if not exactly the one who had been expected to lift the Claret Jug – made the whole occasion so much more of a fairy tale.
Like most well written stories, however, the week and the lead up, had produced so many twists and turns that by the time that drink was poured Graeme was worn out.
"I had been invited to a drinks' reception with the winner by the Championship Committee but after the trophy presentation on the 18th green I'd gone back to thank our own staff and the volunteers. I then went to lock up the sheds, got into my pick-up and drove back through the course. It was a struggle as it was still full of spectators.
"When I got to the gate I spotte my wife, Katriona, and our kids, Charlotte and Emily, walking home in the pouring rain so I picked them up. By then the plan of returning for a formal reception wasn't too appealing so I poured a drink before we went to friends for a little while and then bed."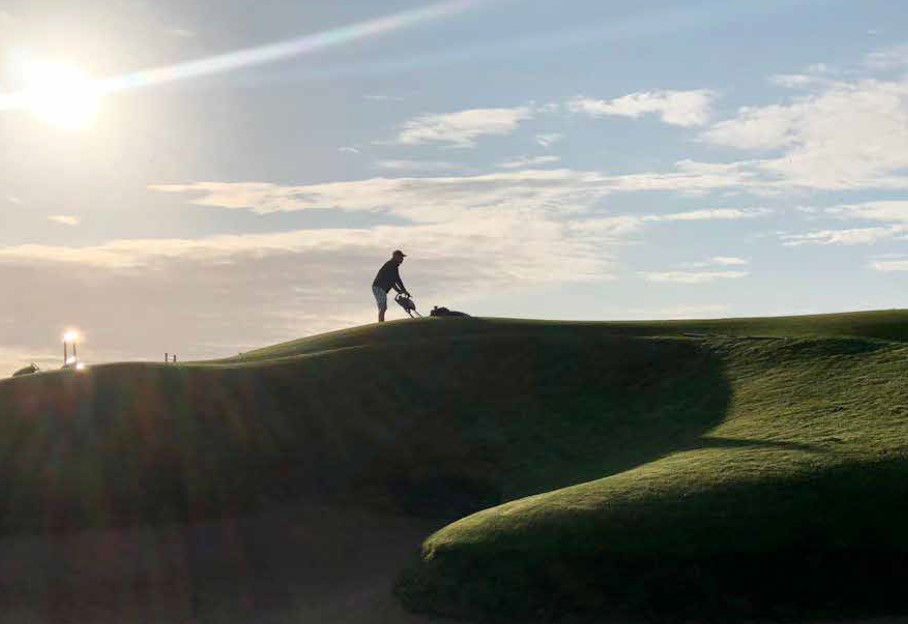 Who could blame him? The hours he and his team were clocking up by Championship week, never mind the months leading up to it, would have had anyone tasked with implementing the Working Hours Directive applying for overtime just to log all the infractions.
"I was arriving at the course at 3.30am for a 4am start and we weren't getting back home until half ten or a quarter to eleven at night. It was an amazing experience but at the same time we were absolutely shattered," revealed Graeme.
All the work paid off. The course looked incredible and played superbly with weather conditions testing the players in a manner that is always hoped. The fact that Shane Lowry is a links specialist play, and, if not one of Ireland's Major winner club members before he arrived, was regarded as a top class player. The course did identify a true champion and a true local hero.
To the question "On a scale of one to ten how happy were you with the course on the Monday of the Championship?" Graeme pondered for a moment and then said: "I'd say eight and a half."
Top Course Managers are never satisfied, hence the missing point and a half, but Graeme had a vision of how he had wanted his Open course.
"I had a picture in my head of how I wanted the course to look, and that was to be a little bit browned off. We would have needed a few weeks of dry weather to be able to do that. The course was stunning but quite green and that wasn't down to fertiliser, it was purely the rainfall and the warm weather. Everything greened up and stayed like that for the entire Championship.
"I was pleased with the condition of the course. I was pleased with the turf. Pleased with everything had come up and how the course played. It was just the colour really. As the Championship went on it just continued to rain and we had to do more and more to get green speed, which was the opposite if what we thought we would be doing," said Graeme, who had to deal with 35 mil of rain in an hour just the Wednesday before Championship week. That is excessive even by Portrush standards.
"It absolutely bucketed down and we were shovelling bunker sand back and pumping water out of bunkers at eight o'clock at night. We'd been working on the bunkers for weeks taking sand out of them and reshaping them. We'd got them just right so it was really frustrating. It's unusual to have washouts in bunkers here, but hey…"
Graeme was working closely with Alistair Beggs, Richard Windows and Adam Newton throughout the Championship, as part of the testing programme which aids course consistency.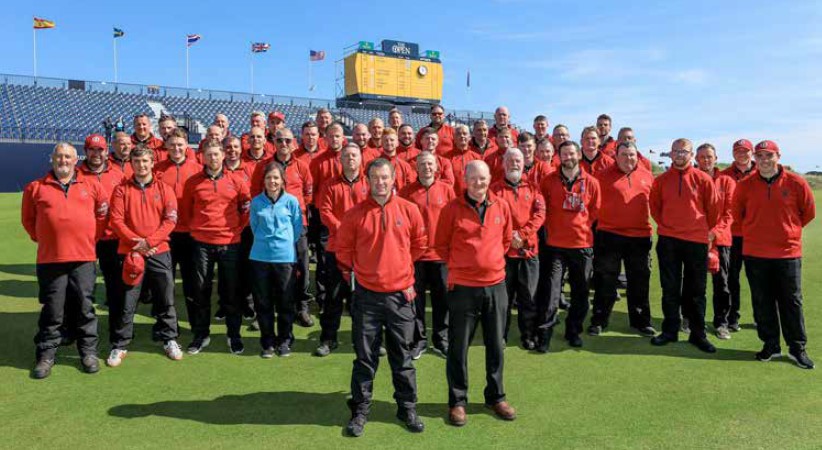 "I was out with Alistair every morning while the other guys, helped by two R&A Scholars, were doing the testing. They would radio green speeds to us after a single cut and we'd decide between ourselves and Grant Moir (the R&A's Director of Rules) if we should do another cut. It worked really well as it gave us an idea of how much extra speed you'd get from another cut, how much the green speed would drop off in the evening and how much they would drop off again by the following morning.
"The weather being the way it was meant that we were doing quite a bit of cutting – the greens were being triple cut," revealed Graeme, keeping his staff of 60 – 54 greenkeepers  plus six part-timers who filled divots – busy for the entire week.
The aforementioned bunkers also required more than their fair share of TLC.
"The bunkers were highlighted in the years leading up to the Open as a potential issue. Our bunker sand is our own and it tends to become a bit soft when dry. Even though we were getting rain we were out in the evenings to water them down with hoses just to ensure that they were firm enough and that the ball wouldn't plug.
"The other thing was the shape of our bunkers. The fairways are designed so that the ball rolls into the bunkers and we didn't want the ball to roll into the sand and not stop short, so we were fly mowing every day – some of them were being done morning and night. Bit of a difference to the normal once a week!"
Graeme has been Course Manager at the club since 2014, taking over from the retiring Joe Findlay, having been Course Manager at County Sligo prior to that but he is actually from Fife. He was originally from Scotscraig, near St Andrews, and attended the rival school to your Editor, albeit Graeme was quite a number of years later!
He worked at Scotscraig Golf Club before going to the still under construction Kingsbarns. He then spent time at Royal Melbourne Golf Club, in Australia before returning to Kingbarns in 2005 before moving to Ireland the following year.
"I was a member at Scotscraig, which was an Open qualifier, and I had to take a young Justin Rose around the course when he was attempting to qualify in 1995. I had lunch with him and his family and I did think about saying to him here but felt that he would have so many people saying 'Remember me?' to him, that I decided not to in the end."
While the Open hadn't been confirmed during the interview process Graeme met with R&A officials as part of his selection, so was aware that the return of the Open was imminent and has been grateful to have had five years to get to grips with the course itself and the enormity of what an Open Championship brings.
The build up to this year's Championship was more intense than any recent Open, partly due to that great gap between Northern Irish Opens and partly due to the wonderful "Dream Team" of Irish golfers produced over the last few years.
Three time Major winner, Padraig Harrington; Darren Clarke, 2011 Open Champion and Royal Portrush member (Darren struck the first shot of the Championship); Graeme McDowall, 2010 US Open Champion and another homer towner, whose brother is on the Royal Portrush greenkeeping staff, and four time Major winner and pre-Championship favourite, Rory McIlroy, who had broken the Royal Portrush course record as a 17-year-old.
So much expectation was riding on Rory's slim shoulders that the pressure when he stood on the 1st tee was immense so perhaps it wasn't too unexpected that his tee shot wasn't his best. That coupled with the course's ability to maximise any error, resulted in an opening quadruple bogey eight. That, added to a double bogey at the 16th and a triple bogey at the last, holed his chances below the waterline, and while he heroically shot a second round 65, a 14 shot improvement on his first, he missed the final two rounds by a solitary shot.
Was Graeme aware of what was happening to Rory on the first day?
Aware! He was very nearly part of the action.
"When Rory hit his first tee shot out of bounds it actually went over our heads. I'd nipped down to see him tee off and I was standing left of the fairway with my wife and kids.
We heard the thud of the ball as it hit the spectator and then his second tee shot landed right beside where we were. We watched him play his fourth into the rough beside the green and just groaned. You could see Rory's nerves and if he'd played his first round the way he played his second he'd have been a factor."
As for the other huge fans' favourite, Tiger Woods? He too missed the cut, much to the dismay of the giant galleries.
The disappointment of losing the two biggest names, turned to elation on the Saturday, however, when Shane Lowry produced a spectacular third round 63 to give himself a handsome lead going into Sunday.
"Shane played north of Ireland golf for years and knows the course like the back of his hand. He can play in any conditions and is a links golfer with all the shots," said Graeme.
With no-one able to mount a serious challenge on the final day Shane enjoyed a triumphant march around the links, cheered to the rafters from all corners, before holing out for a six shot victory.
One of Graeme's most memorable moments was standing with the presentation party on the 18th green, but watching his team form a guard of honour for Shane as he marched out to collect the Claret Jug.
"I was so proud of our staff. They had done such an amazing job and pulled it out of the bag. A lot of them were local guys who had played and worked here all their lives and it was just great for everyone."
While he was at home enjoying that celebratory gin and tonic, the team was at nearby Rathmore Golf Club, Graeme McDowall's home club, where there was a full blown party underway and an opportunity for the everyone to let their hair down.
For Graeme, though, his work was done and he could think back with satisfaction about what had been achieved and how, after a wait of 62 years, Royal Portrush was very much back on the map and, more importantly, the Open rota.
https://turfmatters.co.uk/wp-content/uploads/2019/09/open-1.jpg
648
908
Admin
https://turfmatters.co.uk/wp-content/uploads/2022/05/TM-logo-1.jpg
Admin
2019-09-09 10:26:11
2019-09-09 10:26:11
Local Heroes For An Event That Produced A Local Hero…