Rigby Taylor Products Help Paul Thompson Present Pristine Pitches For Derby County FC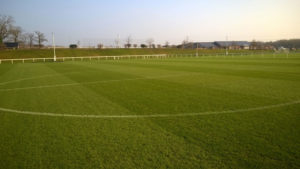 Paul 'Tommo' Thompson, head groundsman at Derby County Football Club's Training Ground and Academy Centre, says he has been achieving "outstanding results" by using Rigby Taylor's R14 100 per cent perennial ryegrass on a number of pitches.
R14 – which comprises the Columbine, Poseidon, Duparc and Berlioz 1 cultivars – offers a host of advanced and unique specialised characteristics including rapid establishment and high tolerance to wear and disease, plus all-year-round colour and the fact that pitches recover very quickly.
Rigby Taylor's R seed range is pre-treated with Germin-8 – a unique treatment of a cocktail of speciality penetrating surfactants, nutrients, sugars and mycorrhizae to stimulate and support accelerated germination and emergence. And, as Tommo says, "I've never seen such excellent coverage, colour and density on the pitches, even in February".
He continues: "We started trialling R14 on the three first team pitches three years ago when I moved here (from the club's Pride Park Stadium, where I spent six years), for seeding at the annual renovations and for subsequent overseeding, usually around September/October. We've used it ever since on these pitches – and subsequently on the Under 23 show pitch and the Under 18 match pitch – because it's proved so successful. The coverage is fantastic and so is the wear tolerance."
Paul oversees a site that has a total of 15 pitches which includes 12 grass pitches and warm-up areas, plus three artificial surfaces.
"We had the first team pitches re-laid in 2106, by SISGrass," he continues. "These rootzone surfaces were ready for an upgrade – hence the new pitches – but we've continued our R14 programme on the pitches and never looked back."
Explaining that because the pitches are used every day of the week, Tommo and his team of six grounds staff – Deputy Head Daniel Tunnicliffe and groundsmen Daniel Elevy, Paul Hitchcock, Sam Morris, Curtis Neasham and Mike Vickers – follow a regular maintenance regime of aeration, fertilisation and treatments, as well as cutting routines (to 25 mm in summer/27-28 mm in winter) to consistently present first-class surfaces across the site.
Each summer, every surface is Koro'd or fraise mowed (by contractor Talbot Turf, the company which also renovates the stadium pitch and a company that Tommo works closely with throughout the season) and seeded with around 30 bags of R14, then in the September/October overseeded with another six bags.
"Presentation and playability are everything," he says. "I need to ensure that at least three pitches are ready for use by 10.30am every day (plus Academy day release every Tuesday and Thursday), and our established maintenance routines – and a hard working grounds team –ensure that we meet that demand."
Now 31 years of age, Tommo has been involved in groundsmanship all his working life, starting off by helping out at his local cricket club where he used to play. "I was about 14 then and it is thanks to the groundsman Lee Spendlove (now a groundsman in Scotland) that I entered the industry, with a contracting company, before joining Derby County FC as an assistant at the stadium."
With such practical experience underpinned by NVQ Level 1, 2 and 3 accreditations – "I'm hoping to sign-up soon for Level 4" – Tommo says that while "the trick is always trying to stay one step ahead in terms of pitch usage and the weather," he adds that perhaps the most valuable lesson he has learned is "if in doubt, don't do it".
The R14 seed mix, however, is not the only Rigby Taylor product that he uses to keep the surfaces in pristine condition. The list includes Apex Organic mini granular and the controlled–release PolyPro and Microflow liquid fertilisers, as well as Blockade-LX black layer treatment and Activate R biostimulant – which, he says, "has been instrumental in creating root growth of 180 mm". He also uses the Mascot Hi-Aktiv Amenity glyphosate herbicide.
Rigby Taylor's Impact Glider line marking machines and Impact XP paint, which won the Queen's Award for Innovation, also play a key role in pitch presentation. Boasting speed of use, ease of application, long-lasting bright lines and cost savings, there's no measuring or mixing with Impact XP – the 10-litre paint drum is simply loaded to the Impact Glider and up to eight standard size pitches can be marked without the need for re-filling.
"Another major benefit of dealing with Rigby Taylor is the fact that I know that the company's sales representative Mike Brear is always available," Tommo concludes. "It's great to have someone effectively 'on call' to provide any back up that's needed."
https://turfmatters.co.uk/wp-content/uploads/2017/04/MWC-5426-Derby-CFC-Training-Ground.jpg
450
800
Admin
https://turfmatters.co.uk/wp-content/uploads/2022/05/TM-logo-1.jpg
Admin
2017-04-21 10:01:34
2017-04-28 02:33:08
Rigby Taylor Products Help Paul Thompson Present Pristine Pitches For Derby County FC