STIHL waters run deep: It was there from about 20 minutes into the journey and I couldn't shift it, not that in all honesty I really wanted it to leave. 
The musical piece which had infiltrated my brain is a tune called "Pop Looks Bach" but it is better known as the theme tune for "Ski Sunday" and the reason that it had become my latest earworm was that we were heading into the Alps, or more accurately the Tyrolian section of the Alps, not far over the German border into Austria.
And the reason our group, comprising of trade journalists, gardening writers from the national press and our hosts, were traveling to this hotbed of Alpine sports was, ironically, to visit a factory which produces lawnmowers and related outdoor ground maintenance equipment.
STIHL is a name renowned the world over. It is synonymous with high quality grounds care equipment whether it be chainsaws, leaf blowers, and more recently professional and domestic ride on or pedestrian mowing equipment.
But not only is it one of the best known names in the world it is also a company which has manufacturing bases all over the world too.
We were being taken to Kufstein, in the Austrian Tyrol, which had originally been home to the Viking company, but which had been bought by STIHL in 1992 and whose name was integrated into the STIHL brand just last year.
Viking's first product was a domestic shredder in 1981, but it wasn't until 1984 that they began producing 1984 that they began producing their own line of lawn mowers and it that those products, something which STIHL saw as squaring the circle and allowing them to offer a full portfolio of garden and landscape maintenance equipment, that brought about the union between the two.
With backdrops of snow covered peaks the factory, which has grown from 20,000 square metres to 43,000 square metres in recent times and increased staffing levels from 373 in 2015 to 650 now, is at the cutting edge of technology. So much so that we weren't allowed to photograph any of the work going on inside.
The company takes particular pride in its staff who jokingly admit that, such is the length of time that most employees remain at the company, the probationary period is 10 years.
The sheer scale of the production facility at Kufstein is such that a tour of the factory takes over two hours, more if you spend longer than the allotted time watching, for example, the stress tests that every element of a machine must survive – something it was good to see the unique mono handle bars on the mowers dealing with it with considerable aplomb Suffice to say, the recently installed robotic parts' picker proved to be extremely mesmeric and some of us had to be dragged away.
The man who is now a brand name as much as a family name – up there with the likes of (Henry) Ford; (Enzo) Ferrari; (Willian Henry) Hoover; (Walt) Disney; (Gianni) Versace and (Ronald) MacDonald – is Andreas Stihl.
Andreas was an engineer and a Swiss national, and he designed and hand built the first chainsaw back in 1926.
Andreas was onto a winner and the STIHL name soon became popular, and also synonymous with professional grade chainsaws and soon became the number-one selling chainsaw company in the world, a title that the company can still boast.
Company headquarters is in Waiblingen, Germany but has assembly facilities spread across the world in Brazil, China, Switzerland and the United States in addition to the plant in Kufstein and a sales and marketing base in Camberley, Surrey,
Now the company boasts a product range that cannot disappoint any amateur gardener or professional turf or estates manager.
Power tools (cordless, gasoline, or electric) – chainsaws, pruners, brushcutters, shredders, scarifiers, tillers, sweepers, blowers, sprayers pressure washers, pedestrian mowers, ride on mowers, hand tools and forestry accessories, Personal Protective Equipment and more recently, some superb imow robot mowers, the technology for which is growing at a pace.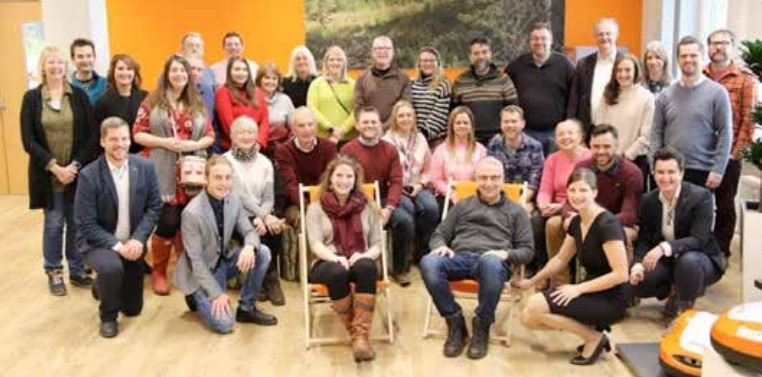 The staff, who are blessed with the finest "views out the window" to be found anywhere in the world, are universally keen to explain and demonstrate their products.
Some, if you are lucky, are even happy to share their chocolate with groups of journalists!
What is evident is that the care shown in assembling a machine is matched by the care shown in ensuring that part has been added just as it should and that it is ready to move on to the next stage of production.
Our group of 25 was treated royally during the two days of the trip. We ate and, purely in the interests of not being reluctant guests, drank well at our wonderful hotel and two unforgettable restaurants, including the oldest restaurant in the whole of Austria.
We also took in a traditional Christmas market and the Riedel glass factory – another world renowned company in what is a relatively small Austrian town – where we watched some of the finest wine glasses in the world being produced – four highly trained people to make one glass!
With an unexpected additional cargo of wine glass, it made the flight home rather anxious for some of our party.
It was a superb, and informative, trip and a big thank you to everyone at STIHL, and HROC, for making it such a rewarding visit for us all.
I can also add that despite the surroundings no skis, nor indeed lederhosen, were donned during the trip but that earworm is still there and beginning to become a little tiresome.
https://turfmatters.co.uk/wp-content/uploads/2020/01/1-3.jpg
452
871
Admin
https://turfmatters.co.uk/wp-content/uploads/2022/05/TM-logo-1.jpg
Admin
2020-01-10 11:48:46
2020-01-10 11:48:46
STIHL waters run deep