Q&A with Craig Haldane: How long have you been at Dubai Golf?
I joined Dubai Golf in April 2006 as the golf course superintendent at Nad Al Sheba Golf Club. I transferred to Emirates Golf Club as superintendent in 2007 and in 2011, I took over as director of golf course maintenance overseeing both Dubai Golf properties, supported by our course superintendent at the Dubai Creek Golf & Yacht Club, Matthew Perry and his team.
 Which tournaments have you hosted during your time at Dubai Golf?
I started at Emirates Golf Club in 2007, and my first event was the Dubai Ladies Masters that year, followed by the 2008 Dubai Desert Classic. We host the Desert Classic every year on the "Majlis" course at Emirates Golf Club, and this year's tournament, which was won by Li Haotong of China, was my 22nd event since I started here.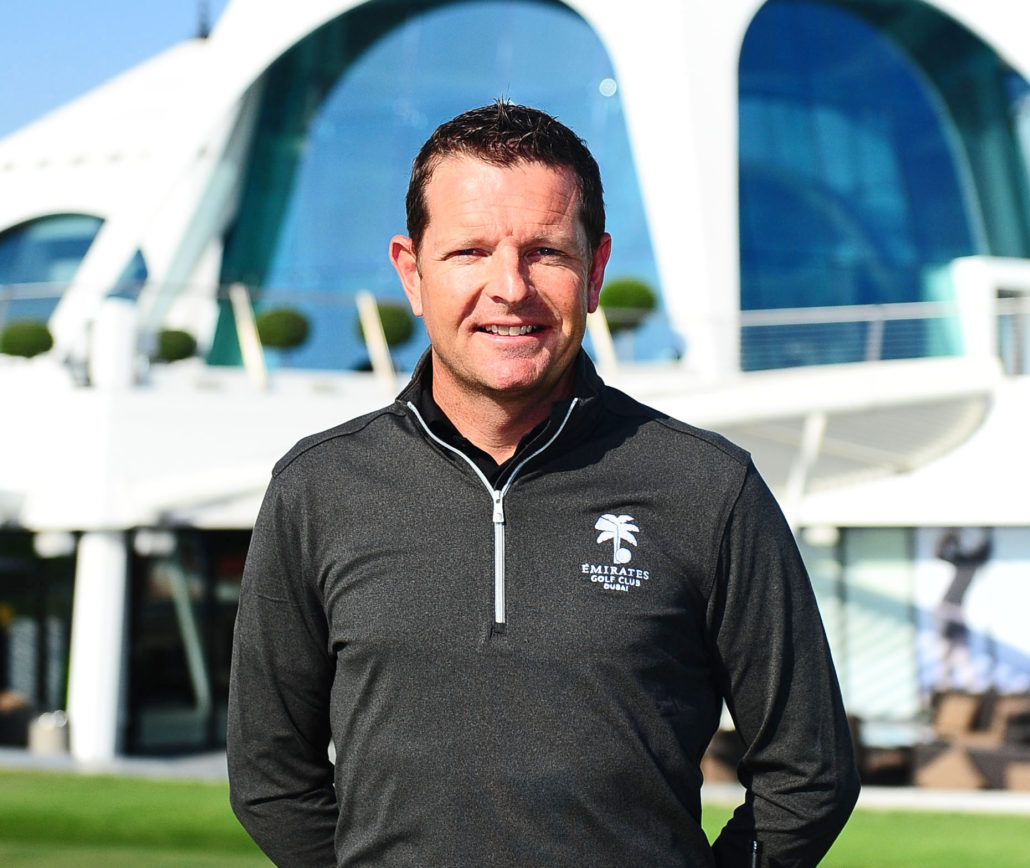 The Dubai Golf courses themselves have hosted every Dubai Desert Classic since 1989 except for 1991 when there was no event due to the Gulf War. Dubai Creek Golf and Yacht Club hosted the tournament in 1999 and 2000 before it returned to Emirates Golf Club where we hosted the 29th staging of the event in 2018.
Have you had any previous tournament preparation experience before your role at Dubai Golf?
When I was in Bahrain we hosted the Arcapita Seniors Open on the European Seniors Tour in 2005. Prior to that I was on the crew for many of the Ernie Els Invitational events at Fancourt in South Africa, working under the golf course superintendent at the time, Greggor Leckie.
Have you ever had any tournament prep disasters?
Disasters? No not really. Challenges however, yes. The events are hosted five weeks apart so that in itself presents some agronomical challenges for sure. The weather has thrown a few interesting challenges our way, including four days of fog back in 2009 if not mistaken. The tour managed to get play done by Sunday but we were running square circles all week as one round was never completed on the same day. It was a lot of fun if being honest.
What the biggest lesson you've learned?
Don't assume anything, ever. Be open to change and don't be scared to try something new!
Can you describe the course at Emirates Golf Club?
Emirates has two 18-hole golf courses and a 9-hole par three course. The Majlis course has for many years been a favourite of many of our local golfing community irrespective of where they are members. The course has a certain charm about it and is a wonderful blend of parkland and desert. It has matured over the years and the landscape today is vastly different from what it was in the early 90's.
The course is not tricked up, you can see where you need to go off the tee and the golf course rewards good, accurate iron play into the greens. The greens are relatively flat (which I love as a feature of a course) – this means you have a fair opportunity to hole putts which is always a means of enticing you back.
The 8th is our signature hole featuring the magnificent Dubai marina skyline as well as the rugged desert landscape to the right, running the length of the hole. It provides an opportunity to tell a story and is one of the most photographed holes in the world today.
Players will be challenged for accuracy off the tee with firmer fairways and some thick rough. This will in turn mean that those playing from the short-mown fairways will be able to control their ball into the firm greens. From the rough, you will struggle to keep the ball on the green at all.
How many staff do you have on the course during the Omega Dubai Desert Classic, and do you have a volunteer programme?
As mentioned before, we are a multi course facility meaning we have enough colleagues of our own to help prepare for the event. We do bring in some additional contract labour to assist with the perimeters and desert areas. During the recent tournament, we had 85 for the week of the event. For this reason, we don't have a volunteer program, however are always open to industry professionals who are about the week of the tournament, to pop in for morning set up's and come say hi.
We do support the African Turf Academy in association with Elmwood College and supported by the R&A and Jacobsen. One or two students a year are offered the opportunity to come and work with us for two weeks based on their performance and attitude during their studies. It is a great way for us to give them some first-hand experience in what it takes to prepare for an event of this nature.
What do you have in the way of tournament support?
Again, we thankfully have enough resources between our two golf clubs. Depending on how we are presenting the golf course in any given year, we may call in some favours for additional equipment, but we do usually get away with what we have. Jacobsen have been a great support year in and year out and typically will give us some technical support through its local distributor in Dubai, Luxury Carts Arabia. We are offered support from other distributors as well which to me shows the class in those in our industry and their willingness to support irrespective of any preferred agreements in place.
How do you maintain greens/ tees/ fairways before a tournament?
On our greens, we maintain a pretty consistent height of cut year-round meaning we are not needing to "shave" things down nearer to the event. Many get confused with green speed and mowing height. The frequency is the thing that goes up significantly nearer the event along with our grooming and brushing regimes to improve ball roll. Managing moisture is a key focus area for us year-round and this is monitored daily, 365 days a year using our Pogo moisture probe, which allows us to adjust our irrigation daily according to moisture. We roll our greens consistently through the year as well, but do additional rolls during the week leading up to the tournament to help "set" us. Our aim is to be at tournament speed on the Monday practice round, then maintain that for the next six days.
Firmness of surfaces is key. Greens get a lot firmer leading up to the event. This promotes good ball roll and allows the players to really control their spin from the short-mown areas. It highlights their skill without question and puts an onus on hitting fairways.
The fairways are mown daily and we tweak our mowing heights until we get what we consider to be the perfect conditions for a ball to be sitting up nicely on a tight sward. For the past three years we have been innovative in our presentation of the fairways and feel that it brings something unique to the event and the club. It has become somewhat of a talking point on various platforms through the week and is, in our opinion, good for the game. Golf needs to attract more sectors and if we can present something a bit quirky that week, why not.
Which machinery do you operate across the course?
All our Dubai Golf facilities are predominantly Jacobsen; however, we do have equipment and utility vehicles from other manufacturers as well. Our preferred supplier agreement brings with it value beyond actual product and it is a relationship that has been forged over many years of working together. We are today very fortunate in our industry that the quality of equipment being manufactured around the globe is world class and we are spoiled for choice.
When does preparation begin and what does this involve?
A big part of our annual maintenance plan involves our aeration schedules through the summer. This enables us to be able to present the golf courses as well as possible for the season. We overseed the Majlis in late October and, planning for closures and such, begins a year in advance. Our central reservations department needs to know the key dates when we are closed for maintenance so being proactive in our planning and communication is vital.
Post tournament we would typically review the good, the bad and the ugly, and sit down with the European Tour and our club management to look at areas that we can potentially improve on. It's an on-going strategy that has worked well for us. We have a very good relationship with the European Tour who appreciate that for the other 51 weeks of the year, we are here to serve our loyal membership base. It's a balancing act of what we can do for the tour that doesn't negatively affect our membership and business model.
Our opportunity for project works and remedial works is mid-June through to mid-September, in the heart of our very hot and humid summer. It is here where my team earn their keep as the hours worked are immense. I am very fortunate to be working alongside an engaged and energised team who have been very loyal and who take great pride in the work that they produce throughout the year.
What's your favourite thing about tournament week?
I think for me; my favourite thing is seeing all the pieces of the puzzle falling into place and watching the pride my team have during this week in particular. It is an opportunity for their family and friends to see first-hand what they have prepared and this is a great moment for them.
What's your least favourite?
My least favourite thing is not seeing my family. We get in around 3am and return home well after 9pm, sometimes as late as 11pm. The kids kind of forget who Daddy is for two weeks, however the hugs received when it is all done and dusted makes it all worthwhile.
What's your proudest achievement?
Personally, it has to be my family! I have two amazing kids and my wife Aneisha is without question the person I look up to the most in life. From a work perspective, I would say being presented with a replica trophy after completing my 10th Omega Dubai Desert Classic by Mr. Mohamed Juma Buhamim; that was very special indeed.
For the latest industry news visit turfmatters.co.uk/news
Get all of the big headlines, pictures, opinions and videos on stories that matter to you.
Follow us on Twitter for fun, fresh and engaging content.
You can also find us on Facebook for more of your must-see news, features, videos and pictures from Turf Matters.
https://turfmatters.co.uk/wp-content/uploads/2018/04/craig-1.jpg
1568
1860
Ella Boyden
https://turfmatters.co.uk/wp-content/uploads/2018/01/turf-logo-2018.jpg
Ella Boyden
2018-04-26 14:55:07
2018-04-26 14:55:07
Q&A with Craig Haldane