Aeration At Cumberwell Park GC: Few course managers have the challenge of creating an aeration programme for 45 holes.  Step forward Matt James at Cumberwell Park GC who is responsible for five nine hole courses at Bradford-on-Avon, eight miles south of Bath.
The original courses – the 'red' and 'yellow' were created in 1994; 'blue' followed in 1999, while 'orange' in 2006.  Then, in summer 2016, a shorter Par 3 course was opened. Unlike traditional venues, the USGA based greens and tee constructions on the first four courses are generously sized, their design nonetheless still reflecting the natural contours and landscape of the 400 acre site.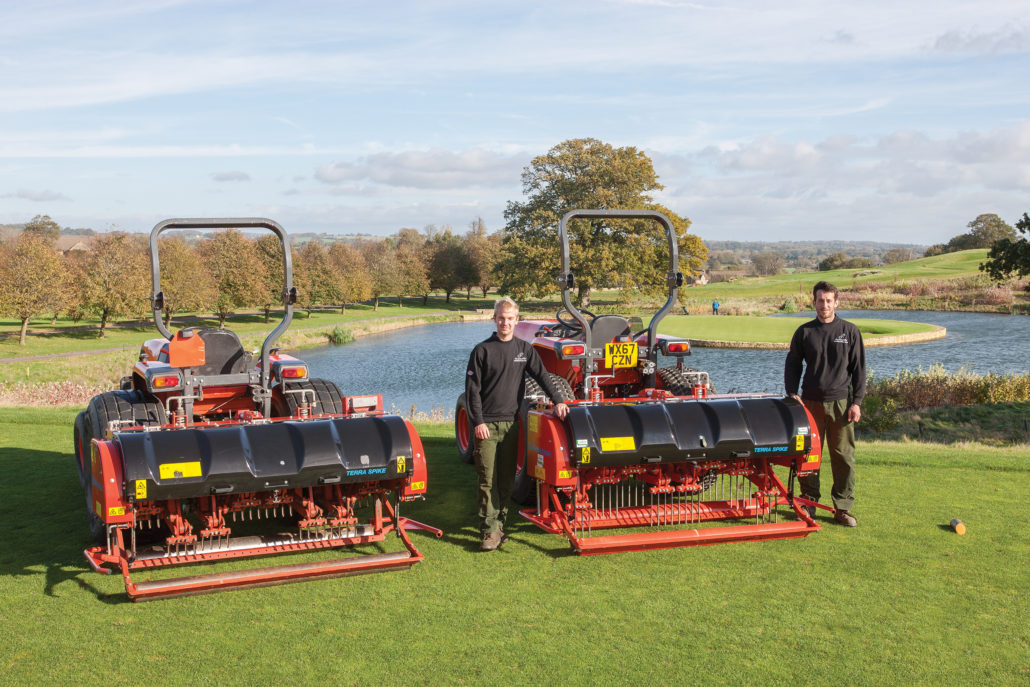 Matt James' aerator of choice is the Wiedenmann Terra Spike GXi. Previously the club owned a Wiedenmann 1.4 m wide GXi6 but upgraded to the GXi8 HD when it was launched to take advantage of the productivity an extra 40 cm offered.
"With 36 holes we just about got away with owning one spiker," said Matt James. "Jumping to 45 we were over stretched. In autumn 2017 we added a second; two brings flexibility.  Take last month as an example: we've had one machine set with hollow cores coring greens. The other is on solid tines for tees. So, two machines ready to go when weather permitted helped us catch up. Changing tines is fast on a Wiedenmann, even quicker now when you just swap machines.  Terra Spikes are recognised across the turf profession. You see users happily posting their results on Twitter. We're pleased with ours and the support we get from Stuart Fry and T H White at Knockdown.
Some form of aeration is carried out at the Wiltshire club every two to three weeks.
The Cumberwell plan is to aerate tees at least once in the winter with 12 mm solid tines varying depth and heave as conditions allow.  A handful of areas displaying signs of more compaction might be given a second run as spring approaches.  During March, hollow coring takes place using 10 mm coring tines. Again repetition may be carried out. Over the summer the tees get lightly pencil tined with several passes.
The true-running expanse of USGA greens which Cumberwell is renowned are tined twice in the winter with 12 mm solid tines and then throughout the year receive maybe half a dozen passes with 8 mm tines. Fairways don't get spiked.
Increasingly the Cumberwell Park team has been introducing multi tine heads for finer work and for coring throughout the year.  The GXi8 HD can be fitted with multi tine holders on all eight legs, each solid multi- tine head holding up to twelve 5 mm needle tines while each coring multi-tine head takes six tines per head with a coring diameter from 6mm.
"We certainly vary the tines. With the Wiedenmann we can always achieve the depth which is important. In the past we tried fitting tining units on our greens mower but couldn't get the necessary depth.  Now we get finite control from just a few mm all the way to 250 mm depending on what tines are fitted."
Cumberwell Park's innovative and inspired approach to course layout delivers an excellent golfing experience to members and visitors alike. Yet maybe less apparent to the golfer is how in parallel, clever forethought means it delivers a perfect solution to accommodate its many maintenance needs.
"Our Par 3 is separate but in terms of the other four nine holes courses we are quite unique," explained Matt James. "They all start and finish at the clubhouse. Our booking system is such that golfers play any combination of courses. We treat it as a four tee start.  Crucially I have access to the system.  With appropriate notice I can close an individual course for maintenance.
"For example, tomorrow one course is shut from first thing until 9.30 am for top dressing. It really helps to be able to shut for tining or top dressing.
"I have to make a judgement on operations I can do. You have to be organised and plan activities ahead. Key things get booked well in advance, for example coring is traditionally March time.  Naturally you plan around big events or tournaments. We wouldn't choose to tine or top dress before something important but you've got to fit it all in. Fine tines leave negligible disturbance so it is not particularly disruptive. We wouldn't do it days before a competition; but aeration is necessary so you fit it in somehow rather than avoid it."
The scale of Cumberwell Park is not for the feint hearted. Its setting is enhanced by nine lakes, 34 acres of woodland and free-flowing streams.  The establishment has been awarded four stars in Golf World's Top Courses in Britain and is also an accredited Golf Mark and Club Mark facility. Nine of Cumberwell Park's 20 greenkeeping staff are trained on the aerators.
So, how does Matt James keep track of what's been aerated?  "We keep detailed records for all operations carried out. Specifically with spiking, details include which tines used, depth, where on a particular course and the operator name."
With another nine hole par 3 course in the pipeline, Matt James and his greenkeeping team strive to maintain their constant high standards.  Only last month the club won the Environmental category at the Bath Life Awards 2018 while Head of Conservation, Jon Keepen was announced as a finalist for Conservation Greenkeeper of the Year at this year's STRI's Golf Environmental Awards.
For more information, visit: www.wiedenmann.com
For the latest industry news visit turfmatters.co.uk/news
Get all of the big headlines, pictures, opinions and videos on stories that matter to you.
Follow us on Twitter for fun, fresh and engaging content.
You can also find us on Facebook for more of your must-see news, features, videos and pictures from Turf Matters.
https://turfmatters.co.uk/wp-content/uploads/2018/05/Cumberwell-Park.jpg
1701
2551
Val Graham
https://turfmatters.co.uk/wp-content/uploads/2018/01/turf-logo-2018.jpg
Val Graham
2018-05-10 10:03:17
2018-05-10 10:03:17
Aeration At Cumberwell Park GC