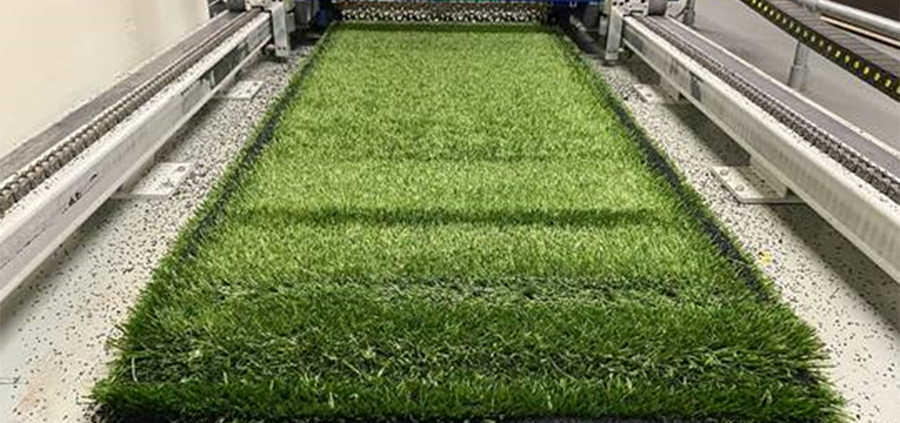 Predicting Infill Migration: The potential ban on rubber crumb infill has meant that owners, manufacturers, and suppliers have taken a keen interest in measures that can mitigate infill migration.
Even if a ban is implemented, there is a requirement for all the current fields containing rubber crumb infill (pitches) to install measures to prevent the infill from leaving the field enclosure. It means, as a minimum for preventing infill loss into the environment, thousands of fields must retrofit panels to the fence line, make space for footwear cleaning areas, and fit drain filters. These upgrades are not an easy undertaking. Fence system designs will need to be assessed for the suitability of panels, placing a financial burden on those charged with responsibility for the fields. There will also be a timeline to tackle the legacy of pitches identified for upgrades.
But what if there was a way to identify the likelihood of a turf system ejecting rubber crumb from the turf system? What if the risk could be identified using a laboratory method that provides an index for this potential issue? It would mean that designers, consultants, and owners could choose turf systems that can retain infill, thus reducing the investment required to prevent infill from leaving enclosures. It would allow manufacturers to focus on the design of new products for use during turf construction, intended to help reduce infill movement and loss.
Infill is now identified as a source of microplastics in the environment, although the overwhelming evidence suggests that the artificial turf industry is very low on the list of polluters. Due to misinformation, synthetic turf has attracted a disproportionate amount of media attention in recent years. The turf industry is an easy target. However, research shows that compared to the pollution of other industries such as textiles, farming, and chemicals, turf would not even warrant a mention. That said, it should not lead us to complacency. Indeed, it has not. As an industry, we have taken a proactive approach to managing this issue.
In July 2020, a new standard was published; EN 17519:2020 Surfaces for Sports Areas, Synthetic Turf Sports Facilities Guidance on How to Minimize Infill Dispersion into the Environment. This EN standard was adopted by regional and global governing bodies concerned with safety. The objective of the EN is to regulate infill that escapes the pitch. Turf infill can migrate into the surrounding grounds, settle in or around drains, or get stuck to shoes and clothing and be taken off-site.
Lisport XL Tests
Does the Lisport XL tell us anything about infill migration in an artificial turf system? The Lisport XL imparts mechanical wear onto the turf system to attempt to replicate the physical aging of a field. During the wearing process, some infill is displaced, and it can indicate the potential for infill migration that a surface can exhibit in a real-life scenario. It is noted that surfaces with a particularly high-performance infill rate, low free pile above infill, or low stitch density can lead to a higher incidence of infill displacement.
Splash Test
Does the splash tell us anything about infill migration in an artificial turf system? The splash test replicates the infill displacement from a single ball bounce impact on the surface. It is designed with spectators and high definition TV images to limit the splash characteristics of a surface.
Similarly, to the Lisport XL, surfaces with a high quantity of performance infill, low free pile height, or low stitch density may exhibit a higher splash percentage. Note, however, that splash testing in laboratory conditions provides a worst-case scenario. Recent studies suggest that installed fields can show a lower splash value when compared with the same surface tests in a laboratory. There is a potential to further develop the splash test in a game-like situation or with various impact scenarios.
Data Analysis
We have built an extensive database that holds the results of hundreds of product tests that have run through the Lisport XL. Through an examination of the turf system properties and an analysis of infill migration data, we can identify trends.
What are the key elements in a turf system to prevent infill migration in a field?
Turf configuration – higher density products contain the infill better.

The free pile is a key factor as more free pile contains the infill, but there is an optimum level required to protect the yarn.

Infill type/size/quantity has a direct impact on the mobility of the infill. Higher density infills are less mobile and the added factor of infill voidage/compaction ratio will have a direct impact on non-regulated fields.

Footwear, the interaction with or blade/rounded stud flat sole will have a direct impact on disrupting the infill. Any footwear with higher traction may produce more infill movement.

Moisture condition – completely dry surfaces show a greater preponderance for infill movement.

Grooming/maintenance will de-compact the infill at the surface and certain types of maintenance brushes can cause rubber crumb to be thrown some distance from the brushing action. The speed and pressure applied is also a factor. It should be possible to emulate maintenance activities to the Lisport XL
Conclusions
Very small amounts of infill can leave any field, but the estimates of migration reported in the media are excessively high and unverifiable. Misinformation has been used by ECHA to come to the conclusion that artificial turf fields should be regulated. There are discussions of potentially banning added polymeic materials from performance infill. However, using laboratory tests to identify turf systems which might have a preponderance for allowing infill to be easily displaced could be a better first step to managing the problem.
For the latest industry news visit turfmatters.co.uk/news
Get all of the big headlines, pictures, opinions and videos on stories that matter to you.
Follow us on Twitter and Instagram for fun, fresh and engaging content.
You can also find us on Facebook for more of your must-see news, features, videos and pictures from Turf Matters.
https://turfmatters.co.uk/wp-content/uploads/2021/02/infill-migration.jpg
678
900
External Source
https://turfmatters.co.uk/wp-content/uploads/2018/01/turf-logo-2018.jpg
External Source
2021-02-01 10:24:41
2021-02-01 10:24:41
Predicting Infill Migration