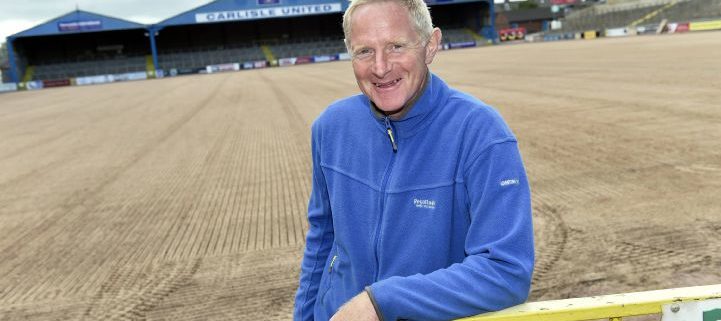 The Trials And Tribulations Of Tending Carlisle United's Pitch
The groundsman's story: David Mitchell on the trials and tribulations of tending Carlisle United's pitch – The Blues' award-winning stadium manager talks bent goalposts, blocked urinals, unhelpful substitutes and the best surface in League Two with Jon Colman.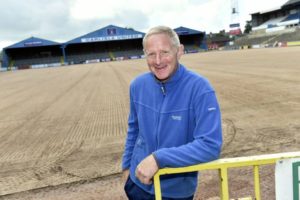 In the groundstaff's office in Carlisle United's Neil Sports Centre, the walls strewn with old photos and cuttings, David Mitchell takes a bite from a sandwich and then calmly reveals the crisis that marked the build-up to one of the most important games in the Blues' recent history.
With Brunton Park back in use after Storm Desmond's floods, a newly-laid pitch was being protected before Everton's visit in the FA Cup. "We put the sheets down, and on Friday afternoon one of the spools – this great big thing on wheels – blew in the wind and went bang into the goalpost," Mitchell says.
With less than 48 hours before a sell-out tie, one of the uprights at the Waterworks End now resembled a dog's hind leg. "Would a television camera have picked it up? Oh, aye," Carlisle's stadium manager says. "It wouldn't have met with regulation. So you're thinking – Everton, telly, embarrassing, game off."
Mitchell called United's supplier, who did not have a spare post. Further calls ran short as darkness fell and anxiety grew at Carlisle's ground. Eventually one was sourced – in Lowestoft. Another of Mitchell's contacts, at Stobart, arranged for a haulage driver to turn around on the Norwich bypass and collect it.
It arrived next day: the eve of United's big occasion. "This wagon turned up, full of mineral water, and a goalpost," laughs Paul Butler, one of Mitchell's colleagues.
It is, in most other circumstances, down to Mitchell to anticipate what fate has to offer. Officially he does this better than anyone else, for he and his team – Mitchell, Butler and Matt Henry – were in April presented with League Two's grounds team of the year award at a ceremony at Twickenham.
It is the latest in a number of accolades Mitchell has collected for tending United's renowned pitch. "It's nice to be recognised," he says. "But you can't do it on your own. You need the chief at the top, making the calls, but you need the lads to carry out instructions."
Was there any envy from peers when he stepped forward for the umpteenth time? "I wouldn't say so. Everyone was nice about it."
"Apart from Portsmouth," Butler says.
"Aye, he saw it differently," Mitchell says. "He wasn't happy, the lad. He obviously thought they should have won. But when they'd shown all the pictures they took from each ground, I thought, 'If we don't win this, there's something wrong'."
Mitchell describes the process by which pitches are judged. "They look at staff, machinery, what construction the pitch is, shade pattern." Assessment also involves visits from Dr Stephen Baker, head of sports surface technology at the Sports Turf Research Institute.
Mitchell enthuses about the STRI's headquarters in Bingley as a child might about Christmas. He reaches into a bag and pulls out a catalogue with a "league table" of different grass seeds, going on to describe which ones might and might not work for United.
His love of his vocation explains his success. Has anyone ever tempted to lure him away from Carlisle? "A lot of people ask me that, but no, nothing. CV-wise, I suppose I'm in a good position. But the way it all works is interesting. The head man changed at Anfield 12 months ago. I didn't even know there was a job going. I'm not saying I would have applied, but these things rotate without anybody finding out. In the Premier League, the deputy steps up, somebody from the training ground comes to the stadium, and they'll get someone to fill in at the training ground who will probably be 16, and on three shilling a week."
Mitchell's knowledge and reputation is in demand in other ways. Recently the former United manager Greg Abbott persuaded him to travel to Bradford to advise on Valley Parade's surface. There is also a fellowship among groundsmen that means tips on topics like frost sheets, seeds and re-turfing are never far away.
The latter was a challenge after the floods. "The best decision was to re-turf, no question," Mitchell says. "If we'd played on the old pitch, which was still full of silt and rubbish, it would have been an absolute nightmare. Three games a week on that? A shower of rain and the whole place would have gone brown. If I've paid my 22 quid as a fan I want to be entertained."
As Carlisle recovered from the deluge, new turf was acquired from a firm in Scunthorpe which had recently re-surfaced the Stade de France. "The logistics were unbelievable. 7am on a dark January morning, floodlights on, these Stobart wagons turning up, and 13 or 14 of us working as a team."
Famously, Mitchell and his team had found koi carp swimming in the Waterworks goalmouth before the waters had subsided. "The stuff on that pitch," he adds, "was like chocolate icing, but 10 times as heavy. You still got the smell when we scraped it this year. Oil, diesel…still from the flood. It's in every nook and cranny. You'll never get it all out."
For a second summer, Mitchell and his team are racing to get the pitch ready after concerts at United's stadium. A July 28 home friendly against Blackburn is the target. "Some clubs have three or four friendlies at home, after a concert. I wouldn't like to be in a regime like that. That's no way to treat a member of staff."
Mitchell, who also looks after training pitches at Creighton, is glad to have a good relationship with Keith Curle. United's manager ensures that the following week's schedule is emailed to him so he can prepare accordingly. "It's almost a 'you scratch my back, I'll scratch yours' thing. At the end of the day, if the manager says he's training on the main pitch, he's training on it. I'm in no position to say he can't. But at least with Keith and his staff there's open dialogue.
"It's better than bulldozing in, no communication, and training on it three times a week. I don't care you who are or what resources you've got, you ain't gonna be playing on a very nice pitch on a weekend. There does come a point, in those scenarios, where you think, 'I'm wasting my time here.' You lose your motivation. If the club aren't bothered – fine. I'll prep the pitch then I'll go fellwalking on a Saturday afternoon.
"If you do want to invest in it and look after it, it's money well spent. I think fans realise that. They're always appreciative of what we do."
The latter does not always apply to visiting teams who annoy Mitchell by warming up in areas he would prefer they avoided, or exceed rules on how many squad members can be on the pitch. "How long have you got?" he says, rolling eyes.
"You sometimes think, 'Should I bother?' But you don't want to get to Monday, look at the pitch and wish you'd said something. So I might start by having a quiet word. If they don't like it, you could call it in with the EFL, but I don't know how far that would go. I think the best approach then is to try and mentally disrupt them a bit.
"A few people say, 'I saw you having an argument with so-and-so.' It wasn't an argument. I made the point, he didn't like it, and I said, 'Well, you're gonna do it. I'll physically pick up your cones and move them myself'.
"Some of them like to do their little drills in the middle of the pitch where the grass looks great. All I'm asking is they do it in the corner, in a hard-wearing area. Last season a Morecambe coach had their subs running across the centre-circle. I said, 'What are you doing? What do you need, 20 yards? Give me your cones and I'll mark it myself, from the edge.' And he wasn't having it. Then we had a discussion why Morecambe's pitch wasn't good."
While it is a labour of love – Mitchell keeps a diary, which he leafs through to recall Carlisle's "disgusting" pitch when he took charge in 2005 – it does not lend itself to relaxation. "I don't know if you do switch off, much," he says. "We were back down late last night, finishing off, because it was going to rain this morning.
"When you've done it so long, it's just the way it is. There are other things you can see need doing around the ground, but resources say we can't. I do try and keep it half tidy. You want supporters to come back in August and see a difference. But it's getting harder. We've talked about getting new disabled shelters in, you name it. But we've toilet floors to paint, urinals to stick your hand down. Great stuff. And when the players are back your focus is even more firmly on the turf."
United have a proud record of getting games on even in frosty weather, but Mitchell recoils from that subject for fear of jinxing. In the warmer month of April he cut some eyecatching designs into Carlisle's pitch. This, thankfully, did not bring the same worries that followed the five Olympic rings he marked in 2012's pre-season.
"There were issues with that," he says. "Copyright. Nothing happened, but I did hear it get mentioned, so I thought I'd better not go there again." Butler refers to a cake shop in Scotland which was ordered to remove an Olympic display by "the thought police".
Mitchell admires creativity like that shown by Leicester's John Ledwidge, whose patterns at the Walkers Stadium have included an intricate, diagonal criss-cross, and the club's crest in the centre circle. "I think I know how he does it. It's clever, very clever.
"I think John takes a bit of stick for going over the top, but if he's trying to upgrade the art of groundsmanship, I'm fine with that. He got, I gather, some communication from the Premier League to say stop doing it, because the linesman was struggling to pick up a straight line."
Mitchell bristles at this perceived slight on his trade. "I'm not buying that. I think, subtly, John will put in a straight line to cover himself. So there you are, Mr Linesman – there's a line for you. Oh, and by the way, get your eyes straightened."
To read the original article from News and Star, click here
For the latest industry news visit turfnews.co.uk
Get all of the big headlines, pictures, opinions and videos on stories that matter to you.
Follow us on Twitter for fun, fresh and engaging content.
You can also find us on Facebook for more of your must-see news, features, videos and pictures from Turf Matters.
https://turfmatters.co.uk/wp-content/uploads/2017/07/David-Mitchell.jpg
480
721
External Source
https://turfmatters.co.uk/wp-content/uploads/2022/05/TM-logo-1.jpg
External Source
2017-07-03 08:41:58
2017-07-03 08:42:24
The Trials And Tribulations Of Tending Carlisle United's Pitch