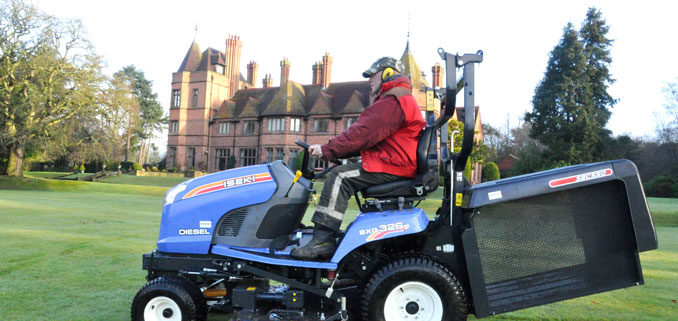 Private Gated Community Chooses Iseki Mower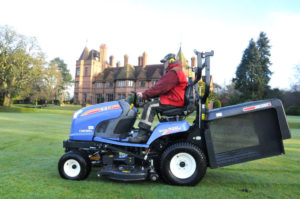 Shotwick Park, located in Chester, U.K. has taken delivery of an Iseki SXG326 cut and collect compact tractor mower to help maintain the eight-acre private residential area. European and U.K. Iseki distributor Ransomes Jacobsen Ltd. supplied the machine and local dealer, F.R. Sharrock Ltd., made the delivery.
Tony Kinkead has been the Estate Manager at Shotwick Park since 2000. Tony owns one of the 14 apartments on-site and maintains the land with the help of fellow gardeners Mick Williams and Paul Long.
Commenting on purchasing the Iseki SXG326 to maintain the estate, Tony said:
"Our main priority when looking for a suitable ride-on mower was the ability of the machine to mulch leaves and to cope well with the amount of grass that we need to cut here. The area is surrounded by many trees which deposit leaves and pine nuts in autumn, so it is important that we are able to keep the area tidy and presentable throughout the year."
The Iseki SXG326 has been purchased after previously using a different brand for a period of 10 years. The new tractor mower will cut grass in the summer months and has had a tow bar fitted which will assist with other tasks such as maintaining flower beds, shrubs and transporting branches when cutting back trees. During the autumn and winter seasons, the Iseki machine will help with general maintenance tasks and mulching leaves.
"We purchased an Iseki this time around partly because our dealer F.R. Sharrock made us aware of the Iseki brand and the range of products available," said Tony. "The machine was also better value for money, more comfortable and easier to use; it ticked all of our boxes."
The Iseki SXG326 is powered by a high torque 1123cc diesel engine and features a brand new instrument panel and dial in height-of-cut adjustment. The machine is able to cut and collect in wet conditions and boasts a 600-litre collector capacity that is engineered to be easily removed, providing simple cleaning and maintenance.
Commenting on the service provided, Tony said:
"Our dealer has been absolutely fantastic. We have now had a 10-year relationship with F.R. Sharrock, and we have always been very well looked after, in particular by Adrian, the area sales manager. Adrian has helped us to find the perfect fit for Shotwick Park and has also attached a tow bar to the machine so that we are able to tow a trailer and deposit any organic materials. We are very happy with our new Iseki machine and the unwavering level of service we continue to experience."
Shotwick Park is a private, gated residential estate featuring 14 apartments and one detached house. The estate was built, and privately owned, in 1876 by the Vernon family before being purchased by Cheshire County Council in the 1930s. Shotwick Park was used as a home for senior citizens for many years, and also served as a military hospital for a period of time during the Second World War.
https://turfmatters.co.uk/wp-content/uploads/2017/03/ISEKI.jpg
450
678
Admin
https://turfmatters.co.uk/wp-content/uploads/2022/05/TM-logo-1.jpg
Admin
2017-03-13 12:46:13
2017-03-13 12:46:33
Private Gated Community Chooses Iseki Mower