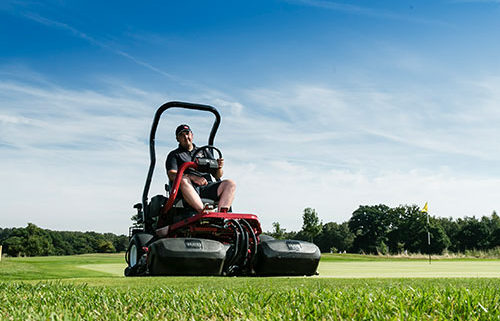 Toro Lease Agreement For Royal Ascot Golf Club Brings Course On In "Leaps And Bounds"
Royal Ascot Golf Club has opted for a lease agreement when renewing its Toro fleet ten years on from becoming a Toro Total Solutions customer after being relocated and rebuilt. And it's a plan that has, according to its members, brought the course on in leaps and bounds.
A decade ago Royal Ascot Golf course, one of the oldest golf courses in the UK, was separated from the horseracing track and moved to another location on the Crown Estate where it was given a new £1million clubhouse, a 18-hole 150-acre 6500-yard par 70 course, a new Toro irrigation system and a brand new fleet of Toro machinery.
Director Martyn Kilmister praises the job the original fleet has done saying: "Considering the course was a farmer's field 11 years ago, our Toro kit has done a great job tending the course over its growing in. Toro machines are robust, well-built and long-lasting. For one reason or another we haven't upgraded or replaced any of the machines until recently and yet our course always looked as good as ever. It is only now we have the new machines that we see the benefit of regular machinery replacement."
This is a view confirmed and expanded upon by Ian Hockley who has been at the club for two years and in his current role of course manager for almost six months: "Without question the original Toro fleet has done its job and done it well. The main difference is the quality and speed of the new machines means it now takes less work and is no where near as big a job to get the same results.
"Technology has also improved. For our fairways we went for a like-for-like replacement to the Reelmaster 5510 and, as with most of the machines, it's easy to see the improvements in terms of speed and machine quality, but what is also making my job easier are the improvements in technology. The Info Centre in the Groundsmaster 4100 and 4300 for example provides a degree of control the older machines didn't have, allowing me to set a maximum mowing speed and prevent whipping on a corner in the case of excess operator speed. And in the case of the GM4300 which now has three decks instead of two, the width of cut has improved and we have been able to use them to stripe the roughs and create semi-roughs."
Ian explains more about why the club opted for a lease agreement this time. "Whether you buy your machinery outright or on lease, the important thing for the members is having a course that plays the best it can and for the greenkeeping team it's having the right kit to work effectively and efficiently. I feel the best way for us to achieve those things is by having the flexibility to update the fleet when we need to and being able to bring in new pieces of equipment depending on our short-term as well as long-term objectives."
And with feedback from members saying the course has "come on in leaps and bounds" and young membership on the up it seems a successful approach!
https://turfmatters.co.uk/wp-content/uploads/2016/11/royal-ascof.jpg
500
500
Admin
https://turfmatters.co.uk/wp-content/uploads/2018/01/turf-logo-2018.jpg
Admin
2016-11-11 05:13:10
2016-12-08 06:24:57
Toro Lease Agreement For Royal Ascot Golf Club Brings Course On In "Leaps And Bounds"