2018 World Cup in Russia: Laurence Gale takes a look behind the scenes at the venue for the World Cup final to be held in Moscow in July.
With the FIFA World Cup less than two months away, many of the stadium venues will be focusing on ensuring their playing surfaces are fit for purpose and one venue in the spotlight will be the Luzhniki Stadium selected by the Russia 2018 FIFA World Cup committee as the venue for the final, which will be held on 15 July 2018.
The original stadium was demolished in 2013 to give a way for the construction of a new stadium. The self-supported cover was retained. The facade wall was retained as well, due to its architectural value and later was reconnected to a new building. During the construction a brand new DessoGrass Master pitch was installed in 2015.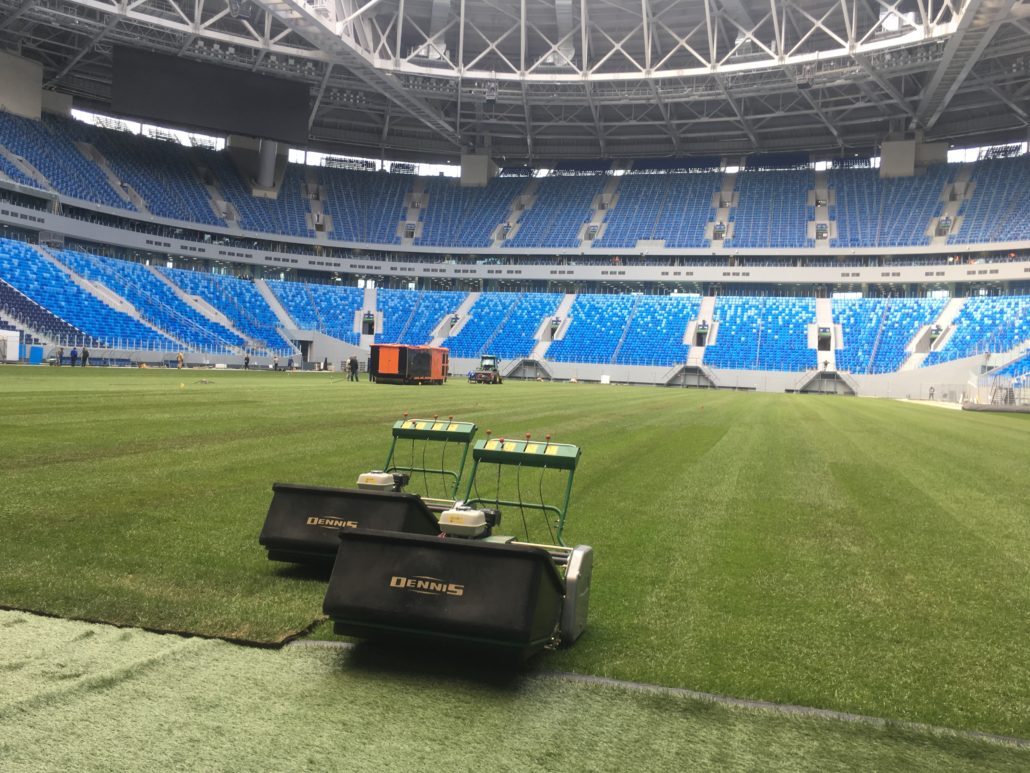 GrassMaster is an ideal hybrid grass system for top-level tournaments, multifunctional sports pitches, venues with a busy schedule and state-of-the-art training facilities. A total of 20 million in-house produced High Performance Fibres (HPF) deliver a reinforced natural grass playing surface that is proven to last for up to 15 years or more.
The job of looking after the pitch at the Luzhniki Stadium is down to Head Groundsman Vladislav Lysenko who has been employed at the club for 15 years, 12 in the role of Head Groundsman and, since 2014, in the role of consultant and a member of the RFPL commission for assessing the quality of football fields in Russia.
The number of ground staff employed at the stadium varies between four and nine depending on the fixtures and quite often the weather conditions. Seasonal renovations are usually carried out during the winter break of fixtures in December, the success of the renovation work will go a long way to retaining a healthy tight sward going into the new year for the resumption of the championship and European cup fixtures.
With over 30 games played at the stadium the use of their MDM Lighting rigs plays an important part in retaining grass cover particularly during the winter months.
Maintenance of the pitch is centred on keeping the sward heathy by mowing at a height of between 23-28mm, mowing two to three times a week depending on conditions using a fleet of Dennis G860's mowers. An ongoing programme of aeration, fertilising ,overseeding along with a good post game repair strategy of divoting, brushing and cleaning up with rotary mowers helps keep the pitch in good health.
Feeding regimes are centred on providing a balance of liquid and granular feeding products such as COMPO, Florovit, ICL, YARA Mila.
Vladisav has a comprehensive range of equipment supplied by iGo, Dennis, Toro, A.Carraro, SISIS, Redexim and Caiman which he uses as part of his maintenance programme.
I am sure Vladislav Lysenko and his staff are going to be kept very busy in the coming weeks to ensure the Luzhniki Stadium pitch can cope with onslaught of this year's FIFA World Cup matches and having the opportunity to produce the playing surface for this year's World Cup Final being held at the Stadium.
The four year World Cup cycle has once again come full circle and we can look forward to drama, spectacular entertainment, controversy and debate which is guaranteed every time.
Such is the global nature of the World Cup, 2018 will be completely different from eight years ago when we were introduced to the Vuvuzelas, which characterised, some would say blighted, the South African World Cup, and the Sambas and Copacabana joie de vivre of Brazil's World Cup four years ago.
This time around it is Russia with 12 stadiums spread over 1,800 miles in a country which is truly massive, offering a full range of climates, local characteristics and weather. The stadiums themselves are superb. Venue for the final itself is in Moscow and has been totally revamped with work only being completed this year. Now known as the Luzhniki Stadium, with a capacity of 80,000, it will become only the fifth stadium to have hosted a World Cup Final, a Champions League Final and an Olympic Games. Other stadiums are either brand new or have been completed in the last four or five years.
While the contrast between South Africa, Brazil and Russia can scarcely be more stark one constant between the three countries, three continents and three World Cups is Dennis Mowers who have supplied some of their industry leading mowers to each.
The Dennis G860 cylinder mower is the one chosen for the task of preparing pitches for the world's greatest football players when the 2018 FIFA World Cup kicks-off in June 2018.
Virtually every one of the stadiums will have their pitches maintained by the G860 and that includes the venues selected for the latter stages of the tournament.
Dennis' involvement has not been a short-term or recent success however. For the past ten years Russian clubs have been using turf maintenance equipment from Dennis and 70% of the Russian Premier League teams have either a G860 or Dennis Premier mower.
Many of the groundsmen know the quality and robustness – they know that they can use them for a diverse range of maintenance tasks without ever having any issues, even in the Russian weather!
The Dennis man with the collection of air miles which would make Alan Whicker envious is Sales Manager Toby Clarke, who has worked extremely closely with Queens Grass, the company's Russian dealership, to ensure whichever country lifts the World Cup on Sunday, July 15, Dennis will also be celebrating another significant victory for the company.
Turf Matters caught up with Toby, during one of his few days at home!
How long have you been working with FIFA or the individual Russian stadiums?
Our dealer, Queens Grass, has been working with Russian stadiums since 2001, while in 2008 we set up the machinery business in Russia together with Dennis and later on with SISIS Machinery.
How many stadiums will we see with Dennis Machines this June?
During the tournament at least seven of the 11 stadiums will use the Dennis mower, 70% of the training camps will be using Dennis as well.
How many machines will you have at the World Cup?
Around 88 Dennis mowers will be used throughout the tournament for key maintenance tasks as well as presentation preparation before games.
Do you have a package which you're offer to the stadiums or is each one completely different?
Every offer is made specially for the stadium or training complex for their individual needs and was tendered by the Russian Government
How has the work involved with Dennis and the Brazil World Cup differed from that in Russia?
Russia is whole different ball game, in Russia you really need to work with local companies like Queens Grass which have been serving football stadiums for many years. Russian clients like to know they can have reliable machinery and spares back-up with local companies that supply European machinery.
Are there added complications dealing with an eastern bloc country?
Let's say the customs and borders in Russia are an interesting challenge!
From a technical perspective does the different climactic conditions in South America and Eastern Europe mean that machines are set up differently?
Yes, the mowing height of cut will be different along with the pitch construction. We ensure that when we deliver machines to each stadium or training complex that the groundsmen and/or contractors using the machines receive all of the relevant training required.
Once you've supplied the machines is your work done or will you be on hand to ensure smooth runnings?
The machines are delivered and ready to use. We supply kit for the first round of maintenance so the clients are ready to work directly after they receive their new Dennis mowers.
What do you believe being so heavily involved in the Greatest Show on Earth does for Dennis?
It is not easy but great at the same time to work in such a tournament, the quality of play depends on the pitches quality as they will be watched by millions around the world, so presentation is key. It is a nice challenge to have!
From a personal perspective, do you get a kick out of being involved in an event like the World Cup or is it just another contract?
It is impressive to be in all these new stadiums and training camps, it is not just another contract; it is a responsibility and is something that we are all very proud to be a part of.
A Q&A with Mark Harrod of MH Goals..
What are your predictions for the World Cup?
I'm going for a Brazil – Germany final with Brazil avenging the 7-1 in 2014!
England are reigning World Champions at U17 and U20 level, why do you think youth football in this country is so strong at the moment?
Over the last few years there has been a lot of focus on improving the game for children. It wasn't that long ago they were just shoved onto an adult sized-pitch with a ball that they could barely kick, let alone play with. Now they play mini-soccer and 9v9 first, only moving onto the full-sized pitches when they are big enough. We are making and selling more and more goals for these variations, so it's obviously an approach that is taking hold across the country, and one that allows children to develop their skills earlier, with visible results.
How do you see the health of the grassroots game at the moment?
We've always been keen supporters of grassroots football, sponsoring dozens of leagues and cup competitions across the country, and it honestly seems to be as popular as ever, despite the doomsayers who are convinced the nation is glued to their smartphones.
If you go to a park or community pitch on a Saturday morning you'll see clubs running coaching for children as young as three. The women's game is more popular that it has ever been too, with over 3 million registered players in the UK.  Plus you now have walking football too, which has allowed a generation to start playing again, so yes, things are very healthy at grassroots level.
How has the Football Foundation made a difference?
Grants from the Football Foundation are making a massive impact. Clubs and schools can apply for funds to replace old, unsafe equipment, build new facilities, even improve pitches and buildings. It's a great scheme and it helps reinvigorate communities. We will be supplying Football Foundation funded projects across the country this summer and we're also at the heart of the Beacon of Light Centre – Sunderland's new innovative sports and education facility and the first of its kind in the UK.
You're well known throughout the industry as a safety expert, what changes have you seen over your career?
When I first started football goals had wooden sockets, metal hooks and hand painted frames. Safety standards were unheard of back in those days! As time went on it was becoming clear that a standard was required to improve the safety of the equipment being produced. I was involved in the first ever standard, BS EN 748, which implemented formal testing on full-sized goals, including stability and strength testing and basic finger and head entrapment standards. The banning of metal hooks from crossbars and uprights was also major step forward as these had caused a number of nasty injuries over the years.
What can you tell us about the new BS EN regulation coming into force this June?
BS EN 16579 is something I've been advising the BSI and CEN for several years and in July it will become the new safety standard that all new goalposts under 24x8ft will have to conform to. It's a Europe wide standard which replaces BS 8462:2012 and makes several improvements, such as reduced width of net hook channels to reduce the chance of finger entrapment, more stringent stress testing and the introduction of new medium and light weight goals.
It's also the first ever safety standard to regulate rugby posts, covering socket installation, goal strength and maintenance.
I'm really pleased with the changes we're bringing in with this new standard as they'll address a number of issues and make the game safer for everyone.
What should people look for when they're buying goalposts to ensure they are safe?
Obviously that they conform to BS EN 16579! Go for goals with a solid crossbar and avoid mitred corners as these have a habit of coming apart and exposing sharp dangerous edges. Use a Football Foundation approved supplier as this ensures that the goals are up to standard. It's also important to check what anchors are being supplied, for example goals with U peg anchors aren't going to be any good on a synthetic pitch.
You acquired Pressure Jet Markers just over a year ago, what was the thinking behind this decision?
Pressure Jet Markers has been about for more than 60 years and is an iconic name– there aren't many people in the industry who haven't dealt with them over the years – so when we heard that the owners were looking to retire we knew this was an opportunity we couldn't miss. After all, this is a company that was always ahead of its time; creating the first line marker to use a high-pressure jet to spray paint directly onto the grass, the first power driven line marker, and numerous other firsts.
It was a company that matched innovation with consistently high standards, a perfect match for our own values. We now continue to manufacture the class-leading transfer wheel machines – The Linesman, The Prince and The Dimple – and use our own modern manufacturing techniques to improve durability and ease of use.
https://turfmatters.co.uk/wp-content/uploads/2018/05/image2.jpg
3024
4032
Turf Matters
https://turfmatters.co.uk/wp-content/uploads/2022/05/TM-logo-1.jpg
Turf Matters
2018-05-15 11:41:06
2018-05-15 11:41:06
2018 World Cup in Russia