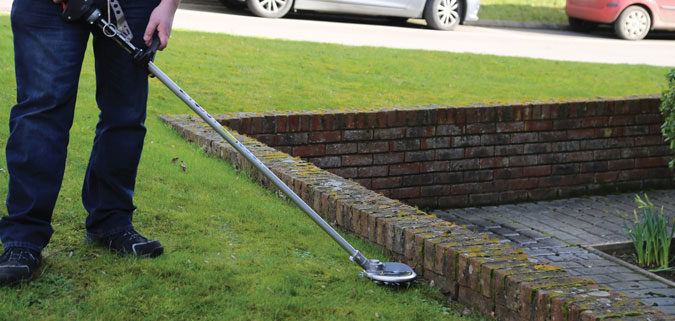 ECHO® ASK-RW23D Scissor Head – A Safer Cut
Working in built-up areas can present hazards when cutting close to bystanders, cars or buildings. It only takes a few stones or loose objects to get thrown into the air and there is the potential of damage to property or even a risk to safety.
The new ECHO® ASK-RW23D scissor head, a rotary scissor attachment suitable for most ECHO® brushcutters, helps to reduce this risk. It works on the principle of a 20:1 reduction ratio gearbox and two contra-rotating blades that actually 'snip' the grass or brush – just like a pair of scissors. This means you have safer and more precise cutting. Grass, weeds or brush simply drops where it is cut, making the ASK-RW23D an ideal choice to use when required to work near people, office windows or parked cars.
Highly versatile, the ASK-RW23D scissor head can trim up close to solid obstacles, such as trees, walls and kerbs without kickback or damage. Edging golf course bunkers and trimming grass in shallow water are easily tackled. The flat bottom design enables the operator to place the cutting head close to the ground when uncovering hidden landmarks, such as drain covers.
The ASK-RW23D rotary scissor head comes with an 18 over 15 tooth blade kit, and an optional 28 over 24 tooth fine cut blade kit is also available for getting an even finer finish on grass and lawn edges. The cutting head is well-balanced, making it easy to manoeuvre and comfortable to use. The ASK-RW23D scissor head mirrors ECHO®'s commitment to quality, providing their customers with commercial grade and innovative products. Visit www.echo-tools.co.uk to find your local ECHO® dealer.
https://turfmatters.co.uk/wp-content/uploads/2017/04/2017_ECHO_Location_RotaryScissors_ByOffice_2.jpg
450
675
Admin
https://turfmatters.co.uk/wp-content/uploads/2022/05/TM-logo-1.jpg
Admin
2017-04-24 12:11:26
2017-04-24 12:11:37
ECHO® ASK-RW23D Scissor Head – A Safer Cut