A comprehensive listing of industry companies. Click on the company you are interested in and this will link you directly with their website. You can browse the categories on the right.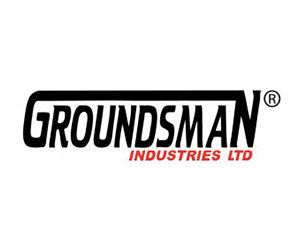 Groundsman Industries Ltd
View Website
30 Ballybrakes Road, Ballymoney, County Antrim,
Northern Ireland, United Kingdom, BT53 6LG.
Since 1990, Groundsman Industries have developed their unique range of machines and accessories for maximum performance and durability.
Groundsman Two and Four-wheel drive Turf Cutters deliver effortless sod cutting with low operating vibration levels. These versatile machines can be fitted with sod blades 30cm to 60cm wide to cut 1cm to 7cm thick sod plus Trench, De-compaction and Mole-drain blades to 12cm depth.
Groundsman Aerators are available from 45cm (18") to 180cm (72") working widths. All use Groundsman's proven rugged Elliptical Plunge Action mechanism for aeration down to 15cm. Quick-change accessories are available for Solid, Hollow and Chisel Tining plus Cluster Tines for dense pattern aeration and seeding.
The Flexblade Collector developed by Groundsman fits all makes of aerators for coring and collection in one pass. This incredibly efficient implement follows the contours of Golf Greens scooping the cores or linear aeration soil cleanly from the surface.
Campey Turfcare Systems
Marton Hall Lane, Marton, Macclesfield, Cheshire. UK. SK11 9HG
+44 (0)1260 224568
The full range of Imants and Koro by Imants ground care machinery, including the Shockwave, Rotoknife, Sandcat and Recycling Dresser, is available exclusively in the UK, Europe, Asia and Africa from Campey Turf Care Systems.
SISIS
01332 824 777 SISIS , Ashbourne Road, Kirk Langley, Derbyshire, DE6 4NJ
For over 80 years the world's finest groundsmen, greenkeepers and gardeners have been choosing SISIS – the world's best turf maintenance equipment. Our range of tractor mounted or pedestrian aerators including the revolutionary Javelin Aer-Aid have become known as the pioneers of aeration techniques.